Boozilicious!
Of all the classic cocktails, the old fashioned is clearly God's favorite. Built with bourbon or rye, sweetened with a muddled sugar cube or simple syrup, dashed with bitters, and topped with a twist of orange or lemon peel, the old fashioned is a decadent, dark treat that tastes like dessert and automatically grants the drinker a look of sophisti-fuckin'-cation. Here are five great places to get them in Portland, where the barkeeps know what they're doing.
Palomar
I'll tell you right now, Palomar makes my favorite old fashioned in Portland. This Cuban forward joint from bartender Ricky Gomez is a great (and romantic!) place to have any cocktail, but you are in especially excellent hands with their creative take on the OF. It's smooth, fragrant, and along with bitters and bourbon, Palomar stirs in overproof rum, marsala spices, and coconut for a surprising tropical twist on this classic that's well worth the $11 price tag. This is definitely not an old-fashioned old fashioned. (Ugh, sorry, I'll see myself out.) (959 SE Division)
5 & Dime
The antithesis of fancy, 5 & Dime is a dive that makes great cocktails. Booze lovers of all stripes will appreciate the leather booths, gorgeous hardscrabble wooden bar, and that glorious portrait of the late Anthony Bourdain overlooking the fun. While you can't go wrong with any of the cocktails on respected mixologists/co-owners Colin Carroll and Alex Gesler's menu, 5 & Dime's old fashioned ($8), in bowling terms, is a straight-down-the-middle strike. Lip numbingly good, the demerara sugar (coated with molasses) is what separates this OF from the pack and will inspire you to tip your glass in appreciation at the bartender. (6535 SE Foster)
The Rookery Bar
You're downtown and juicing up for a show at the Schnitz. A great place to pre-func is at the Rookery bar, which was originally a hayloft in ye olde Ladd Carriage House—and that's about as interesting as the ambience gets. They have waaaaay too many superfluous barrels clogging up the place, but they make up for it with speedy, friendly service and a stellar Sim's Old Fashioned ($14). With Eagle Rare bourbon as its headliner, stirred with muscovado (a partially unrefined sugar), along with Angostura and orange bitters, this OF is sweet, strong, and carries a punchy molasses vibe. And even though your next stop is the Schnitz, there's no pretension here at the Rookery; just animated conversations over British bar food and rock-solid drinks. (1331 SW Broadway )
Paydirt
Housed in the Zipper's lineup of cool kid drinkeries and eateries, Paydirt is one of co-owner Ezra Caraeff's (former Mercury homey) trifecta of bars that are virtual shrines to whiskey. And since whiskey is "their thing," it's not surprising their OF is listed in the menu as the "Old Fashioned Roulette" ($9)—meaning it's the bartender's choice of booze. Trust them! They know what they're doing! My keeper made the excellent choice of Old Overholt Bonded Rye, mixed with demerara syrup, bitters, and an orange twist. It was sweet, coppery, and spicy with a salted caramel finish, and I loved it. I also loved how my bartender ignored the bar line and promptly served me at my bar stool, because as we should all know by now, THE BAR IS NOT A BANK. (2724 NE Pacific)
Blank Slate
This north Montavilla neighborhood bar doesn't make a lot of noise, letting their top-notch cocktails and bar food speak for them. Most everything they serve is reasonably priced... HOWEVER. Sometimes one needs to celebrate a special night, yes? And for these occasions, Blank Slate's menu sports a "Treat Yourself" section that features a "Matthew's Old-Fashioned" for $16. But hold your aggro horses, cheapskate! This very special old fashioned features James E. Pepper Barrel Strength rye finished in a sherry cask (very fancy), burnt sugar, and Angostura bitters. And if you're anything like me, after the first sip you'll blurt, "Dang! That is one rich, dark OF!" The sherry undertones march forward in your mouth, getting along just fine with the sweetness and just a hint of black pepper, and its herbal finish makes this OF one of the most interesting and luxurious in town. Pair it with deviled eggs and some excellently chosen vinyl spinning on the turntable, and you'll decide right on the spot that this drive to Montavilla is definitely worth it. (7201 NE Glisan)
Sponsored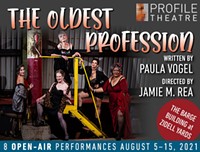 What's the retirement plan for the oldest profession? A moving comedy by the premier writer of our time.