Boozilicious!
Glad-handing industry awards are obviously everyone's favorite late-winter pastime, but not everybody can throw a gala (have you seen red carpet prices in Trump's America?), so we're going print-only. And in the spirit of meaningless superlatives, we're basing it on the apex of borderline meaningless, hastily chosen, print-only awards: those found in high school yearbooks.
Sponsored

Custom framing, photo frames, printing on metal, paper and canvas.
And so without any noticeable ado or fanfare at all: Presenting the "Class of 2020 Cocktail Bar Awards and Yearbook Superlatives!"
Best Dressed: BIBLE CLUB / HALE PELE
In a town where the firm that designed a room can get top billing in press releases over the actual talent behind the bar, it's always satisfying to see a place with a visual vibe defined by pure obsession. How could you choose between Hale Pele—where the drinks wear colorful umbrellas, edible flowers, and often flaming accessories—and Westmoreland speakeasy Bible Club, where the drinks are dressed to the nines in actual prohibition-era glassware?
(Bible Club: 6716 SE 16th, Hale Pele: 2733 NE Broadway)
Cutest Couple: YOU AND YOUR BOO, at BAR WEST
It's hard to have a bad date at Bar West, the rare establishment where words like "cozy" and "intimate" aren't code for "cramped." Instead, a gorgeous minimalism makes every two-top table in the bar feel like it's designed to guide your eye to whomever you're with. But if you're alone, that's okay, too—you can still gaze lovingly at your cocktail, like the Garden Snake, a fluffy applejack and rye whiskey sour, or if you're really solo brooding, a Flannel Shirt: Scotch, sweet vermouth, and various bittering ingredients. (1221 NW 21st)
Most Likely to Take Over the World: STRAIGHTAWAY
Straightaway cocktails does have a tasting room, and you should visit it to try their products. But their world domination plan doesn't stop at their own front door. Their bottled cocktails and canned spritzes are meant to be shared in your home, on a picnic, at a company party, in the bathroom on your smoke break, or wherever it's safe and legal! The 750ml bottles of Old Fashioned, Negroni, or Paper Plane cocktails are great on the shelf, but it's the canned spritzes (especially the light pink/orange Aperitivo Spritz—you know what it's about) that are really revolutionizing that ice bucket of pay-what-you-can drinks at your friend's art opening/one-act play/local-food-and-dating-themed game show. For that, Straightaway, we all thank you. (Straightaway: Tasting room, 901 SE Hawthorne, Cocktails available in liquor stores, Spritzes more widely available)
Most Likely to Take Off their Glasses and Have Been Hot the Whole Time: TULIP SHOP TAVERN
Yes, that classic high school movie trope of the improbably simple but plotline-shatteringly dramatic makeover succeeds once again. This time it's a North Killingsworth storefront that once held the terminally divey Ducketts Public House and comfortably crusty Pop Tavern, but has finally found a perfect tenant in Tulip Shop, headed by Devon and Tyler Treadwell, who marry the casual expertise that defined their time at Rum Club with the neighborhood's hunger for down-home burgers, fries, and fish sandwiches. Pitch-perfect executions of classic cocktails rotate through the menu, but keep an eye out for the semi-obscure like a Tuxedo #2 (a maraschino-spiked martini) and Portland's best Hanky Panky (a Fernet-ified Negroni). (825 N Killingsworth)
Favorite Foreign Exchange Student: DÓTTIR
The Icelandic brewery and hotelier Kex has brought its island faerie magic to Portland, and the beer is just the beginning: even the cocktails bring a little Scandinavian charm. Iceland's yogurt, skyr, makes many appearances on the menu—from a horseradish sauce to a gose-style sour beer to a raspberry vodka drink. After gorging on smoked beef tongue or the salt-baked beets with fresh house cheese, settle into a Dagsson, a warming Manhattan-ish drink pairing whiskey, vermouth, Cynar, and another Scandinavian import, Denmark's traditional bitter liqueur Gammel Dansk. (100 NE MLK)
Most Likely to Hunt Human Beings for Sport: VOYSEY
The new speakeasy style bar in the basement of Loyal Legion is named for the famed architect and wallpaper designer C. F. A. Voysey. True to its namesake's legacy, Voysey features some great patterned walls—and true to the architect's Victorian roots, the bar's vibe is dominated by creepy glass cases of fancy glassware, obscure artifacts, natural scenes, and a few disconcerting panels of frosted glass that could be hiding any grotesque trophy. It feels like where you go with your high society friends to wait out the Purge, sipping a Yamasuki (a ginger, green tea, and Japanese whisky cooler with a Scotch bop on the nose) or splitting a bottle-for-two of Adonis (a house blend of sherries and sweet vermouth). (710 SE 6th)
Sponsored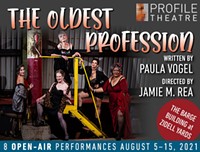 What's the retirement plan for the oldest profession? A moving comedy by the premier writer of our time.