Eat and Drink Guide Fall 2017
Gary Okazaki is getting recognized more and more. The famously prodigious eater who still occasionally goes by his Gary the Foodie handle says he was stopped on the street the other day by a motorist who wanted to know where he was headed. (Turns out he was on his way to devour Aviary's new bánh mì burger.) He's also fairly easy to spot. Who else do you know in town that unironically flaunts a fanny pack?
People are even recognizing him by voice now, thanks in part to his monthly Portland food scene phone-ins with Chris Angelus and Cort Johnson's Right at the Fork podcast.
Sponsored
Win a behind-the-scenes tour of our kitchen, see how we make our artisan edibles, and get some swag.
And he's become one of Portland's most trusted voices on the local food scene, as well as the food scene for other cities—he's been known to take culinary trips to cities like New York, Chicago, Los Angeles, and San Francisco.
Because of those trips—and his discerning palate—Okazaki is in the unique position to dish on what makes Portland's food scene special, what it lacks, and where it might be headed.
So we sat down with him at Pizza Jerk for what ended up being a sprawling, freewheeling, inside baseball conversation about all things Portland food and where we might be headed if we're not careful. And please note: While the words can seem harsh when read, they were delivered by a guy who was clearly having fun talking about his hometown and his favorite thing in the world: eating. (Fun fact: This lunch was Gary's second of the day.) Please read it with your smiliest inner voice.
---
On the Rising Cost of Opening a Restaurant
"The cost of opening a restaurant is increasing. It used to be the case, one could open a restaurant for a very reasonable amount of money. Now you have to have a benefactor or be a restaurant owner with incredibly deep pockets. Portland is losing its soul. We're not not going to grow. You see it with all these cranes. The cost of opening a restaurant is increasing. That never used to be the case. I hope we don't become this corporate little city."
---
On Where You Can Still Find Sweetheart Deals
"You can still do that—get a margherita pizza for $5. One of the best margherita pizzas in town is $5 at Life of Pie during happy hour. That pizza's worth more than five dollars. I don't know how [owner Jason Kallingal] does it."
---
On the MVPs of the 2016 Scene
"I've said the MVPs of the Portland dining scene in 2016 were the restaurant designers. The looks of some of the newer PDX restaurants are on a par with the newer San Francisco restaurants. Is the food on the same level? Not really. I can eat better and cheaper in San Francisco."
---
On the Crash of Destination Dining Spot, Lucier
"If you're gonna spend that much money to open a restaurant, why skimp on a chef? Get the best chef money can buy. Spend the money to get one of the best young chefs in the country to come here."
---
On What Portland Will Never Have: Fine Dining
"I would love to see fine dining here. Fine dining [elsewhere] is sorta struggling. But Portland just won't support it. That's why we'll never see it. [Referencing Culver City, California's Vespertine, known for braiding together food and design...] Everything about it is slightly different or odd—and some would say pretentious—but it's a fun culinary experience. Polarizing, but unique and exciting. You can't get that in Portland. You'll never see that in Portland." [To see what he's talking about, visit Vespertine's website, and ask yourself how many restaurants have their own Matthew Barney-inspired trailers.]
---
On the Fast Casual Business Model, Including Tipping
"I gotta admit, I don't love fast casual. I don't want to stand in line. And I mean, how much do I tip? Ten percent, 15, 20, 25 percent? The tipping part is really confusing. You have to bus your own table. Why am I even tipping if I'm ordering at the counter and bussing my own table? It's confusing. I kind of wish fast casual would go away. But it's not going away, so we'll have to get used to it. Hat Yai is the best balance I've seen at being fast casual and serving compelling Thai food at reasonable prices."
---
On Restaurant Trends in Portland and Beyond
"Portland is its own unique insular city. One of the advantages and disadvantages of our city is we don't have outside influences coming in. Cooks come, but not big-time chefs. [Han Oak's] Pete Cho [who was recently named one of Food and Wine's 10 best new chefs in America] was one of the few people who cooks at such a high level who moved here. When I first heard that he was coming here I got excited. He worked for April Bloomfield at [New York City's] The Breslin and The Spotted Pig for many years, and to have someone of that level come here was astounding at the time. If we got more of that, we would see trends from other cities coming here."
---
On What Portland Is Starting to Get Right
"The ethnic scene has really improved over the last few years with Duck House, Taste of Sichuan, Kachka, Langbaan, Han Oak. And XLB, which has improved tremendously over the first few months."
---
On Old Portland
"Chin's Kitchen has been around for decades. My family used to go to that restaurant. It's nice to see the new owners take over and they're doing a really good job. I was there two days ago and had stir-fried pig kidney. The people running it, they're really nice, but the service is haphazard. But it's kind of fun, I kind of enjoy it, because they're really earnest, they have a lot of soul, they wanna do well. It's kinda screwy, but that's not soulless. If we had more restaurants like that, I wouldn't mind at all, instead of this corporate bullshit. I hope Portland doesn't fall in the trap that leads to corporate spaces."
---
On the Future of Portland's Food and Drink Scene
"I hope you like burgers. We've had a renaissance in burgers. We got some really good burgers this year. [They include Aviary, Ash Bar, SuperBite, and Castagna's secret burger.] But I'm not as optimistic as some people might be. I see the whole fast-casual thing continuing. I see us as being a less and less interesting culinary city. The cost of opening a restaurant will continue to increase which will make things more boring and more middle of the road. There are newer restaurants in PDX that cost high-six digits to low-seven digits to do a build out that seats 70-plus. And they have to do 180-plus covers a night [to eke out a small profit]. It's not cheap to live here, so I don't know if these young talented chefs will come here to open a restaurant."
---
On Summing Up What the Next Five Years Might Look Like
"Safe? Middle of the road? A little boring. I hope this isn't the case: soulless? I hope I'm wrong about soulless. PDX is growing up. I am really curious, if slightly pessimistic, about what becomes of our culinary scene."
Sponsored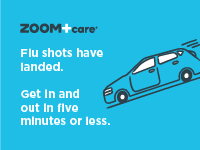 ZOOM+Care makes flu shots easy and safe. Schedule ahead, skip the line—get in and out in 5 minutes.