Eat and Drink Guide Spring 2017
Spring has sprung, and you're waking up from your long winter's nap—which means you are ready to EAT! The weather has now reached the point where you can safely wait in those long lines for your favorite restaurants... but why? Why not use this fresh new season to try some fresh new eateries? That is exactly what the spring edition of the Portland Mercury Eat and Drink guide will help you accomplish.
Not only will we offer up a goldmine of great new places to try, we'll also give you the stories behind the food. For example, trend watchers will want to turn their attention to food critic Andrea Damewood's interviews with local chefs Carlo Lamagna and Anh Luu, who are veering away from European-centric menus to focus more on the foods from their own cultural heritages. And since spring also signifies hops season, you may be interested in learning the history of how Oregon became the "land of hops"—and the people who got us here.
But if you only want great, inventive eats—we've got you covered on that front as well. From chicken skins to chicharrones, we've got a terrific list of the best places to get your "meaty skin fix," where to find Portland's finest Greek food (which is rapidly disappearing), and the ONLY joint in town where you will find cuisine from the island of Mauritius—trust us, you don't want to miss it.
Need some gravy on top of this issue? Check out our roundup of Portland's most delicious pies and pastries, places to take the kids for dinner (that won't murder your tastebuds), and tons of mini restaurant reviews for those times when you just gotta have something different. So tuck in your napkin, pop a Claritin, and get ready to enjoy the best of spring with our Eat and Drink guide! E+D
Sponsored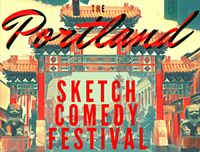 Sketch comedy troupes from all over N. America descend on The Siren Theater for 3 glorious nights.