Eat and Drink Guide Spring 2017
Carlo Lamagna stood before a sold-out seating of his third Twisted Filipino pop-up, preparing to serve his fifth course. The dish was inasal, a marinated chicken breast painstakingly turned into a mousse, then layered with the skin and the thigh, before being steamed, cut into a geometrically precise rectangle, and finished on the grill. Underneath all that was lightly spicy coconut and spinach puree—the color of a taro field—and a scoop of rice fried with crab fat.
In front of diners gathered at the inner Eastside kitchen he'd taken over in early March, Lamagna began speaking over the din of the Beastie Boys playing on the sound system. He recalled how growing up in the Philippines he resented how his father made him squeeze the last bit out of every crab... until he got his mitts on the results, especially that crab fat rice.
The diners, most of them food industry insiders, applauded and attacked their meal.
"It's funny, every time I put out a Filipino dish that wows both Filipinos and non-Filipinos, it's like this little win for me," Lamagna, also the Executive Chef at Clyde Common, told me later. "With all my personal failures and successes in life, I feel so good seeing people smile when they take a bite. It's pretty exhilarating. It makes me happy that I'm doing it justice and to think I'm doing my dad proud."
Lamagna helms a popular Portland restaurant that serves primarily European and American cuisine, but along with a few of his contemporaries, he's a classically-trained chef who is pushing to incorporate elements of his own culture—like an adobo sauce on a steak—on his menus and in pop-up meals.
There seems to be a burgeoning interest among Portland chefs such as Lamagna, who are using their craft to celebrate their heritage. They share a common goal of legitimizing the flavors that formed their palates, and proving to others how these foods are worthy of elevated presentation, modern approach, and a more appropriate price point.
A Dash Of Fish Sauce
In February, Anh Luu, the head chef at Cajun restaurant Tapalaya, broke the collective Portland food internet with her Phoritto—a tortilla filled with traditional pho toppings—and packed the house each Monday it was available. On the side was a gloriously herbal and refreshing cabbage slaw with fish sauce and Asian beef jerky, along with crawfish étouffée nachos served on five-spiced wontons. In March she finalized the deal to buy the restaurant from its original owner.
It was a natural step for Luu, 30, the New Orleans-raised daughter of Vietnamese refugees. Since taking over the kitchen in 2014, she's been adding Southeast Asian flavors to the menu in both subtle and forthright ways to a robust critical reception.
"It was such a stark moment when I started to do Vietnamese flavors," she says. "Portland was so ready for more than just a fusion."
Tapalaya won't change too much as she assumes the ownership of the eight-year-old restaurant painted in vivid blues, yellows, and reds on Northeast 28th Avenue. Having grown up in the large Vietnamese community in New Orleans, the combination of Southeast Asian and Creole is now its own type of cuisine, she says.
Luu started cooking as a teen in the Gulf, and stayed behind in NOLA after Hurricane Katrina, when her parents moved to Portland to join her older sister here. When she arrived in 2009, she enrolled at the Western Culinary Institute (now Le Cordon Bleu) and started cooking at Tapalaya. Not long after, she started sneaking in dishes like the popular boudin egg roll, which exploded in popularity.
"I needed something that made me stand out as this minority woman chef from New Orleans," Luu says. "I use fish sauce instead of salt in my roux base, because that's what my mom did. Lemongrass and tomatoes go together in my mind because of what I ate growing up."
She says there was a jump in business when the Vietnamese flavors were introduced, so she plans on doing minor tweaks to the menu to allow more rotation of items while incorporating even more Vietnamese flavors.
Luu says that while she's happy to see the complex traditional soups and dishes coming into vogue among eaters, she's also hoping to push people to see it as every bit as sophisticated and worthy of fine dining respect as, say, a French restaurant. Ultimately, a French-Vietnamese fine dining concept would be her dream.
"I'm really grateful to be able to cook Vietnamese food and blend it with more familiar flavors, because it is so unfamiliar to a lot of people," she says. "It's cool to have been able to create my own genre of cuisine in the city based on things in my past."
It's All About How You Word It
Like Luu did at Tapalaya, when Lamagna came on as chef in 2014, he was able to take the broad definition of what Clyde Common is about and play with it.
"If you look on the window [at Clyde], it says 'domestic and foreign cuisine.' No one knows what the fuck that means," Lamagna says, laughing. "I took advantage of that. I was like, 'Okay, I'm foreign and I'm domestic.' I put lumpia on the menu as a snack. Now there's always some iteration of Filipino food."
Though he's wanted to be a cook since his teens, Lamagna says it was a much longer journey to embrace his Filipino roots. As he came up in cooking, going from Michigan to Chicago in the mid-'00s, he pushed Filipino cooking aside, attending the Culinary Institute of America and working at the now closed Perennial Virant, and as sous chef at the upscale North Pond in Lincoln Park.
"From 2000 onward, my dad was always pushing me, 'Why don't you do Filipino?' And I was like, 'Dad, no, people don't want to eat that,'" he says. "I guess I wasn't personally ready yet."
But after his father died in 2009, Lamagna says he felt more of a pull to explore his legacy, and did so by combining the strong technique he'd picked up with the flavors. An original breakthrough was at North Pond, where he made a version of tapsilog, a Filipino breakfast dish with fried rice, egg, and beef using garlic couscous and pheasant.
While it was nothing like the original, it was a start. Lamagna says as he went forward, working at restaurants not advertised as Filipino, he would slide in elements from his culture on the sly, because diners generally startle at more unfamiliar ingredients and preparations.
"It's all about how you word it," he says. "I can't call it peanut butter stew, or use tripe as the first word. You almost have to be deceptive. Lots of people won't like the sound of crab fat." (Although I do, and you can get it on top of Brussels sprouts at Clyde's happy hour. Order two.)
Lamagna even put a Filipino lengua adobo taco on the menu at the ill-fated and short-lived Honky Tonk Taco, which he opened with Clyde Common owner Nate Tilden. The restaurant closed after just a few months on Southeast Division and suffered from bad reviews.
Today he admits his real dream is to open a Filipino restaurant—not a Tex-Mex joint. In fact, after Honky Tonk closed in November 2016, the 36-year-old father of two "put my tail between my legs for about a week" and then started planning his Twisted Filipino pop-ups, which launched in December.
"It's been a battle for me and who I am, finding my voice and my identity," he says. "The biggest lesson I learned from [Honky Tonk] is if I'm not passionate about it, if my heart's not really there, then don't do it. Having a connection to the food makes it more interesting. Love is just a key element. There are so many things that add flavor. Just like cooking over a fire, adding a personal touch changes the taste. Those are things that make food important to me." E+D
Sponsored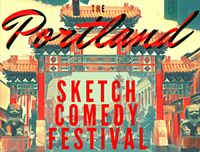 Sketch comedy troupes from all over N. America descend on The Siren Theater for 3 glorious nights.