Eat and Drink Guide Spring 2017
Call me a creeper if you wanna, but I love skin. Chicken, turkey, salmon... when done right, that layer of crispy yet succulent skin is the star. Fortunately, Hannibal Lecter and I are not alone in our love for a good meat-flavored crunch: The stuff is popping up on menus as the base for nachos, unexpected texture blasts in Chinese sauces, and the most perfect pork rinds of all time. Here are a few of my personal favorites:
---
Chicken Skin Nachos at Deadshot
When I wrote about Holdfast's informal Deadshot speakeasy held every Monday, I said they're making "dream nachos," and I stand by that statement. Some form of cheese-on-skin nacho has been running since the start, upping the reward-center-stimulating part of my brain. The current iteration on the menu—chicken confit on top of chicken skins with Frank's buffalo wing sauce, blue cheese dressing, sliced celery and celery leaf, and Frank's hot sauce pickled onions—is sure to blow a pleasure circuit.
Deadshot, Mondays at 537 SE Ash, Unit 102
---
Turkey Skins at Stacked
Only available at happy hour (5 to 7 pm weekdays, all day Saturdays), the pile of fried turkey skins at Stacked offers the best part of Thanksgiving—those browned, fatty nibs plucked from the bird while no one is looking—for just $5. I'd love to see them rolled into a sandwich, or even better, as an optional salad topping. Stacked, 1643 SE 3rd
---
Chicharrones at Portland Mercado and Old Salt
I wasn't raised in a pork-rinds household, so I got the bug for chicharrones as an adult—which makes my obsession even more urgent. I sample house-made examples every chance I get, and my favorites live at the Carniceria Kaah in the Portland Mercado and at the deli counter at Old Salt Marketplace. The carniceria version is a $4 bag of the owner's mother's recipe that lasted me several days. They're denser, providing a chewy fat edge before you hit the crispy rind, and they're insanely addictive. Old Salt's are a $3 bag of super-puffed skin, producing monster chicharrones nearly the size of your forearm. They're airy, salty, and relentlessly tasty. They also don't keep well, so make sure to mow them all down the same day. Carniceria Kaah at Portland Mercado, 7238 SE Foster; Old Salt Marketplace, 5027 NE 42nd
---
Salmon Skin Hand Roll at Sushi Takahashi 2
Salmon skin hand rolls are nearly universally good: deep fried strips of silver skin tucked into a slice of nori, usually with rice, cucumber, avocado (if you're lucky), and a sauce of some sort. You can get them at higher-end spots (Yama Sushi's is very good), but I like Sushi Takahashi 2—the best sushi train in town. And sometimes, if you're lucky, ordering a salmon skin hand roll will mean they'll also send around fried salmon collars on the train for added fried fish treats. Sushi Takahashi 2, 2415 SW 5th
---
Crispy Chicken Skin at Rue
This 'lil bistro is aggressively seasonal, and this spring, chicken skin is on the menu. $10 will get you a plate topped with crème fraîche, toasted Tobasco honey, charred pickled ramp stems, ramp tops, and lemon zest to cut the richness. These, I dare say, are your most refined skin option. Rue, 1005 SE Ankeny
---
Chicken Skins at Nong's
I'm not going to say much here: we all know Nong's slays. In fact, the only way to make the iconic chicken and rice dish better is to show up early enough to add chicken skins for an extra $2. That is all. Nong's Khao Man Gai, 609 SE Ankeny; SW 10th and Alder; 411 SW College
---
Hong Shao Rou at Danwei Canting
Danwei Canting opened in January and is steadily finding its footing. One of its best dishes to date is the Hong Shao Rou, an $11 plate of "red" cooked-to-tender pork belly with pickled ginger and rice in a rich sauce of star anise, fennel, and cinnamon. But the best part? The little Easter eggs of pork skin nibs that act like pop rocks of texture and salt throughout. Danwei Canting, 803 SE Stark
---
Oeufs Mayonnaise at Jackrabbit
Early into his residence at the downtown Hilton, San Francisco celebri-chef Chris Cosentino's Jackrabbit restaurant seems to have a mission to make every dish as decadent as possible, with mixed results. But the deviled eggs whipped with foie gras and topped with a triangle of chicken skin strikes the right balance. Jackrabbit, 830 SW 6th
Sponsored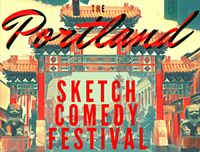 Sketch comedy troupes from all over N. America descend on The Siren Theater for 3 glorious nights.