Eat and Drink Guide Spring 2017
There are those parents who sincerely don't mind spending a decade of their lives dining at Izzy's, Red Robin, and Pizza Hut. And then there are those who would rather DIE. For the latter group, here are some local restaurants that are not only kid-friendly and approved, they will also make a bedraggled parent feel human again.
While it may be a tourist trap, I've also seen parents of young kids—who are most definitely NOT welcome in most of these chefs' actual restaurants—bring their wriggling progeny and enjoy a dish that isn't mac 'n' cheese. And while Pine Street's a bit expensive, here are a few dishes to try under $10. Marukin Ramen is perfect for Pine Street: It's got a daily rotating roster of soups, and not much else. While the paitan and shoyu options are noteworthy, my money's always on the Tonkotsu Ramen with its rich, porky tonkotsu base. OP Wurst serves fancy hot dogs—but my favorite is still the regular frankfurter. Add the sauerkraut for $1; you'll still come in under $10. BYH, which is short for Bless Your Heart Burgers, serves an homage to the Carolina burger, with chili, onions, and slaw on top. With diner-worthy well-seasoned patties and its free hand with American cheese, the single cheeseburger ($6.50) or the double ($9) are even better—especially when dipped in a side of beer-cheese sauce ($1) meant to go with the fries. And for dessert, Whiz Bang Bar's Peanut Butter and Jelly Sundae. You can smell your fluffy bun being toasted, and then this huge pile of glory arrives: vanilla custard loaded with Oregon Marionberry jam and housemade peanut butter cereal. It is a thing of childhood throwback glory. ANDREA DAMEWOOD
---
When I hear Louisiana-style fried chicken, my Yankee mind goes straight to Popeyes (also yummy). The Waiting Room's version isn't too different, with a crispy breading that's more refined and thinner than its fast-food cousin. The chicken is juicy, and a half bird ($15) is plenty for three people. It's accompanied by a grilled lemon, house-made hot sauce (use the vinegary "not so hot" sauce; ignore the green, unpalatably bitter "hot" sauce), and Bee Local honey. A stack of five cornmeal hushpuppies with some righteous pimento cheese ($8) pair perfectly on the side. (Psst. Leave your vegan friend at home.) AD
---
Fifty Licks | 2021 SE Clinton, 2742 E Burnside, fifty-licks.com
This beloved ice cream shop on SE Clinton makes their custard base by hand and from scratch—and it shows. The result is some of the most fragrant, delicate, and rich ice cream I've tasted—especially such standouts as Blood Orange Creamsicle (a complex twist on the classic), Lavender Mint Chip (smells amazing), Chocolate as @#$& (a dark chocolate masterpiece), and our personal fave, Caramelized Honey, which takes local honey and simmers it into caramel for a one-of-a-kind ice cream experience. (Plus they have vegan and boozy-infused ice cream concoctions for those who like to mix their demons.) WM. STEVEN HUMPHREY
---
Sweet Street BBQ | 1505 NE Alberta
The beef rib is a Texas barbecue staple—a glorious brontosaurus-sized bone wrapped in smoky meat—and Sweet Street BBQ has some of Portland's best.
I was waiting to get food from another cart when the owner of Sweet Street, Wayne Streeter, opened his smoker to brush his ribs—acquired, Streeter says, from Gartner's, because they're the meatiest—with his house-made sweet and savory sauce. I followed my nose and ordered a second dinner, a hefty half-rack for $16, right there. AD
---
This unpretentious Italian joint is an offshoot of owner Jack Krietzman's Jackson Fillmore Trattoria in San Francisco's Pacific Heights, which he's run since 1985. Not much has changed in all those years, and it's the lack of pandering to the sprouted quinoa set that makes it charming. The menu's broken down into snacks, appetizers and salads, pasta, and entrées, and the prices are low enough to leave full and not praying for payday (see the 10-ounce New York steak for $19).
Kids get plain noodles with sauce on the side, and you'll be rightly tempted by the red snapper in spicy tomato sauce ($18.75); medallions of seared fish in a just-right peppery red lake that's savory enough to spoon up on its own. AD
---
Hat Yai | 1605 NE Killingsworth
The best way to enjoy Hat Yai is to go with the whole gang and share a variety, because almost everything on the menu is solid. However, the chicken is the star: their free-range birds are lightly breaded in rice flour and crisped to perfection, permeated with a sweet spiciness that's made even better with a good pour of the chili sauce on the side. For the best deal, get it as part of the curry and roti set ($13). A large steel tray arrives with a fat thigh and drumstick, a bowl of curry, and a single roti, a griddle-fried flatbread that originated in India. The curry is a rich, creamy blend that on one visit actually seemed to stretch like melted cheese when we dipped our roti in it. It's slightly sweet, with a subtle fire on the backend, and delicious. AD
---
The casual, quirky atmosphere of Pizza Jerk belies serious pizza. They're a New York/New Haven hybrid with a thin crust that can only sustain a few toppings before folding, and a generous edge of dough that's a salty delight to eat. And the sauce... it's my platonic ideal—fire engine red, acidic, and bright with very little sweetness. Even the pepperoni pie, with a choice of either pepperoni cured at Old Salt or Molinari, is a little slice of heaven. Get the kids to eat their veggies with the promise of dessert pizza, a treat that small humans (and stoned adults) heretofore only dreamed of. This includes the insane-sounding Bananarama with banana crema, pineapples, chocolate, marshmallow, cherries, caramel, and a scoop of ice cream. AD
---
Sensei Sushi Bar & Grill | 710 SW 2nd, senseisushipdx.com
Sensei Sushi may be showing off because it's new, but this sushi conveyor belt joint is bringing it. At 5:30 pm on a Saturday, they had a crazy good selection of nigiri, including octopus and pepper tuna. The rolls showed restraint: The Oregon roll with crab and cucumber topped with salmon and avocado didn't come drenched in mayonnaise or teriyaki. Plus, on weekends and during happy hour, you can get any of it for $1.95 or less—and they don't charge extra for special orders, like so many other places do. AD
---
Nonna is a welcome addition to the already bursting blocks in Concordia that include Beast, Expatriate, Wilder, and Yakuza. While there is much to recommend, a simple grilled focaccia in a puddle of spicy olive oil ($3) was absurdly tasty, and the only dish I ordered twice. A few slices also appear with the fattest mussels I've ever seen, served with gremolata in a classic white wine butter sauce. But when in doubt, order something that's served in a miniature cast-iron dish. Both the vegetarian tomato ricotta manicotti and the crisp whole trout topped with  salmoriglio (think salsa meets pesto) were among the best offerings by far. And Nonna's "Bambino Menu"—which includes spaghetti, angel hair pasta, and $2 meatballs—won't disappoint the kids. AD
---
There's a whole lot going on at the Portland Mercado—a rainbow-colored building filled with Latin-owned businesses and food carts—and it's a great place to shop or grab a quick bite with the kids. The pambazo ($5) at Los Alambres is admittedly the first pambazo I've ever tried, but there couldn't be a better entry into the sandwich. The soft disk of bread is dipped in mild guajillo sauce, then toasted and filled with spicy chorizo and fried potatoes, with lots of crema, queso fresco, and shredded iceberg to cool things down. Plus their pillowy gorditas, at only $3 a pop, are another wonderful way to usher juicy nuggets of pork into your gaping maw. And it would be a grave mistake to miss the El Coyote burrito at Fernando's Alegria, which is one egg away from being Part of a Complete Balanced Breakfast™. The al pastor burrito does the Coyote one better by adding grilled pineapple, and the sweet acidity cuts right through the rich sour cream and cheese, brightening the fatty spice of the chorizo without stealing focus. The cart's Alegria burrito, filled with nopal and egg, was similarly intriguing, and will be the highlight of my next visit. HEATHER ARNDT ANDERSON
Sponsored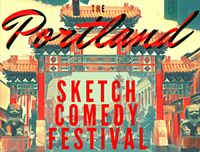 Sketch comedy troupes from all over N. America descend on The Siren Theater for 3 glorious nights.