[READ ALL OF THE
MERCURY
'S 2020 ENDORSEMENTS HERE!—eds]
Metro Council District 5: Chris Smith
Sponsored
Sketch comedy troupes from all over N. America descend on The Siren Theater for 3 glorious nights.
When current Metro Councilor Sam Chase announced he wouldn't seek re-election this year, a slate of impressive candidates threw their hats into the ring for the District 5 seat, which represents North, Northwest, and Northeast Portland. We first endorsed Chris Smith for this position during the May primary; now that the race has narrowed down to two candidates, we still believe he's the best pick for the job.
Metro Council's main purpose is to oversee land use for Multnomah, Clackamas, and Washington counties. Because of this duty, the council has enormous influence over some of the most pressing issues in our region: A transportation system that's struggling to support a growing and changing population; a housing crisis that's failing our most vulnerable residents; and the all-encompassing threat of climate change. The economic fallout and uncertainty of the COVID-19 pandemic only exacerbates each of these issues, and we need leaders who have a consistent track record of planning expertise and progressive priorities. Chris Smith is such a leader.
Smith's resume includes long stints on the Portland Planning and Sustainability Commission and the Metro Policy Advisory Pact (among other planning and transportation groups), and he's been a planner and advocate for the Portland Streetcar. He is also a founding member of No More Freeways, a group that's been an effective thorn in the side of a state plan to expand Interstate-5 in the Rose Quarter, which climate advocates worry would worsen pollution and carbon emissions. He supports the City of Portland's recently passed Residential Infill Project, which makes it easier to build much-needed multifamily housing across Portland. If elected to Metro Council, Smith would be a reliable advocate for affordable and accessible housing, inclusive transportation projects, and climate-minded policies.
This isn't to say that Smith's opponent, Mary Nolan, wouldn't be a worthy choice. A former Democratic majority leader in the Oregon House of Representatives, Nolan has a long history of effective policy-making. In our endorsement interview, Nolan highlighted her ability to reach across the aisle in the interest of helping Oregonians, and her dedication to following the lead of communities of color. Both of those are valuable assets to have when working on Metro Council, which serves a region that's both demographically and ideologically diverse.
Nolan is also the more deft politician of the two, for better or worse. Our endorsement interview showed us that Nolan is a more natural and effective communicator, while Smith tends to get bogged down in wonky policy points. But Nolan's campaign, while heavy on endorsements from local heavy-hitters, has also been curiously devoid of concrete policy proposals.
At this crucial time for our region, we'll take a progressive policy wonk with passion over a carefully polished, noncontroversial politician. Vote Chris Smith for Metro District 5.
Oregon House District 47: Ashton Simpson
When Democratic Rep. Diego Hernandez was elected to the Oregon Legislature in 2016, he seemed to have a bright future ahead of him. Hernandez ran on a platform of criminal justice reform, progressive housing and transportation policies, and climate action—and he delivered on some of those promises in the last four years while serving East Portland's District 47.
In fact, Hernandez was an easy choice to support when the Mercury was making our May primary endorsements earlier this year—until he wasn't. News broke in May that Hernandez faced credible allegations of workplace sexual harassment from at least seven people, prompting many colleagues to call for his resignation. But Hernandez declined to give up his seat, and it was too late for a challenger to mount a campaign against him in the primary. We took the unusual step of rescinding our endorsement of Hernandez, but we didn't have anyone else to suggest District 47 residents vote for instead.
Now, in the general election, there's a clear alternative to Hernandez: Ashton Simpson, the community asset director at East Portland nonprofit Rosewood Initiative, who is running as a candidate with the progressive Oregon Working Families Party. An Air Force veteran who's secured endorsements from a slate of local elected officials and organizations, Simpson wrote in his voters' pamphlet statement that as a Black man, he is well-suited to "lead in this unique moment to dismantle racism" and reform the justice system.
Simpson's campaign platform checks a lot of the same boxes that Hernandez's did: He's prioritizing passing a Green New Deal for Oregon, increasing protections for renters, and improving conditions for public transit and pedestrians in Portland. His experience with the Rosewood Initiative, and as a member of several Portland area transportation advisory committees, set him up well to advance those goals in the legislature.
We aren't only endorsing Simpson because supporting his competitor is untenable. We're endorsing him because we need more leaders in Salem who reflect the East Portland values that Simpson espouses, and who bring diverse perspectives to the job. If you agree, vote for Simpson.
Sponsored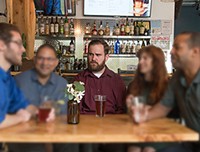 Adults aged 18-35 with good hearing will be paid for their time. Located at the Portland VA Medical Center