Pendarvis Farm (map) Elsewhere
Thu., Aug. 3, 6 p.m., Fri., Aug. 4, 11 a.m., Sat., Aug. 5, 11 a.m. and Sun., Aug. 6, 11 a.m. 2017 All Ages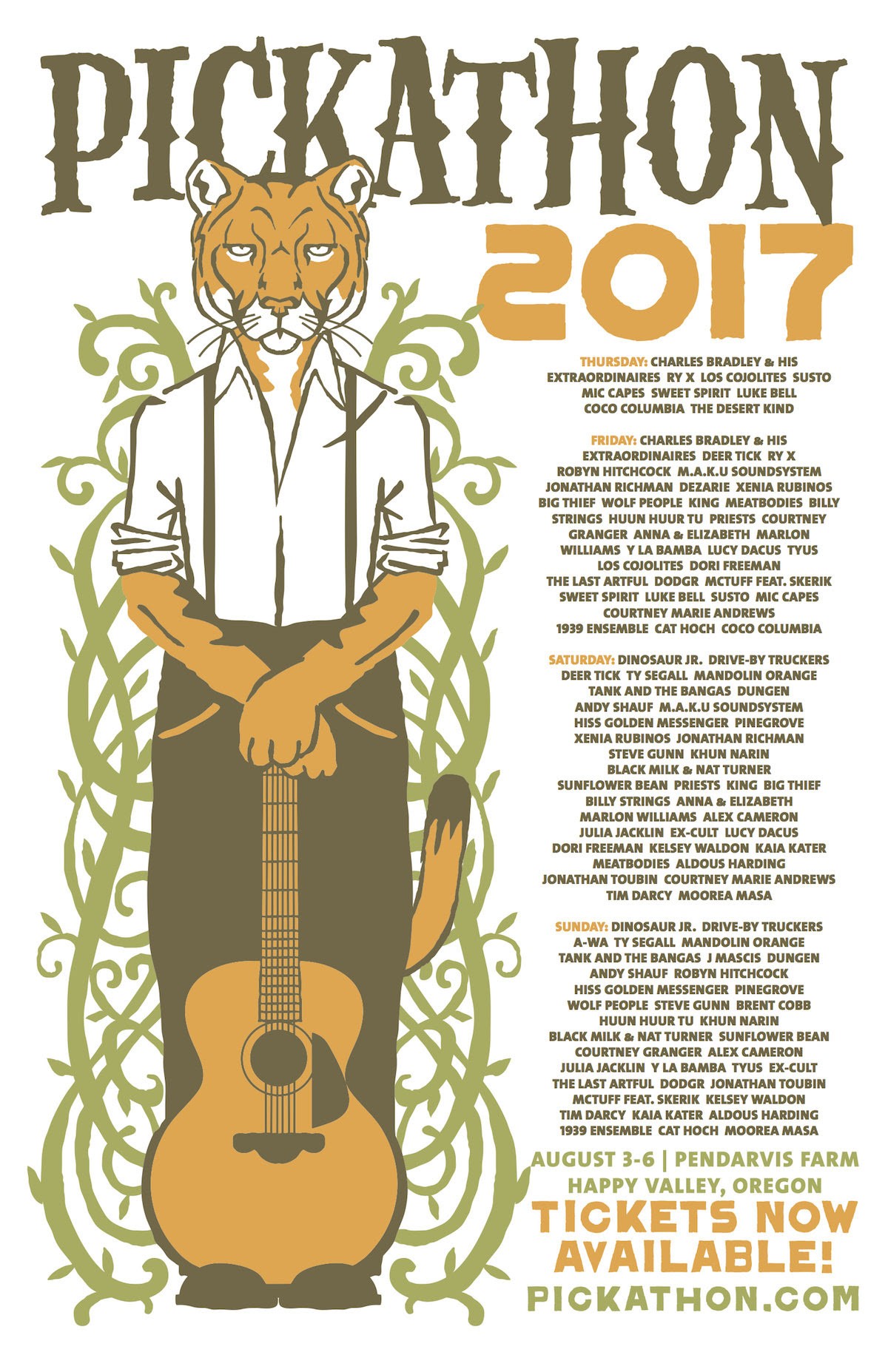 There are so many reasons to love Pickathon—its location on Happy Valley's gorgeous Pendarvis Farm, its postcard-worthy view of Mount Hood, its reusable silverware, its hammock village, but most of all, its music. This year's lineup features icons like Charles Bradley and His Extraordinaires alongside promising up-and-comers, like Jay Som. CIARA DOLAN

Confirmed performers include:

1939 Ensemble, Alex Cameron, Andy Shauf, Anna & Elizabeth, A-WA, Big Thief, Billy Strings, Black Milk & Nat Turner, Brent Cobb, Cat Hoch, Charles Bradley & His Extraordinaires, Courtney Granger, Courtney Marie Andrews, Deer Tick, Dinosaur Jr., Dori Freeman, Drive-By Truckers, Dungen, Ex-Cult, Hiss Golden Messenger, Huun Huur Tu, J Mascis, Jonathan Richman, Jonathan Toubin, Julia Jacklin, Kaia Kater, Kelsey Weldon, Khun Narin (Electric Phin Band), KING, Mandolin Orange, Marlon Williams, McTuff feat. Skerik, Pinegrove, Robyn Hitchcock, Sunflower Bean, Susto, The Last Artful, Dodgr, Ty Segall, TYuS, Wolf People, Y La Bamba, and Xenia Rubinos, Ry X, Tank and the Bangas, Steve Gunn, M.A.K.U SoundSystem, Dezarie, Jay Som, Los Cojolites, Priests, Lucy Dacus, Meatbodies, Aldous Harding, Luke Bell, Tim Darcy, Mic Capes, Sweet Spirit, Coco Columbia, Moorea Masa, and The Desert Kind!

Check back for a complete schedule closer to the start of the festival.
16581 SE Hagen Rd., Happy Valley, OR 97086
503-658-3057