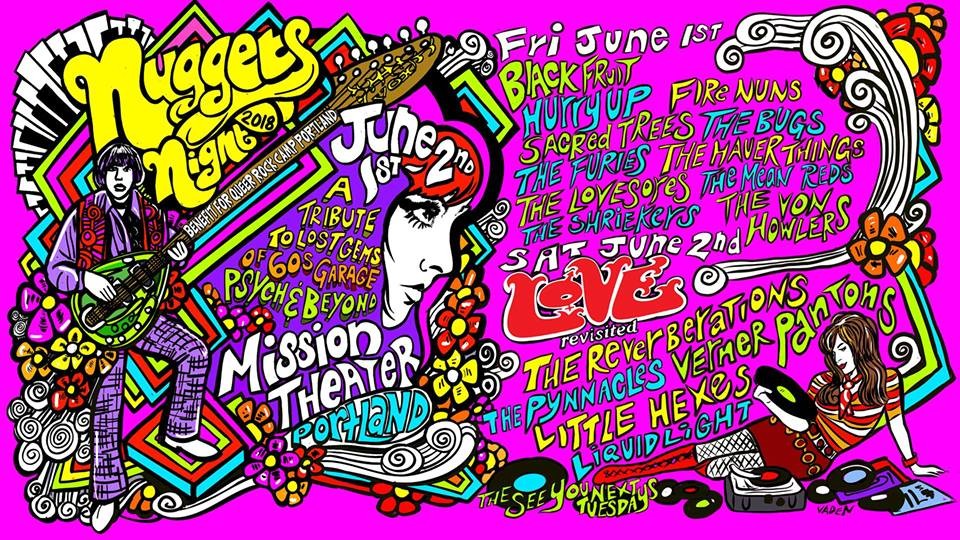 Every year, bands come together for Nuggets Night, and every year it just gets bigger and better. Nuggets Night—now stretched out to an entire nuggety weekend—is a celebration of those noisy, junky, far-out, fuzzed-out, adrenalized shots of garage rock and proto-punk, typically performed by obscure '60s bands and pressed onto 7-inch singles by fly-by-night record labels. Lenny Kaye first famously collected a crop of them on the 1972 Nuggets double album, and copycat versions like Pebbles followed suit, with Rhino Records legitimizing the brand name with three masterfully done Nuggets box sets. You'll hear plenty of those choice "nuggets" covered by terrific local bands like the Pynnacles, Hurry Up, the Bugs, the Reverberations, and others, but there's more: On Saturday, Love Revisited—featuring former members of the legendary LA band Love—will perform Love's 1967 psychedelic masterpiece Forever Changes in full. After two nights of rockin', the weekend closes with a screening of the 1967 mondo documentary Something's Happening - The Hippie Revolt. Plus, the entire affair benefits the Queer Rock Camp Portland, a summer program for LGBTQ youth promoting inclusivity and self-expression! There's a nugget under the sun for everyone.


Found something you like and don't want to forget about it later?
Just click "Save Event" on any event page to save it to your own private list.
Event Times
This event is in the past.
Category