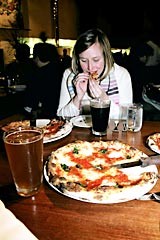 Michael Mitarnowski
Seven courses for $50, including baked oysters a la Tarantino with fennel and olio nuovo, Petrale sole al Fiorentina with white wine and spinach, and Tortellini in Brodo Villa Gaidello beef, prosciutto di Parma, Mortadella, and Parmigiano-Reggiano. The menu is available Friday through Sunday of Valentine's Weekend.
1401 SE Morrison, Portland, OR 97214
503-234-2427
Hours: Lunch: Mon–Fri 11:30 am–2 pm, Dinner: Sun–Thurs 5–10 pm Fri-Sat 5–11 pm
http://www.nostrana.com
Event Times
This event is in the past.
Category