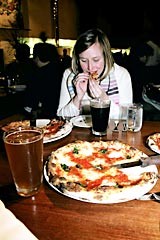 Michael Mitarnowski
To celebrate Ashley Gartland's farm-to-table cookbook Dishing Up Oregon the lovely folks at Nostrana are throwing her a book launch party. Lovely local food, lovely local drinks, lovely local people celebrating a book about lovely local Oregon cuisine.
1401 SE Morrison, Portland, OR 97214
503-234-2427
Hours: Lunch: Mon–Fri 11:30 am–2 pm, Dinner: Sun–Thurs 5–10 pm Fri-Sat 5–11 pm
http://www.nostrana.com
Event Times
This event is in the past.
Category