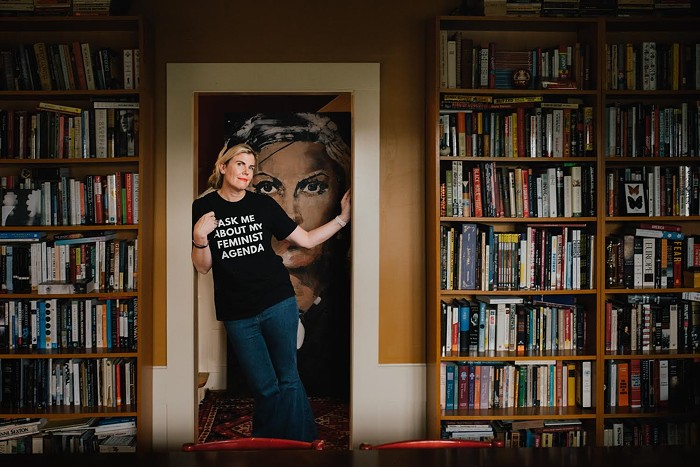 Fall Arts 2018
Two years ago, Mockingbird writer and longtime Portland mystery writer Chelsea Cain deleted her Twitter account. She'd faced a cycle of internet outrage that had nothing to do with alleged social justice warriors and everything to do with reactionary intolerance toward women makers and thinkers. (Just ask Anita Sarkeesian and Zoë Quinn.) The misogyny trash fire descended in reaction to the release of an issue of Mockingbird that featured the heroine in a T-shirt that read "ASK ME ABOUT MY FEMINIST AGENDA." It was a really good T-shirt.
So Cain left Twitter and, it seemed, comics. But with this fall's debut of Man-Eaters, which will be drawn by Mockingbird artist Kate Niemczyk, she's proven her trolls wrong. Cain's propensity for darkness will be on full display in Man-Eaters, in which a collision between toxoplasmosis (yes, the cat poop parasite) and menstruation transforms women into "ferocious killer wildcats." It promises to be an essential series for those of us who read Naomi Alderman's The Power with carnivorous, misandrist delight. On a recent weekday, Cain took questions from the Mercury ahead of watching a Marlene Dietrich movie with her family. Here's what she told us about the catharsis of Man-Eaters, Portland's literati, and self-defense against trolls—because she's back on Twitter too.
MERCURY: What made you decide to return to comics and the internet? I bet a lot of people would understand if you had wanted to stay off that grid forever.
CHELSEA CAIN: I told myself I was going to go back on Twitter "for the weekend." You know, limit it to social situations, small doses, special occasions. And here I am, a daily user. I have a really codependent relationship with social networking. I am back on Twitter, but my settings are much more protective. I am very selective about engagement. I have a community of followers who have my back. And I am careful. I am not myself. I share only some things, and only to a point. I almost never check my Facebook pages, because those are even more personal. I used to really share a lot of my life online, and be present and honest and try to connect. But it turns out, people hate me! So I try to be a smaller target. I think Man-Eaters is my way of making up for that. It's a way to be me, to engage and provoke, while also waving around my other hand and saying, "Look over here! Look away from the woman behind the curtain!"
---
Where did the inspiration for Man-Eaters come from? Is there catharsis in imagining a dystopian future where women have the upper hand?
There's a long storytelling tradition of manifesting our cultural anxieties as monsters. Man-Eaters imagines a world where adolescent girls literally turn into killer wildcats. Puberty is dangerous—girls transform, lose control, lash out unpredictably, become terrifying, ambush their families. It is bloody and unspeakable. Man-Eaters explores this, and the idea that monster stories say more about the storyteller than they do about the monster.
---
Is it true that you're in a writing group with Cheryl Strayed, Chuck Palahniuk, Lidia Yuknavitch, and Monica Drake? Were they a part of your workshopping process for making Man-Eaters?
They taught me everything I know about writing fiction. And a few other things as well. We haven't met in months, but we will get back to work once the rain starts, I'm sure. I love every one of those people. As well as Suzy Vitello and Mary Wysong [-Haeri]—also members of that group, and just as talented, even if they aren't as famous. Didn't workshop Man-Eaters, but have bored Chuck to death with it on dog walks. On a related note, Chuck's comic, Fight Club 2, features the entire writing group. And the illustrations of us are all very flattering. So I recommend it.
---
Do you have any pro-tips for dealing with trolls?
Filter your notifications on Twitter. Do this now. This will filter out people who @ you but don't follow you. (For whatever reason, trolls often won't take the trouble to actually follow an account.) Enable the quality filter and disable notifications from accounts that don't follow you, accounts with a default profile photo, accounts without a confirmed email address, and accounts without a confirmed phone number.
---
Anything else you'd like to share about Man-Eaters that hasn't been said?
[Man-Eaters] comes out monthly, starting September 26. Published by Image Comics. (Yay, Portland!) Takes place in Portland. (Yay, Portland!)
If you want to be a hero, order it at your local independent comic book store. Subscribing to comics helps comic book stores a lot. Anytime they know they can sell the copies they order, they'll order more, and that's good for everyone.
---
Cain appearing at Rose City Comic Con, Fri Sept 7-Sun Sept 9, Oregon Convention Center, 777 NE MLK, $30-140