10 Cloverfield Lane
Review forthcoming. Various Theaters.
Sponsored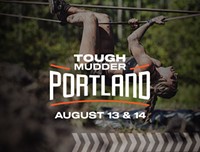 Lock in your summer adventure, Portland. Join us for world famous obstacles over a 5K or 10K distance.
Batman: The Movie
You know that one animated gif? The one where Batman is running down a pier with a giant bomb over his head? That's this movie. HEY! You know that one animated gif? That one where Batman is kicking a shark in the face on a ladder? That's this movie! HEY! You know that one anima—Fifth Avenue Cinema.
Bend of the River
Jimmy Stewart and Rock Hudson starred in this 1952 western about a guide for farmers who saves a thief from execution, only for said thief to screw him over, because thieves are shitty people. Screening includes a post-film discussion with Tim Williams of Oregon Film, and two hikers who maybe found Jimmy Stewart's old-ass camera from when he shot the picture here in Oregon. Hollywood Theatre.
The Brothers Grimsby
Sony has done an impressively thorough job hiding Sacha Baron Cohen's latest from the Mercury's critics. Various Theaters.
Demolition Man
People like to harp on how "prophetic" Idiocracy is, but they skate right over Marco Brambilla's horrifyingly prescient 1993 action/comedy. Demolition Man was funny anyway (Rob Schneider not withstanding), but the comedy's turned barbed and cringy in the 20-plus years since its release—and not just because Wesley Snipes as Dennis Rodman hasn't aged well. You're still gonna laugh. But it'll sting a little, too. Also: You use the three seashells by taking two of them, forming a pincer, and [INFORMATION REDACTED] Laurelhurst Theater.
Demons & Rats: Night of Terror
See Film, this issue. Hollywood Theatre.
Eisenstein in Guanajuato
Film buffs know Sergei Eisenstein (Battleship Potemkin) was an influential director in the 1920s. But do they also know that he was super gay? That's what another controversial filmmaker, Peter Greenaway (The Cook, the Thief, His Wife & Her Lover), explores in Eisenstein in Guanajuato, a semi-absurdist, quasi-factual, sexually explicit drama about the Russian's abortive attempts to make a film in Mexico in 1930, derailed by his infatuation with a handsome local guide, Palomino Cañedo (Luis Alberti). Imitating Eisenstein's visual style, Greenaway presents Sergei (Elmer Bäck) as an eccentric polymath whose charisma compensates for the film's ultimate lack of purpose. ERIC D. SNIDER Cinema 21.
Embrace of the Serpent
See review this issue. Living Room Theaters.
Frame by Frame
A documentary about four Afghan photojournalists trying to capture the truth after the Taliban has criminalized the act of taking a picture. Co-director Mo Scarpelli in attendance. Hollywood Theatre.
Knight of Cups
See review this issue. Various Theaters.
Laura
An inspiration for Twin Peaks, Otto Preminger's 1944 noir Laura is a classic whodunit, but one where what was done becomes less and less clear. Dana Andrews plays a detective who falls in love with the socialite (Gene Tierney) whose murder he's supposed to be solving. The film is famous for David Raksin's haunting score, but it's Tierney's nervous, vulnerable performance that really sells it. Screens as part of the NW Film Center's Friday Film Club series, with a post-film discussion led by Film Center staff. JAMIE S. RICH NW Film Center's Whitsell Auditorium.
Light and Shadows: Masters of Cinematography
A talented director of photography can make a good movie and save a bad one; the list of movies nearly ruined by incompetent directors but salvaged by expert DPs is substantial. If talk about light, shade, color, framing, and depth of field doesn't get your juices flowing, though, simply enjoy the remarkable movies the Hollywood's showing in this series: McCabe and Mrs. Miller, The Godfather, Days of Heaven, Seconds, and Targets. Also see "The Hollywood's Cinematographer Series Celebrates a Bunch of Dead Cameramen," Film, March 2. NED LANNAMANN Hollywood Theatre.
Only Yesterday
Considered an unexpected sleeper hit during its initial Japanese release in 1991, Disney acquired and subsequently sat on this stunning Studio Ghibli gem for nearly 20 years. Only Yesterday still holds up due to its timeless subject matter: change-of-life pondering and charming childhood flashbacks. If you can see the subtitled version, do, as Only Yesterday was animated after the voice actors' performances were recorded, with director Isao Takahata (The Tale of the Princess Kaguya) experimenting with creating more lifelike facial expressions. Still, the dub is perfectly serviceable, and the emphatic rants about organic farming are present in both versions—again, timeless. SUZETTE SMITH Fox Tower 10.
The Other Side of the Door
Sarah Wayne Callies (you remember her. She was stupid-ass Lori on The Walking Dead) is a young mother who is having a hard time dealing with the death of her young son. So instead of seeing a therapist, she decides the best way to say goodbye is with a supernatural ritual that (of course) allows something malignant and otherworldly to cross over in the form of her son. Good job Lori, you fucking dumbshit. Various Theaters.
Repressed Cinema
A monthly series "showing vintage and contemporary films that are obscure, neglected, and from the fringe." This month: One of the best parts of actually going to the movies—the trailer reel—made bigger, better, and filthier. An advertising showcase of many lost and forgotten sexploitation and horror films from the '60s and '70s, as well as a screening of a single reel of an Italian film called Hugo's Magic Pump. Hollywood Theatre.
Rise of the Legend
Presenting the early, machete-strewn days of Wong Fei Hung, the 19th century folk hero Jet Li made famous in the Once Upon a Time in China series. Where those films emphasised the main character's balletic grace, however, the poetry-in-motion stuff here is almost incidental, with the emphasis on close-up, slow-motion bodily destruction. (Whoever came up with the splintered cheekbone sound really deserves a raise.) Lead Eddie Peng certainly has charisma to burn, but the film's strict adherence to the Batman Begins playbook leaves things feeling pretty dour, and probably a half hour longer than it needs to be. That said, when the fight scenes get cranked up, it's easy to forgive quite a bit. In the history of improvised weapons in the movies, the utilization of a severed head in a bag ranks high. ANDREW WRIGHT Hollywood Theatre.
Shadow of the Vampire
Willem Dafoe and John Malkovich riff on F.W. Murnau's Nosferatu. Hollywood Theatre.
There Will Be Blood
"I have a competition in me. I do not wish to see anyone else succeed." Academy Theater.
---
MEANS WE RECOMMEND IT. Theater locations are accurate Friday, March 11-Thursday, March 17, unless otherwise noted. Movie times are updated daily and are available here.
Sponsored
Virtual Auction Event & Drag Queen Fashion Show. You won't want to miss this show!