12 Monkeys
Inspired by Chris Marker's La Jetée, 1995's post-apocalyptic 12 Monkeys remains one of Terry Gilliam's most interesting movies—not to mention one that boasts great turns from Bruce Willis, Madeleine Stowe, and Brad Pitt. And not only is the Hollywood screening it in 35mm, but 12 LIVE MONKEYS WILL BE IN ATTENDANCE!!! ERIK HENRIKSEN Hollywood Theatre.
3rd Street Blackout
A game but flawed attempt at the third-life-crisis romantic-comedy best exemplified by Aziz Ansari's Master of None. Both 3rd Street Blackout and Master attempt to mash-up the perils of modern romance while also addressing larger issues like racial and economic privilege; the problem is that Blackout, as a feature, only has about a third of the runtime to explore these complicated concepts. Writers, directors, and stars Negin Farsad and Jeremy Redleaf play a trendy NYC tech couple on the rise (he does hackathons, she's got a TED talk) who are roused from their shmoopy idyll by the inconveniences of a three-day power outage and some minor infidelity. Blackout pinballs wildly between the twee affectations of their East Village lifestyle and some truly obnoxious post-breakup behavior, and the result is a movie that strains under the weight of its self-imposed obligations. BEN COLEMAN Living Room Theaters.
Sponsored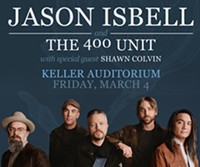 Jason Isbell has established himself as one of the most respected songwriters of his generation. Don't miss Jason Isbell and the 400 Unit, March 4th at Keller Auditorium!
Almost Holy
A documentary from director Steve Hoover, focused on the Ukraine's notorious Gennadiy Mokhnenko—better known by his nickname, "Pastor Crocodile"—a man who prides himself on helping drug-addicted children by forcibly abducting them off the streets and taking them to his rehab facility. Fox Tower 10.
The Benefits of Gusbandry
A theatrical "binge watch" of Alicia J. Rose's comedy webseries as part of the Portland Pride festivities. Director in attendance. Clinton Street Theater.
The Bug: Life and Times of the People's Car
Damon Ristau's documentary about one of the single most beloved automobiles ever made. How lovable? People still think it's the cutest little thing on four wheels even after being told Adolf fucking Hitler commissioned its creation. Director in attendance. Hollywood Theatre.
The Conjuring 2
See review, this issue. Various Theaters.
Dark Horse
If you wanted to engineer a documentary for maximum appeal to the widest possible audience, you could hardly do better than Dark Horse. It hits almost every sweet spot: colorful characters, a lovable animal, sports-related tension, an informative but not stuffy tone, a story you probably don't already know, and a short running time. British documentarian Louise Osmond brings us to a quaint coal-mining village in Wales, where several middle-aged locals pitched in together to breed and train a racehorse. In a sport dominated by the wealthy and high-born, some working-class stiffs co-owning a gangly, working-class horse has the potential to be a comical disaster or a rousing underdog success. You can guess how it turned out (hint: they made a movie about it), but you'll still be charmed by the unpretentious Welsh folks and riveted by the drama, which is about the love of animals more than the love of racing. ERIC D. SNIDER Cinema 21.
Green Room
Blue Ruin, Jeremy Saulnier's Kickstarter-aided 2013 calling card, fashioned a diabolically inventive revenge movie that repeatedly headed down unpredictably satisfying avenues. The writer/director's larger-budgeted follow-up, Green Room, gathers up that earlier promise and just goes sick with it, taking an intentionally stripped-down premise and jacking it up to ferocious speeds. Inspired by the director's experiences with hardcore punk shows, the story follows an idealist thrash band (led by Alia Shawkat and a terrifically spacy Anton Yelchin) reduced to gas-siphoning between concerts. While spinning aimlessly through the Northwest, they take a gig deep in the Oregon woods at a venue crammed to the rafters with neo-Nazis, fronted by an ominously velvet-voiced Patrick Stewart. Things do not go well, in ways that made a theater full of jaded critics repeatedly suck in their collective breath. ANDREW WRIGHT Various Theaters.
The Idol
Hany Abu-Assad directs this true story of Gazan singer Muhammad Assaf, who forged documents, smuggled himself across the Palestinian border, and found all sorts of new and interesting ways put himself in mortal danger for the chance to compete on season two of Arab Idol. Living Room Theaters.
Kiki's Delivery Service
Beloved director Hayao Miyazaki frequently acknowledges his admiration of Disney, but Uncle Walt and all his filmmaking descendents ain't got shit on Miyazaki's ability to conjure up pure cinematic magic. Kiki's Delivery Service is one of the master's best examples of fantastical-yet-low-key genius, telling the story of a 13-year-old witch who gets a job making deliveries for a European bakery, falls in love, and learns to overcome her insecurities. In a summer already full-to-bursting world-threatening stakes calling down maelstroms of angst and cacophony, experiencing Kiki's quiet, winsome triumphs on the big screen is a welcome, necessary respite. BOBBY ROBERTS Academy Theater.
Kung Fu Theater
This month's installment in Dan Halsted's ongoing celebration of all things whoop-ass is the only known 35mm print of 1980's Snake Deadly Act, which makes up for the basic lack of sense in its title with an abundance of satisfyingly violent revenge, delivered with more style and less mercy than a Cobra Kai sensei. BOBBY ROBERTS Hollywood Theatre.
The Lobster
Here's the thing about The Lobster, the thing that'll either make you want to see it or never see it: It captures what it feels like to be single. And not just that—it captures what it feels like to be single in a society obsessed with everyone having someone. That's not a particularly fun thing to address, but it's not particularly awful, either, so The Lobster splits the difference: surreal and heartfelt, it's both laugh-out-loud funny and eerily melancholy. One minute, characters are wondering if they'll ever find a partner; the next, they're deciding which animal they'll turn into if they end up single. Oh, right—that's the other thing about The Lobster, in which singles visit an austere resort, where, hopefully, they'll find someone to spend the rest of their lives with. But if they don't? Then they turn into an animal. ERIK HENRIKSEN Various Theaters.
Maggie's Plan
See review, this issue. Hollywood Theatre.
The Manchurian Candidate
Anyone who has seen this paranoid classic (released about a year before JFK's assassination, talk about timing), knows that it's supposed to be Frank Sinatra's movie, being as he's the Chairman of the Board and all that puffed-up Rat Pack bullshit—but you'd be kind of an idiot to argue Angela Lansbury doesn't steal the whole goddamn thing with every icily malignant moment she's onscreen. You wanna fuck a '90s kid's whole head up? Take 'em to this screening, and as they're slowly growing nauseous from the pure malice radiating out of Dame Lansbury, lean over and whisper "That's the singing teapot from Beauty and the Beast." BOBBY ROBERTS Laurelhurst Theater.
Me Before You
Advance movie screenings often feature crappy free swag. When I arrived at the advance screening of Me Before You, I was urged to take a free box of tissues emblazoned with an image from the film. "Will I need these?" I asked. "OH YES," they promised. I took my free Kleenex. I cry at cat food commercials. I was fucking READY. But then: nothing. It did not rain on my face. My cheeks were California-levels-of-drought dry. What the hell, Me Before You? If you're not a sob-inducing romance, what even are you? ELINOR JONES Various Theaters.
The Nice Guys
In one form or another, Shane Black has been trying to make the comedy noir The Nice Guys since 2001, and now that it's finally here, it doesn't disappoint. The script, by Black and Anthony Bagarozzi, checks off Black's trademarks: There's razor-sharp banter, a Christmas carol or two, and a profound appreciation of the comedic qualities of violence. And in Russell Crowe and Ryan Gosling, Black's got a duo who are excited to play along. Crowe, growly and shambly and with a trusty set of brass knuckles, pushes through The Nice Guys' twists with wry determination; Gosling, sporting a cast, a dangling cigarette, and a look of constant confusion, reveals a heretofore unknown talent for ultrasonic shrieks and physical comedy. ERIK HENRIKSEN Various Theaters.
Now You See Me 2
Review forthcoming. Various Theaters.
Persona
Although it's become a film-school cliché since its release in 1966, Ingmar Bergman's Persona still packs a huge punch. An actresss (Liv Ullmann) decides to stop speaking and goes to an isolated island cottage to recover with a hired nurse (Bibi Andersson). There, the two women's personalities collide and overlap, with the actress leeching the nurse's youth and vigor, and the nurse aspiring to her patient's glamor. You can read into the psychological drama as you see fit and interpret Bergman's self-consciously arty technique any number of ways, or you can simply lixuriate in Sven Nykvist's rhapsodic cinematograpy, which lingers over Andersson and Ullmann's windswept faces like they're Turner landscapes. NED LANNAMANN NW Film Center's Whitsell Auditorium.
Popstar: Never Stop Never Stopping
"Ever since I was born, I was dope," Conner4Real (Andy Samberg) intimates at the beginning of Popstar: Never Stop Never Stopping, 2016's answer to 1984's rock mockumentary This Is Spinal Tap. Popstar's greatest strength is its topicality: It's fascinating to watch a movie where the strongest jokes are completely reliant on the audience's fluency in recent pop culture. While flaming hoverboards and EDM DJ headgear that looks "like the tip of Optimus Prime's dick" might not be funny in five years, right now, it's hard not to laugh along. CIARA DOLAN Various Theaters.
Portland Jewish Film Festival
There are infinite ways in which to reshuffle categories of film, and the world puts out so much that the sheer quantity begs for organization. And so we have strange, simultaneous exercises in homogeny and disparity like the NW Film Center's annual Jewish Film Festival. Come for the annual compendium of culturally specific accomplishments; stay for a series that covers a massive amount of ground in theme, geography, and style. MARJORIE SKINNER NW Film Center's Whitsell Auditorium.
Sonic Cinema
The Hollywood's music documentary series. On Sunday, June 12th: As I Am: The Life and Times of DJ AM, charting the career of the influential DJ. On Wednesday, June 15th: Song of Lahore, the story of Pakistani jazz group Sachal Studios, who find themselves working with Wynton Marsalis at Lincoln Center. Hollywood Theatre.
Suspicion
Joan Fontaine suspects her new hubby (Cary Grant) might be worse than a gambling, womanizing cad—the slickly charming fellow might be looking to bump her off and claim her inheritance! Alfred Hitchcock plays it safe in this early Hollywood outing, but the 1941 melodrama contains some witty repartee, a teensy bit of gnawing suspense, and the most sinister glass of milk in movie history. NED LANNAMANN Hollywood Theatre.
Sympathy for the Devil
A behind the scenes look at the Process Church of the Final Judgment. Hollywood Theatre.
Teenage Mutant Ninja Turtles: Out of the Shadows
A cash-in stuffed with names and faces fanboys and girls demand (Bebop! Rocksteady! Baxter Stockman!), fart and booger jokes for the kids, and some of the laziest plotting you'll see: something about three relics of anonymous origin, required to open up a hole to Dimension X. And in Dimension X? Krang! One of the weirdest, most stupefyingly great villains of my childhood! A creepy, weird alien brain that should have unnerved and delighted us in his first-ever trip to the big screen! He does none of those things, though. The Krang of Out of the Shadows is merely another generic, Brad-Garrett-voiced CGI villain, dispatched with little difficulty. He'll be back in another film, you can be sure, and will still be terrible in his mediocrity. It is the greatest betrayal of our time. DIRK VANDERHART Various Theaters.
Warcraft
See review this issue. Various Theaters.
Weiner
See review, this issue. Cinema 21.
When We Were Kings
The 1996 Academy Award-winner for Best Documentary is easily the greatest film about the Greatest. Made over the course of two decades and pulling from over 400 hours of footage, director Leon Gast touches on almost every aspect of 1974's "Rumble in the Jungle" between Ali and then-heavyweight champion, George Foreman. James Brown is in here. Norman Mailer is in here. The secrets behind the rope-a-dope technique and the best way to fight tooth decay are in here. If you don't leave the theater with a grin, shadowboxing and chanting "Ali, bomaye," you might be a replicant. BOBBY ROBERTS Hollywood Theatre.
---
MEANS WE RECOMMEND IT. Theater locations are accurate Friday, June 10-Thursday, June 16, unless otherwise noted. Movie times are updated daily and are available here.