FRENCH DIRECTOR Stéphane Brizé's The Measure of a Man opens with Thierry (Vincent Lindon), an unemployed, 51-year-old father, explaining that his social worker just wasted 15 months of his time—which means that now, his government stipend is running out. So: Who's pumped for an extremely realistic film about an out-of-work French father?
Yeah, that's what I thought. But hold up! Don't write this one off just yet.
Thierry is less desperate than many: He and his wife nearly own their apartment, yet he's too young to retire and too disinterested to start a new profession. The father of a promising yet developmentally disabled teenage son, Thierry is almost okay—and that's what makes Measure of a Man such a living, breathing, walking nightmare to anyone who has a reason to fear unemployment. This could be you! Or me! The horror of Skype interviews, the anxiety of body language, the specter of people 10 and 20 years younger having a roundtable discussion on whether Thierry seems nice is all real. This is the way people get broken, yet for all of us, eventually, it's all but unavoidable.
There's no objectiveness in Measure of a Man: The film's tight focus on Thierry and his struggles—the perspectives of the other characters are never known—never lets up. That one-sidedness is another layer to the character, though, and as Thierry, Lindon goes all in, really doing some beautiful brooding. It's hard to tell if he's playing a man being ruined or a man ruining himself. I liked Measure because I like movies that are not-so-long but a little slow and remind me that life is about more than endurance. For many, many people, life is only that.
Sponsored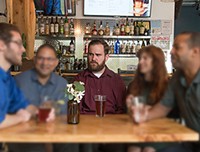 Adults aged 18-35 with good hearing will be paid for their time. Located at the Portland VA Medical Center