THE EAGLE HUNTRESS looks amazing. The documentary's images—featuring a grinning 13-year-old Aisholpan Nurgaiv as she holds a splendid eagle half her size—are the stuff of myths. I went in pumped up to see a girl-power/girl-falconer documentary with plenty of big, cool-looking birds, and I was not disappointed. First-time director Otto Bell accomplishes a level of visual beauty we associate with BBC nature specials or, IDK, Lord of the Rings? It's breathtaking.
From the beginning of his production, Bell used his early footage—Eagle Huntress' first shooting day happened to be the day Aisholpan snuck into a nest on a high rock face, making off with a young eaglet she named White Wings—to convince stars like Morgan Spurlock (Super Size Me) and Daisy Ridley (Star Wars!) to get onboard as executive producers. (Ridley lends her voice to the film's narration, although there's only about five minutes of it.) But earlier this year, Stanford scholar Adrienne Mayor sought to throw some shade on Bell—pointing out factual inaccuracies she saw in the film's depiction of Kazakh culture. And, despite Eagle Huntress' claims that Aisholpan was "overturning 2,000 years of male-dominated history" by falconing, Mayor shared history of other eagle huntresses, like Princess Nirgidma from the 1920s. It seems Aisholpan isn't as alone as Eagle Huntress wanted us to think.
In response, Eagle Huntress' marketing got some noticeable edits—now Aisholpan is characterized as the first female eagle hunter in 12 generations of her Kazakh family. Which, you know, actually makes more sense than an aberrant, lone father suddenly deciding to teach his magically good-at-eagles daughter and defy 2,000 years of tradition. More importantly, those revisions don't take away from what's actually important about Eagle Huntress: There are GOLDEN EAGLES that look AWESOME.
Sponsored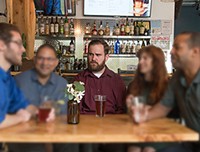 Adults aged 18-35 with good hearing will be paid for their time. Located at the Portland VA Medical Center