Womanhood isn't a niche voice—or at least it shouldn't be—because women are half the people that are. But portrayals of women in mainstream film are largely framed from a male perspective, and only seven percent of directors out there are women. The world is less interesting for Hollywood's singular gaze, and audiences miss out on one of the great benefits cinema affords: the ability to see something from another person's perspective.
Now in its 10th year, Portland Oregon Women's Festival is still seeking to change all that. The films are strong, the panels are useful, and the festival's inclusivity is reaching new and inspiring heights as POW Fest works to showcase even more diverse voices.
"We're a women's film festival, and if someone feels comfortable showing their work under that umbrella, then let's make that happen," said POW Fest Executive Director Tara Johnson-Medinger as we talked about the festival's mission of inclusivity. "Over the past two years, we've been taking a deeper look at what stories we're putting on screen and who's making those stories. You can have an entire festival with people of color on screen, but if you look in the background, it may be all white people creating that. This made us go further into the conversation, which is needed right now. We're still learning. We still have a lot of work to accomplish. Feminism and intersectionality are like a moving target right now."
Hosted at the Hollywood Theatre over the course of a weekend, this year's POW Fest is made up of nine feature-length narrative/documentary films (each paired with a similarly-themed short film), three educational panels, and seven collections of shorts, each grouped together by theme. POW Fest's mission lends itself toward shorts—which provide a maximum amount of exposure for women directors, as well as entertainment for the audience—and they end up comprising about half the festival programming. While it's a bit of a shame that—out of seven showcases—only one is appropriate for youth audiences, POW Fest deserves special applause for the quality and flow of the shorts in general. The programs are deftly curated, and each ends with a punch—the "Dark Tales" program (screening Fri March 3), for example, wound up my personal safety anxieties, but the final short, Min Kusin Klara (whose director, Aviva Neuman, will be in attendance) helped me leave the experience with my thoughts turned toward sisterly bravery.
I don't have enough space to describe all of the interesting films in this year's POW Fest, but I was especially moved by The View from Tall (Sun March 5), whose controversial subject matter—a teacher/student relationship—is matched by its realism and quality. The feel-good movie of the festival, meanwhile, might be Out of Order (Sat March 4), a documentary about wide-eyed, full-hearted Presbyterian queer ministers who fight for progress in their religious hierarchy. Out of Order is accompanied by the 23-minute doc Escaping Agra—about the experiences of trans college student Naveen Bhat—and there are common threads between the films, including parents (stoic Midwestern parents! Pacific Northwest hippie parents! Texas rancher parents!) who look into the camera to say they support their children, and don't understand why anyone wouldn't.
Finally, I can't stop raving about the festival's guest of honor Cheryl Dunye, who will present and discuss a digitally restored version of her unique, honest, and incredibly '90s nesting doll of a movie The Watermelon Woman (Sat March 4). The first feature-length film directed by a queer woman of color, 1996's The Watermelon Woman has Dunye playing a filmmaker making her first film, working in a video store, and obsessing over footage of a queer Black actress from the 1930s—footage which Dunye created for the film. So strong was her desire to have representation in cinema's history that Dunye, finding none, created her own. Dunye's Q&A promises to be as unconventional as Dunye herself, with multiple moderators from across generations. "We sent her a list of people we were going ask to be her moderator," Johnson-Medinger says, "and she said she'd love all of them."
Sponsored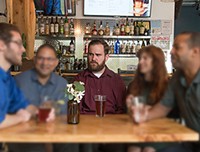 Adults aged 18-35 with good hearing will be paid for their time. Located at the Portland VA Medical Center