Brazil
There are two things Terry Gilliam is legitimately great at: Making provocative films, and provoking the people who give him the money to make them. In 1985, Gilliam's masterpiece on both fronts, Brazil was (barely) released—a delirious fever dream of dystopian sci-fi that blends the best of Fritz Lang and Steven Spielberg into a funny, sad, and scary satire. The only thing more audacious than the film is the story of Gilliam dragging Universal Pictures into a very public street fight to save his film from the scissor-happy hands of the studio—and winning. Savor Gilliam's victory on the big screen while you can. BOBBY ROBERTS Academy Theater.
Sponsored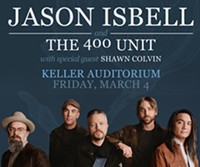 Jason Isbell has established himself as one of the most respected songwriters of his generation. Don't miss Jason Isbell and the 400 Unit, March 4th at Keller Auditorium!
Brick
Possibly the best film noir since 1992's Red Rock West. Degree of difficulty: It takes place in high school and nobody even remotely speaks (or looks) like an actual teenager. If you can get past the deliberate artifice, you're in for some deliciously cold and calculated storytelling from Rian Johnson (this is his first film!), and a flat-out fascinating performance from Joseph Gordon-Levitt. BOBBY ROBERTS Laurelhurst Theater.
Cézanne et Moi
Cézanne et Moi is supposed to be a portrait of the tumultuous lifelong friendship between Great French Writer Emile Zola and Great French Artist Paul Cézanne. Unfortunately, they're both insufferable—the movie isn't a portrayal of friendship between male artists so much as an argument to avoid associating with them. Also infuriating: Though populated by actors portraying most of the male painters represented in the impressionist wing of Paris' Musée d'Orsay, the only woman artist who appears on screen in Cézanne et Moi is Berthe Morisot (Carole Labouze), and she's shown declining a gross come-on from Cézanne. No thank you! The other women in this movie are shown being treated as props for Cézanne's compositions, being berated by Cézanne for not sitting still enough, being berated by Cézanne for having veins below their breasts that fuck up his color palette (?), or being cheated on by Zola. Honestly, if either of these artists mean anything to you, I'd avoid seeing this movie. Quelle horreur! MEGAN BURBANK Fox Tower 10.
David Lynch: The Art Life
There aren't any log-toting ladies or gas-huffing psychopaths in David Lynch: The Art Life—but it has the dreamer of the delightful oddities in Twin Peaks, Blue Velvet, and Mulholland Drive. This documentary features the 71-year-old director/artist in his sunny outdoor studio creating countless pieces of fine art, fiddling with latex and dollops of paint and cursing to himself when his drill doesn't cooperate, all while his tiny daughter Lula keeps him company. To soundtrack the long stretches of Lynch smoking and sitting, he tells stories of his childhood in the Pacific Northwest, art school in Philadelphia, and his rise as a cult director with 1977's Eraserhead. It's a fascinating look into living the art life with a wonderful and weird artist. COURTNEY FERGUSON Cinema 21.
Fashion in Film: Marie Antoinette
Eden Dawn and former Mercury fashion maven Marjorie Skinner present a candy-coated slice of awkward from Sofia Coppola, Marie Antoinette, probably the best dressed romantic comedy of the last 20 years, which helps distract from the fact the film isn't much more than a bunch of hollow, repugnant assholes bumping into each other for two hours. Hollywood Theatre.
Free Fire
See review, this issue. Various Theaters.
Grindhouse Film Festival: Creepers
The Hollywood's monthly grindhouse celebration presents a rare 35mm print of Dario Argento's mid-'80s thriller Creepers. While not as disturbing as his 1977 classic Suspiria, Creepers is still an Argento film, so you know something profoundly fucked up is going to assault your eyeballs. For example: there's a fuckin' chimpanzee with a straight razor running around this movie, scored to Goblin and Iron Maiden. Sounds like a damn good night at the grindhouse. BOBBY ROBERTS Hollywood Theatre.
The Lost City of Z
See review, this issue. Various Theaters.
Mary Poppins
Dick Van Dyke is a national treasure and one of the most charming men to ever step in front of a film camera, but holy shit his attempt at a British accent is one of the worst crimes against that country since Guy Fawkes. Hollywood Theatre.
Portland EcoFilm Festival
Three events over the course of a week mark the latest batch of programming from the Portland EcoFilm Festival. First up is Look & See: A Portrait of Wendell Berry (Fri April 21), which functions both as an artful profile of farmer, activist, and writer Berry and as a mournful elegy for the demise of American farming—Berry's life spans the period in which local, independent farming families were turned into reluctant participants in America's soullessly mechanized agriculture industry. Berry's words float through the film, rich with the beauty, strength, and complexity of the land that inspired them; hearing from other farmers, too, offers a much-needed, too-late glimpse into a way of life already lost to hollow capitalism. The Hollywood's screening will feature a post-film Skype Q&A with Look & See's filmmakers, before moving on to Chasing Coral (Sat April 22-Sun April 23), director Jeff Orlowski's follow-up to his 2012 climate change documentary Chasing Ice. Coral—in which Orlowski focuses on Earth's dying coral reefs—wasn't made available for critics, but if it's anything like Ice, expect it to be as gorgeous as it is depressing. And then there's Filming the Fossil Fuel Resistance (Thurs April 27), a fundraiser for the The Reluctant Radical, a documentary about activist Ken Ward—for more on that, see portlandecofilmfest.org, or pick up a copy of next week's Mercury for our story. ERIK HENRIKSEN Hollywood Theatre.
The Promise
See review, this issue. Various Theaters.
Re-run Theater: Cowboys in Space
Portland boasts one of the biggest concentration of Browncoats in the entire country. Browncoats are the fanatical fans of Joss Whedon's canceled-too-soon-but-it-got-a-feature-film-anyway-so-why-are-you-still-complaining-almost-two-decades-later-Jesus-fucking-CHRIST television series Firefly. The Browncoats will be at this month's celebration of television's gaudy, funky past, because along with an episode of the robot horsies cartoon Adventures of the Galaxy Rangers, the Hollywood is screening the Firefly episode "Jaynestown," where right-wing Twitter pustule Adam Baldwin finds himself the subject of a small town's hero worship. There will also be cowboy-themed commercials, pizza, beer, and song. BOBBY ROBERTS Hollywood Theatre.
---
MEANS WE RECOMMEND IT. Theater locations are accurate Friday, April 21-Thursday, April 27, unless otherwise noted. Movie times are updated daily and are available here.