Remember back in the Dark Ages, before streaming, when everyone was always sad that we had all these channels but nothing was ever on? (Does this paper have readers young enough to not know that agony?!) Anyway, QDoc, Portland's annual gay and lesbian documentary film festival, presents the opposite problem: There aren't a ton of movies in each year's festival, but the movies that are playing are excellent.
I watched a handful of this year's QDoc selections ahead of time, and as I write this, I realize I must've been feeling extra jazz hands-y when I made my selections, because three of the four films I watched—of the 11 at this year's festival—are about music. My favorite was Rebels on Pointe (screening Sunday May 21, with subject Bobby Carter in attendance), about a troupe of male drag ballet dancers known as Les Ballets Trockadero de Monte Carlo. These classically trained dancers perform in pointe shoes, combining years of training and strong, lithe bodies with the theatricality, humor, and fake eyelashes of drag. As we get to know the Les Ballets Trockadero dancers, I was struck by the absence of hardship. I mean, I'm sure making it as a professional dancer is no easy feat, but when these performers talk about their lives, families, and sexualities, they have huge networks of support—and beaming moms in the crowd. Watching this one is an immensely positive experience.
Samesies with Jewel's Catch One (screening Friday May 19, with director C. Fitz and subject Jewel Thais-Williams in attendance), about the groundbreaking nightclub in Los Angeles and its Black lesbian founder, Jewel Thais-Williams. Thais-Williams created a haven for gays and lesbians—especially those of color—that lasted over 40 years. The film offers plenty of disco vibes, but instead of dishing on the decadence, parties, and gossip, it focuses on activism: Thais-Williams used the success of her nightclub to help her community. In Jewel's Catch One, Thais-Williams is pretty serious, and I couldn't help but wonder what dirt she's got on LA's scenesters (I have a feeling gossip isn't her deal). Perhaps if I'd watched The Fabulous Allan Carr (Saturday May 20), I would've gotten the scoop of disco ragers and debauchery! Carr's the guy who produced Grease, and also engineered the mega-parties of the 1970s. Drama!
Chavela (Saturday May 20, with director Catherine Gund in attendance), about Mexican folk singer Chavela Vargas, offers a fair amount of intrigue and a great window into an equally wild life. An unapologetic lesbian, Vargas performed in pants and a poncho and sang love songs about women just as women were getting the vote in Mexico—and in the process, seduced half of Mexico and maybe all of Hollywood. Filled with Vargas' haunting music, the biggest problem with Chavela might be that it isn't long enough.
The one non-musical film I watched was also very short: Bayard & Me, which will be shown as a double feature with A Giant's Love, about Argentinean trans rights activist Mariela Munoz (Friday May 19). Bayard focuses on civil rights pioneer Bayard Rustin and his much-younger partner, Walter Naegle, who came up with a novel solution to gain legal protections before gay marriage was legal: have Bayard adopt him. Narrated by Naegle, Bayard & Me is touching both for its intimacy and practicality.
I couldn't bring myself to watch Conversations with Gay Elders (Sunday May 21), which features interviews with pre-Stonewall gay men, because it sounded similar to Last Men Standing, a documentary I watched at last year's festival, and one from which my heart is still reeling. If you go, will you tell me about it, and remind me that even though these are hard times, things were harder before? Same deal with The Lavender Scare (Sunday May 21), about the US government's witch hunts for gays and lesbians during the Cold War. We're... we're beyond that, right?
QDoc's now in its 11th year, and 2017 finds it at a moment of change: Co-directors Molly King and Deb Kemp have taken over the festival from founders Russ Gage and David Weissman. But if one trait has marked the past decade of QDoc, it's been the festival's excellent programming—the fest has always offered a small, but exceedingly well curated selection of films. That's a significantly better model than a too-large festival with more (but worse) movies. Take it from me: If I had a hard time deciding what to watch at QDoc this year, you will, too. And that's a pretty great problem to have.
Sponsored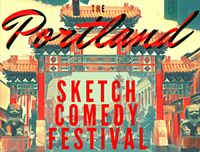 Sketch comedy troupes from all over N. America descend on The Siren Theater for 3 glorious nights.