B-Movie Bingo: Magic Cop
Your monthly opportunity to literally check off a bingo card full of B-movie clichés! This month, the challenge is to actually play the game while being repeatedly shocked into bewildered confusion at whatever the fuck is happening during any five-minute stretch of Magic Cop—not to be confused with Maniac Cop, the most chin-tastic film ever, starring not just Bruce Campbell, but Robert Z-Dar, who's whole head is just one big chin with eyes and lips stuck to it. Anyway, in Magic Cop Lam Ching Ying plays unibrowed police officer/sorcerer Uncle Feng, who is paired up with a greenhorn rookie to help stop a drug smuggling ring using reanimated corpses as mules. BOBBY ROBERTS Hollywood Theatre.
Sponsored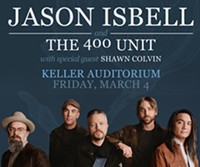 Jason Isbell has established himself as one of the most respected songwriters of his generation. Don't miss Jason Isbell and the 400 Unit, March 4th at Keller Auditorium!
Badlands
Terrence Malick's first film, from 1973, starring Martin Sheen and Sissy Spacek. Romantic and creepy and gorgeous, it's a better film than most directors ever make. Malick used it as a starting point. ERIK HENRIKSEN Hollywood Theatre.
Baywatch
Baywatch plays like a two-hour wet dream, and you will leave feeling like the crusty sheet. CIARA DOLAN Various Theaters.
The Big Sleep
Humphrey Bogart spars with Lauren Bacall in Howard Hawks' 1946 adaptation of Raymond Chandler's book. There's murder, blackmail, intrigue, and innuendo, and despite the convoluted plot (not even Chandler could figure out who killed the chauffeur), Bogie, as Philip Marlowe, does a great job of keeping pace with the audience, tugging on his earlobe in nervous confusion. This is prototypical noir, and a fantastic detective movie; what's more, Marlowe's success with the ladies is obvious inspiration for another famous film dick—you might know him as Bond. NED LANNAMANN Laurelhurst Theater.
Big Trouble in Little China
With a title that mirrors the poeticism of a POTUS tweet, this 1986 classic is a comic book come to life filled with martial arts, monsters, magic, and Kurt Russell in a tank top saying cheesy shit like, "I was born ready!" and "Son of a bitch must pay!" BRI BREY Fifth Avenue Cinema.
Cinema Classics: Gaslight
Before 1944, there wasn't really a term for the insidiously shitty practice of lying straight to a person's face about the obvious reality they're perceiving. People had been doing it forever, because people have been lying, manipulative assholes forever, but that phenomenon didn't really have a name. But then George Cukor released his now-classic thriller Gaslight, starring Ingrid Bergman as a woman whose controlling, duplicitous, piece-of-shit husband attempts to drive her insane with literal gaslights. That this film is getting a 35mm screening in the same month our sex-offending, mentally deficient, racist slumlord-in-chief (who lost the popular vote by 2,864,974 votes) celebrates his birthday is not a coincidence. BOBBY ROBERTS Hollywood Theatre.
Jaws
"Japanese submarine slammed two torpedoes into our side, chief. We was comin' back from the island of Tinian to Leyte... just delivered the bomb. The Hiroshima bomb. Eleven hundred men went into the water. Vessel went down in 12 minutes. Didn't see the first shark for about a half an hour." Academy Theater.
Jeremiah Tower: The Last Magnificent
See review, this issue. Fox Tower 10.
Manifesto
Julian Rosenfeldt's experimental film is a plotless dive into the art of grandstanding, starring Cate Blanchett as 13 different characters delivering 13 famous manifestos, in ways their writers never intended—when Lars Von Trier was penning the rules for Dogme 95, for example, he probably wasn't envisioning Lady Galadriel as a fifth grade teacher leading her elementary school class in a call-and-response run through the bylaws. Not screened for critics. Cinema 21.
Movies in the Dark: The Trial
Projekt Records presents Orson Welles' adaptation of Franz Kafka's novel about a bland office worker (Anthony Perkins) who is arrested for a never-specified crime. The story was weird and uncomfortable in its original form—it's startling how paranoid and discombobulating it becomes when Welles' puts his full weight behind the film's cinematography and sound design to transform Perkins' world into a banal hellscape of bureaucratic nonsense. BOBBY ROBERTS Hollywood Theatre.
Pirates of the Caribbean: Dead Men Tell No Tales
Is this movie for you? It is not for you. It is not for anyone. Do not look at it. ERIK HENRIKSEN Various Theaters.
Portland Horror Film Festival
This film fest returns for its second year, full of shorts from all over the world that span the horror spectrum—from funny-gross to gross-gross, and from understated eerie to full-blown bizarre. COURTNEY FERGUSON Hollywood Theatre.
Stalker
Striking and beautiful, soporific, and frustrating. It's a Tarkovsky, alright! NED LANNAMANN Cinema 21.
Sword of Doom
Kihachi Okamoto's 1966 classic is less concerned with notions of nobility and honor and more concerned with how relentless slaughter and murder can psychologically scar even the baddest of motherfuckers. BOBBY ROBERTS Hollywood Theatre.
Tatara Samurai
The other samurai film screening at the Hollywood this week, 2016's Tatara Samurai tells the story of a young man in 16th century Japan who must choose between following his father's path as a master at making steel, or becoming a samurai to wield that steel and protect his village from raiding clans. Hollywood Theatre.
Wakefield
See review, this issue. Living Room Theaters.
Wonder Woman
See review this issue. Various Theaters.
---
MEANS WE RECOMMEND IT. Theater locations are accurate Friday, June 2-Thursday, June 8, unless otherwise noted. Movie times are updated daily and are available here.