★ THE BIG LEBOWSKI
At first it was just a weird, low-key almost-misfire in the Coens' canon. And then it was an underrated work of layered comedic genius. And then it became this whole culty thing complete with festivals and cosplayers and idiots in bathrobes blocking traffic with marching bands playing jazzy versions of "Hotel California" on their way to the theater. And now? Now, it's just The Big Lebowski again, a properly-rated work of layered comedic genius. BOBBY ROBERTS Clinton Street Theater.
Sponsored
Sketch comedy troupes from all over N. America descend on The Siren Theater for 3 glorious nights.
CHRISTMAS IN SPACE
It's become the Hollywood's gift to the city, this annual slew of freaky-ass, nostalgic sci-fi Christmas junk: The utterly execrable Star Wars Holiday Special, vintage toy commercials, and more—all preceded by Rowan Atkinson's Black Adder on the big screen, eviscerating Charles Dickens in all his snarling, silly glory. Hollywood Theatre.
A CHRISTMAS STORY
It's the holiday classic that just won't go away! SEE! A shitty little kid rip his tongue raw on an icy pole! HEAR! The glorious collection of syllables that is "Scut Farkus." WINCE! At that super-racist scene where they go to the Chinese restaurant! CHEER! As Santa kicks a little kid in the face! Merry Christmas, everyone, from the guy that directed Porky's! Various Theaters.
★ COCO
Coco, the new Pixar film that's set in Mexico during Dia de los Muertos, handles the subject of death with humor, lightness, and depth. The "Coco" in question is the oldest living relative of the film's young protagonist, Miguel (voiced by Anthony Gonzalez), but the story is driven by Miguel's passion for becoming a musician—and the conflicted relationship he has with his family, who label music as "bad" for reasons he has yet to learn. But Miguel is tenacious when it comes to performing ("I'm gonna play Mariachi Plaza if it kills me!"), and after his abuelita smashes his guitar, Miguel steals the guitar of a famous ancestor. Since taking from the dead is a big no-no—especially on Dia de los Muertos—Miguel crosses over into the Land of the Dead. JENNI MOORE Various Theaters.
DARKEST HOUR
The good things you've heard about Joe Wright's Winston Churchill biopic are true: Gary Oldman is incredible as Churchill, and the movie takes the actor's powers of transformation to another level. But I'm not sure this is the right moment for another slice of great-man-with-flaws hagiography. Churchill was a heavy-drinking, cigar-stinking, privileged white guy who didn't treat his employees very well and got very lucky with the Dunkirk evacuation, but Darkest Hour sees him as rascally old genius beleaguered by those pesky wimps in the Labour Party. And the movie elicits groans during a fictionalized sequence that has Churchill mingling with the common rabble on the Tube, getting the inspiration for his famous "fight on the beaches" speech. Still, there's some pleasure in the narrative's concision, which condenses complicated military strategies into a punchy, talky script. NED LANNAMANN Various Theaters.
★ THE DISASTER ARTIST
Don't come to The Disaster Artist looking for answers. James Franco's film about the making of The Room probably won't resolve your biggest questions about Tommy Wiseau, the writer/director/producer/star of that infamously bad 2003 movie. Rather than craft an exposé, Franco embraces Wiseau's inscrutability while drawing a vivid emotional portrait. At first you think it's going to be a sniggering, get-a-load-of-this-guy takedown, but Franco's Wiseau—while enormously funny—is given surprising depth and complexity. Despite all the jokes it cracks at The Room's expense, it eventually becomes clear that everyone involved in The Disaster Artist has deep affection for Wiseau's weird, wretched movie. NED LANNAMANN Cinema 21.
ELF
Are we pretending that this a holiday classic now? Are we the ones who sit upon a throne of lies? Various Theaters.
FERDINAND
I knew I'd cry at Ferdinand, an adaptation of the 1936 children's book. Published nine months before the Spanish Civil War, The Story of Ferdinand is famous for its themes of pacifism and being true to oneself. Ferdinand shouts its progressive message even louder. With a legitimately funny cast of animals (like a "calming goat" voiced by Kate McKinnon), the movie uses the massive, sweet bull Ferdinand (John Cena) to explore the impacts of toxic masculinity. Surprisingly, Ferdinand also includes the trauma that bulls endure for man's gain: forced violence, separation from their families, and the ultimate fate of the chop house. It might create a generation of vegetarians. JENNI MOORE Various Theaters.
THE GOONIES
Samwise Gamgee and Thanos ask Short Round, a chubby exhibitionist, and a bad Michael Jackson impersonator to join them on a treasure hunt on the Oregon coast, where Joey Pants and the FBI dickhead from Die Hard are illegally detaining an ex-football player with encephalitis. Will this motley gang of misfits find Captain Dick Joke's secret stash of gold coins? Will everyone speak solely in perforated shrieks and yelps? Will you start to wish you were just playing the old NES game again instead of sitting through your 50th viewing of this tired nostalgia exercise that constitutes roughly 17 percent of Astoria's economy? Hah! C'mon. Goonies never say die, right? It's our time down here! BOBBY ROBERTS NW Film Center's Whitsell Auditorium.
★ HOME ALONE
A Christmas thought experiment: On one side of you sits an incontinent Cousin Fuller, guzzling Pepsi and shooting you a deranged look that strongly suggests—if not outright promises—he plans to purposefully urinate on you in your sleep. On the other side, a pair of dangerous burglars threatening their own brand of sadistic and unnecessary wetness. How to avoid that hot urine? How to dodge that felonious drenching? And how to do it all while discovering some real shit about Christmas? This is young Kevin McAllister's burden. Come, marvel as he shoulders it. (Involves shooting a guy in the dick.) DIRK VANDERHART Laurelhurst Theater.
THE KILLING OF A SACRED DEER
Director Yorgos Lanthimos' morality play uses the myth of Iphigenia—who was sacrificed by her father to appease the gods—as a springboard, but it's the mythology of cinema that Lanthimos is intent on exploding as he uses sterile, slow, almost Kubrickian imagery to interrogate the story. The surreal hilarity of Lanthimos' last film, The Lobster, is totally absent here; Sacred Deer is, in the moment, an unpleasant experience. But as the director is careful to announce early on, this is not a film about what you see—it's about what you realize hours, maybe days, after you've left the theater. Lanthimos gets under your skin and stays there. NED LANNAMANN Various Theaters.
★ LADY BIRD
Watching Lady Bird is kind of like reopening your high school yearbook for the first time in years, wincing and smiling in equal measure. Greta Gerwig's directorial debut is sweet, tragic, and sentimental, which is exactly how a coming-of-age movie should be. CIARA DOLAN Hollywood Theatre.
PARANORMAN
Stop me if you've heard this one before: There's this little kid, and he can see dead people. Now, I know what you're thinking: "This kid, he's probably well adjusted and super popular with his peers, am I right? A hit with all the ladies?" No! Believe it or not, he's kind of an outcast! A social pariah, even! Okay, now I don't want to spoil anything, but the twist? This social handicap of his might turn out to save the day. Sounds crazy, right? I know, but it's true! That, unfortunately, is the recycling-bin plot the talented animators at LAIKA have saddled themselves with on ParaNorman. It doesn't get any better in the telling, and probably gets worse, which is a shame, because the animation is so finely crafted and obviously painstaking that not loving it makes you feel like a real poopface. VINCE MANCINI NW Film Center's Whitsell Auditorium.
PORTLAND LATIN AMERICAN FILM FESTIVAL: FRANCIS, PRAY FOR ME
If you've ever thought "The pope seems kinda cool, but I don't really know much about him," you could hit up Wikipedia and read, or you could check out this biopic that follows him from his childhood days in Argentina (when he was just Jorge Mario Bergoglio) to his current popehood. Hollywood Theatre.
★ THE SHAPE OF WATER
See Film, this issue. Cinema 21, Hollywood Theatre.
SOLARIS
If you've never committed to all three hours of Andrei Tarkovsky's 1972 arthouse sci-fi film Solaris, here's your chance—the NW Film Center is screening a new restoration, and the doors will be locked so you cannot escape. (I assume.) Your enjoyment of Solaris will depend on how much patience you have for melancholy meditation; this patient adaptation of Stanislaw Lem's novel finds a psychologist investigating Solaris, a weird planet that may or may not be bringing his dead wife back to life. It's mostly worth seeing—and it's worth following up with 2002's Solaris, an all-but-forgotten oddity from Steven Soderbergh and James Cameron that swapped in George Clooney and cut the running time in half. Don't tell any film snobs, but I prefer the Soderbergh one. That either means I'm a philistine, or that George Clooney is just that dreamy. ERIK HENRIKSEN NW Film Center's Whitsell Auditorium.
★ STAR WARS: THE LAST JEDI
See review, this issue. Various Theaters.
★ THREE BILLBOARDS OUTSIDE EBBING, MISSOURI
Let's talk about Sam Rockwell for a minute. There's a lot of other talent in the awkwardly, memorably titled Three Billboards Outside Ebbing, Missouri. Frances McDormand is predictably, fiercely awesome; Woody Harrelson demonstrates unexpected nuance; and writer/director Martin McDonagh takes his patented mixture of profanity and profundity to new levels. But I'd argue that Three Billboards is Rockwell's movie. He takes a character who at first seems to be little more than a cartoon of a bumbling, racist cop, and transforms him into the moral center of a powerfully moral film. MARC MOHAN Hollywood Theatre.
WHITE CHRISTMAS
Maybe consider doing something nice for once and take your grandmother to a Bing Crosby movie, you ungrateful, selfish little jackass. Academy Theater.
WONDER WHEEL
To steal one of the writer/director's old jokes, Woody Allen's latter-day movies can be divided into two categories: the horrible and the miserable. His newest, Wonder Wheel, has the unprecedented distinction of being both—it's a toothless, slipshod reshuffling of Allen's usual lazy tropes (miserable) and an incontrovertible reminder of the appalling rumors that surround his personal life (horrible). This particular cultural moment, with new sexual abuse and assault allegations exposed daily, seems to be the reacting agent that's contaminated Allen's legacy for good. NED LANNAMANN Various Theaters.
WYRD WAR PRESENTS: THE MAFU CAGE
The Mafu Cage screened earlier this year as part of Fantastic Fest's "House of Psychotic Women" programming, paying homage to a late '70s subgenre that isn't often celebrated. Wyrd War brings that film to Portland, and if you didn't appreciate the unhinged atmosphere Carol Kane has brought to almost all of her roles—even the most kid-friendly of them—you're going to appreciate her as Cissy, a feral woman who lives in a massive house with her astronomer sister (Lee Grant), who must keep the house stacked with monkeys for Cissy to capriciously murder or Cissy will snap. Spoiler: Cissy is going to fucking snap. BOBBY ROBERTS Laurelhurst Theater.
---
★
MEANS WE RECOMMEND IT. Theater locations are accurate Friday, December 15-Thursday, December 21, unless otherwise noted. Movie times are updated daily and are available here.
Sponsored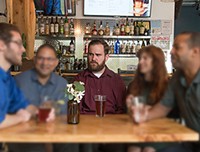 Adults aged 18-35 with good hearing will be paid for their time. Located at the Portland VA Medical Center