Screening as part of the NW Film Center's LAIKA-sponsored series "Animated Worlds: Stop-Motion Classics," My Life as a Zucchini is a tale of Icare, an orphaned nine-year-old who prefers to go by the nickname his mother gave him: Zucchini. Placed in an idyllic French orphanage, Zucchini discovers comfort, camaraderie, and some sex jokes.
The first feature-length animation from Swiss director Claude Barras, Zucchini is a great little film (just over 60 minutes!) that is told with empathy, bursting with color, and full of adorable, orphan-told jokes about sexuality. This particular screening of My Life as a Zucchini isn't really for kids, but I'm not saying that because of the sex jokes. (Childhood is, for the most part, back-to-back sex jokes.) Rather, the version playing this weekend at the Whitsell is in French, and has some dense English subtitles that could prove frustrating for young readers. (There is, however, a promising-looking English dub, should you go the rental route, that boasts voice acting from Nick Offerman and Amy Sedaris.)
With its masterful use of color hierarchy and imaginative character designs, Zucchini looks and feels like a storybook. There's more to it than great visuals, though: As he did in his 2006 short Genie in a Tin of Ravioli, Barras imbues Zucchini with realistic twists and European sentiments about the importance of simple pleasures. They might seem different on the surface, but it wouldn't be off-base to compare Zucchini to 2013's live-action foster-care drama Short Term 12: Both have the too-rare willingness to not only address difficult subjects, but handle them with care.
Sponsored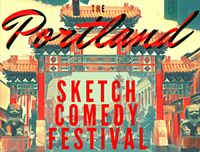 Sketch comedy troupes from all over N. America descend on The Siren Theater for 3 glorious nights.