---
★
MEANS WE RECOMMEND IT. Theater locations are accurate Friday-Thursday, unless otherwise noted. Movie times are updated daily and are available here.
---
AN AMERICAN IN PARIS
Vincente Minnelli's classic 1951 musical, starring Gene Kelly and Leslie Caron as two thirds of a love triangle that can only be settled by an increasingly spectacular series of dance numbers. Hollywood Theatre.
Sponsored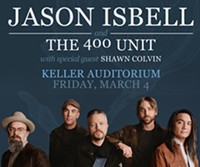 Jason Isbell has established himself as one of the most respected songwriters of his generation. Don't miss Jason Isbell and the 400 Unit, March 4th at Keller Auditorium!
B-MOVIE BINGO: FOR YOUR HEIGHT ONLY
Your monthly opportunity to literally check off a bingo card full of B-movie clichés! This month: A 1981 spoof of James Bond called For Your Height Only, starring Filipino star Weng Weng (holder of the Guinness World Record for Shortest Adult Actor in a Leading Role) as Agent 003-1/2. Get it? Eh?? It's okay if you don't get it (it's a short joke!) because the rest of the movie is going to make about 3,000 variations on that one joke for the next 88 fucking minutes. BOBBY ROBERTS Hollywood Theatre.
BLACKKKLANSMAN
It's difficult to know what to make of Spike Lee's latest joint—a fact that positions BlacKkKlansman almost perfectly within the filmmaker's larger oeuvre. Few directors with as many films to their name as Lee have such an incredible body of work that is both brilliant and eye-rollingly annoying, often in the same movie. And while BlacKkKlansman never hits the rocky depths of Lee's more troubled or narratively uneven films, it also falls short of the inspired artistry that defines the director's best work. DAVID F. WALKER Bagdad Theater, Hollywood Theatre, St. Johns Twin Cinemas.
BLINDSPOTTING
Daveed Diggs (Hamilton) stars as a mover, literally carrying furniture for the rich folks rapidly gentrifying his hometown of Oakland, California, as he tries to make it through the last 72 hours of his felony probation—despite the best/worst troublemaking efforts of his tryhard whiteboy best friend. Academy Theater.
THE BOOKSHOP
Imagine Footloose... but with books! Based on the 1978 novel by Penelope Fitzgerald, The Bookshop finds the charming Emily Mortimer playing a (presumably) charming bookseller in conservative small-town England in the 1950s; "while bringing about a surprising cultural awakening through works by Ray Bradbury and Vladimir Nabokov," she makes an enemy in a "local grand dame" (Patricia Clarkson) and a friend in a fellow book nerd (Bill Nighy). ERIK HENRIKSEN Living Room Theaters.
★ CAN'T HARDLY WAIT
The '90s were bewildering. There seemed to be no real reasoning behind why things got popular, shit just... happened! Hypercolor shirts? Sure! Big Bad Voodoo Daddy? So money, baby! JNCO jeans, Space Jam, Kazaam... if the '90s had a thesis, it was "fuck it." And as the '90s began its shrugging, neon-and-flannel drenched sunset, what (amazingly) poked its head over the horizon was a teen comedy renaissance. After John Hughes abandoned his kingdom for shitty kids flicks, '90s teen movies were more like Menace II Society and The Doom Generation than Some Kind of Wonderful. And into that vacuum stepped some of the genre's best entries: Clueless, 10 Things I Hate About You, American Pie, and this film, the closest thing the '90s ever got to having its own American Graffiti. It's not the best of this graduating class, but possibly the most likable, due to its cast (arguably the decade's best teen ensemble next to Dazed and Confused) its pacing, and its good-natured twist on that '90s thesis: When this movie says "fuck it," it actually feels good to go along with it. BOBBY ROBERTS Hollywood Theatre.
CARGO
An independent thriller from director James Dylan, about a rich old white guy who wakes up in a cargo container with a phone and his shitty attitude and is told he has to raise $10 million in 24 hours or unspeakable things will happen to his wife. Features a soundtrack by Tangerine Dream alumni Thorsten Quaeschning. Clinton Street Theater.
COAL MINER'S DAUGHTER
Sissy Spacek won the 1980 Best Actress Oscar for her portrayal of Loretta Lynn in this movie, which is not only one of the best musical biopics ever made, but might also be the only onscreen appearance of Tommy Lee Jones where he doesn't look like the Rockbiter from The Neverending Story. BOBBY ROBERTS Hollywood Theatre.
★ CRAZY RICH ASIANS
I'm going to start with the thing everybody wants to talk about: Crazy Rich Asians is the first major motion picture starring a predominantly Asian cast since The Joy Luck Club came out in 1993. That is BONKERS, and it makes this film's release noteworthy. Great! Let's talk inclusion! I love it. Thumbs up, Hollywood! Now let's talk about the next most important thing: Crazy Rich Asians is romantic comedy gold that should be celebrated not only for its cast but also for its perfect execution of light, breezy escapism. ELINOR JONES Various Theaters.
GREASE
It really is kind of a mystery how this gross, skeevy homage to the glory days of teenage exploitation became a family-friendly sing-along, but I guess that's what 40 years and a killer soundtrack does for a film? Hey, in honor of that 40th anniversary, why not spend a couple hours in a theater with 30-year old teenagers teaching each other how to smoke and cheerfully singing about attempted rapes? Starring Eddie Deezen, Eve Arden, and Sid Caesar. BOBBY ROBERTS Hollywood Theatre.
★ JULIET, NAKED
See review, this issue. Various Theaters.
KIN
Brothers Jonathan and Josh Baker present this sci-fi action flick about an ex-con and his adopted brother on the run from basically everybody, with nothing but a mystery weapon to protect them. Starring James Franco, Zoë Kravitz, and Carrie Coon. Various Theaters.
LEON: THE PROFESSIONAL
There are many people to thank for the unlikely success that is 1994's Leon: The Professional. Gary Oldman, for his wild-eyed, sweaty, shouty cartoon of a villain. Obviously Jean Reno and his measured turn as the titular assassin deserves praise, although the movie really belongs to 11-year-old Natalie Portman as Leon's ward, apprentice, and surrogate daughter, Mathilda. But the biggest thanks for Leon's success go not to writer/director Luc Besson—who initially wrote a movie about the consensual (!) love affair (!!) between a middle aged killer and a 12-year-old girl—but instead to Portman's parents, whose demands forced multiple changes to Besson's script that not only made Portman's involvement possible, but made his film (barely) palatable. Of course, even the drastically toned down version of Leon that was made opened Portman up to years of creepy fetishizing on the part of filmmakers (see: Ted Demme's Beautiful Girls), film writers (see: any magazine profile of Portman circa 1994-1999), and self-proclaimed "film geeks" (see... on second thought, don't). Some would argue it's unfair to the film to hold this behind-the-scenes knowledge against it, but then again: Leon, engaging as it may be, is probably not the kind of film you should be thoughtlessly enjoying. BOBBY ROBERTS Academy Theater.
THE LITTLE STRANGER
See review this issue. Various Theaters.
MADELINE'S MADELINE
Josephine Decker's latest is a meta-metatextual trip behind the curtain of live theater, kaleidoscopically looking at the myriad ways people transform themselves for the sake of finding the truth in their art. Why, yes, Miranda July is involved in this! How did you guess? Cinema 21.
OPERATION FINALE
Ben Kingsley, who once played Itzhak Stern in Schindler's List, now plays Adolf fucking Eichmann for Chris Weitz (The Twilight Saga: New Moon, The Golden Compass) in Operation Finale, the dramatization of that one time Poe Dameron and Bobby Bottleservice talked the mastermind of the Holocaust into standing trial for his crimes. Not screened for critics. Various Theaters.
★ OULAYA'S WEDDING
The latest film from Sublime Frequencies, the record label and collective that's been documenting music and culture in far-flung spots around the world, spends an hour amid the colorful chaos and joy of a wedding in Mauritania. The bride is the eldest daughter of Salmou Bamaar, the humble leader of the renowned Saharan guitar band Group Doueh, and the film matches the whirling energy and buoyant joy of Bamaar's music as the cameras slip between the dancers, musicians, and revelers. Surrounding this week-long celebration are little touches that reveal how the West African nation holds true to its traditions even as it embraces progressive ideas, like encouraging young women in the community to seek an education and the unblinking acceptance of gay men in their midst. Director in attendance. ROBERT HAM Clinton Street Theater.
PAPILLON
A slavish but condensed remake of the 1973 prison-escape film that starred Steve McQueen and Dustin Hoffman and was directed by Patton and Planet of the Apes' Franklin J. Schaffer. This one, with Charlie Hunnam and Rami Malek in the McQueen and Hoffman roles, has been made by Danish director Michael Noer, and it illuminates both the power of the story itself and—perhaps inadvertently—the brilliance of Schaffner's film. On its own, this new Papillon is a perfectly decent movie that tells a fascinating, suspenseful story with clarity and emotion. But in almost every aspect, it's inferior to the 1973 version. NED LANNAMANN Various Theaters.
★ SAMURAI REBELLION
The awesome Toshirô Mifune (Yojimbo) stars in Masaki Kobayashi's story of a samurai family torn apart by their asshat clan lord. For most of the film, Mifune slowly simmers with suppressed anger, but he goes all sorts of apeshit in the end—in other words, his sword gets pretty bloody. And in even more other words, this is the rare "family drama" that's actually interesting! ERIK HENRIKSEN Hollywood Theatre.
★ SCOTTY AND THE SECRET HISTORY OF HOLLYWOOD
Scotty and the Secret History of Hollywood, a documentary about Scotty Bowers—an ex-Marine who says he set up trysts for closeted Hollywood elites from the 1940s through the '80s—isn't just an exposé about the sex lives of Old Hollywood icons. It's an odd but palpably real snapshot of a fantastical but relatable life, and a portrait of a complicated man who's full of contradictions. CIARA DOLAN Cinema 21.
★ SEARCHING
See review, this issue. Various Theaters.
★ SERIAL MOM
Kathleen Turner is enjoying a pop culture resurgence thanks to a recent interview in Vulture, taking (deserved) shots at Nicolas Cage, Burt Reynolds, Elizabeth Taylor, and the entire cast of Friends. This has led more than a few folks to go digging into her back catalog, beyond the obvious choices of Body Heat and Romancing the Stone. Mondo Trasho's screening of Serial Mom in 35mm is a really good intro to Turner, especially if you're coming off that interview. Written and directed by John Waters, Serial Mom puts Turner in the sort of meaty lead role the Prince of Puke would normally reserve for his muse Divine—and Turner makes the absolute most of the opportunity, fully committing to this freakshow and giving real bite to what might have otherwise been a slight black comedy about making celebrities out of murderers. BOBBY ROBERTS Hollywood Theatre.