Don't expect much in the way of glitzy premieres or red-carpet photo ops, but the Portland International Film Festival (PIFF) is probably the closest thing to a high holiday on the local film calendar. A bursting-at-the-seams, two-week catchall of globally produced films screening at five local theaters, this year's PIFF has more movies than any person could reasonably be interested in, let alone see. But there's enough intriguing stuff that it's worth rolling up your sleeves, digging into the festival program, and finding something up your alley.
You'll be fine if you skip the opening night selection, Amateurs (screening March 7 & 14), a Swedish comedy about a small town hoping to entice a large German superstore to the area. The echoes of Walmart are undeniable, so the main thrust may seem a bit stale to American viewers, and much of the movie is taken up by footage of a promotional video shot by two of the town's teenaged residents, whose wide-eyed idealism (and shaky camerawork) quickly wear thin.
Much more rewarding is Styx (March 8 & 10), a lean maritime thriller about a doctor (the superb Susanne Wolff) charting a solo course off Gibraltar, where her small sailboat encounters a distressed ship packed with refugees. The doctor's precise competence meets desperate chaos against the unforgiving backdrop of an endless, blue-gray ocean.
Similarly stunning is Valley of Shadows (March 10), a gorgeously shot mood piece about a small boy looking for a lost dog in a dark Norwegian forest. With horror and folk-tale elements, it's a series of misty, crepuscular vistas captured on 35mm—you won't see a better-looking film this year. There's a real emotional resonance to the story, too, told through child-logic and somnambulant sense-memory.
The tactile sensations of memory are similarly front-and-center in Ray & Liz (March 11 & 17), a cinematic look at English photographer and director Richard Billingham's parents, informed by Billingham's still photographs. Their unpleasant lives of abject poverty, tinted by cigarette smoke and homemade hooch, make this one a tough sit, but the movie is gasp-inducingly beautiful in its own miserable way.
At three-plus hours, Turkish director Nuri Bilge Ceylan's The Wild Pear Tree (March 15 & 16) tries the audience with a rambling character study of an aspiring writer reckoning with his father's gambling addition; its autumnal greens and browns often make it worth the effort. (If you really want to numb that butt off, China's four-hour An Elephant Sitting Still (March 16 & 21) is also screening; first-time director Hu Bo killed himself over disagreements with his producers over the film's length.) Korean director Hong Sang-soo's Hotel by the River (March 12 & 14) is a black-and-white chamber piece that's not really about anything in particular, pivoting from casual offhandedness to attempted profundity.
Kids and grownups will like the ebullient, bright Supa Modo (March 9 & 16), which manages to walk an unlikely tightrope: It's the story of a young Kenyan girl dying of cancer, but her superhero and martial arts fantasies make this a warm, uplifting experience. Older kids will also respond to Stupid Young Heart (March 15 & 19), a Finnish film about teen pregnancy whose nuance transcends its after-school-special elements, even if there's a (disturbingly timely) subplot about white nationalism that isn't adequately dealt with.
Although it'll appear on PBS' American Masters later this year, try to catch Worlds of Ursula K. Le Guin (March 17 & 18), a superb documentary about the Portland science fiction and fantasy author who died in 2018. It's a tender, triumphant portrait of a brilliant woman, making a case for Le Guin as one of the titans of American literature.
Also very good are Chile's Too Late to Die Young (March 8 & 13); Ireland's The Hole in the Ground (March 8); Serbia's The Load (March 9 & 11); and Germany's Transit (March 15). There's much, much more to see at PIFF than can be covered here, of course—so check portlandmercury.com/film throughout the festival for more of our picks.
Sponsored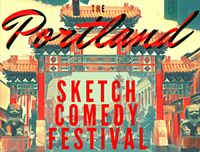 Sketch comedy troupes from all over N. America descend on The Siren Theater for 3 glorious nights.