Fifty years ago this month, on July 20, 1969, Neil Armstrong stepped onto the Moon. The moment remains one of humankind's greatest accomplishments—and its anniversary is an excellent excuse to visit the Space Age via film, experiencing both vicarious thrills and a time when Americans gave a shit about science and exploration. Find these movies on the Mercury's shelf at Movie Madness (4320 SE Belmont, moviemadness.org) from Mon July 1-Wed July 31!
A Trip to the Moon (dir. Georges Méliès, 1902)—Okay, it's not technically Space Age-y, but still! Méliès' silent film features the Moon getting STABBED IN THE EYE with a SPACESHIP and also EVIL MOON-MEN!
The Right Stuff (dir. Philip Kaufman, 1983)—Based on Tom Wolfe's 1979 book, this isn't only a remarkable portrait of the American space program's frequently brave, sometimes doomed test pilots—it's also a clever, sometimes damning critique of the country itself.
For All Mankind (dir. Al Reinert, 1989)—Splicing together startling, astronaut-shot footage from six Apollo missions, Al Reinert's documentary is a stirring and contemplative first-person trip into orbit.
Apollo 11 (dir. Todd Douglas Miller, 2019)—Visually jaw-dropping—and white-knuckle intense—Apollo 11 uses gorgeous, recently discovered 70mm footage to follow the flight of Armstrong, Buzz Aldrin, and Michael Collins to the Moon. (Or, in poor Collins' case, just above the Moon.)
From Earth to the Moon (dirs. Various, 1998)—After they made Apollo 13, space-nerds Ron Howard and Tom Hanks created this 12-hour HBO docudrama that spans NASA's Apollo, Mercury, and Gemini missions.
2001: A Space Odyssey (dir. Stanley Kubrick, 1968)—Bridging the Space Age of the '60s with the psychedelia of the '70s, 2001 suggests a terrifying obelisk is waiting for us, buried beneath lunar rock... lurking... biding its time.
Moon (dir. Duncan Jones, 2009)—Sorry, 2001 obelisk! The actual scariest thing on the moon is Kevin Spacey!
Star Trek: The Original Series—Season One (1966-1967)—No story—before or since—has better captured the idealistic sense of adventure that inspired much of the Space Age. Even as Armstrong was bouncing around on the Moon, we were already imagining what we'd find if we went further.
Sponsored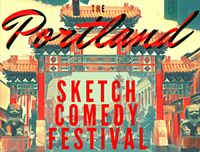 Sketch comedy troupes from all over N. America descend on The Siren Theater for 3 glorious nights.