★ 1917
Legendary screenwriter William Goldman once said of the film industry, "Nobody knows anything," and this is still mostly true, with one exception: If cinematographer Roger Deakins shot the movie, that movie is worth seeing on the biggest screen possible. Even if 1917 were solely the most impressive work of Deakins' remarkable career—which it is—I'd be recommending it. But the World War I movie is also one hell of a stunning storytelling experience from director Sam Mendes, co-writer Krysty Wilson-Cairns, and editor Lee Smith. (Now playing, various theaters) BOBBY ROBERTS
★ 2001: A Space Odyssey, Baraka, Dunkirk, Phantom Thread, and Total Recall on 70mm
Title kind of says it all, huh? (Through Wed Jan 8, Hollywood Theatre)
Sponsored
Win a behind-the-scenes tour of our kitchen, see how we make our artisan edibles, and get some swag.
A Beautiful Day in the Neighborhood
It's unusual to witness real cinematic magic these days, but the Fred Rogers biopic A Beautiful Day in the Neighborhood absolutely has it. Director Marielle Heller (Diary of a Teenage Girl, Can You Ever Forgive Me?) wisely avoids the visual slickness one might expect from a Tom Hanks-centric melodrama, instead employing a lived-in style and scene transitions that consist of miniature cities harkening back to the opening of Mister Rogers' Neighborhood. (Now playing, various theaters) SUZETTE SMITH
Bombshell
Margot Robbie, Charlize Theron, Nicole Kidman, and Alice Eve star in a dramatization of Fox News' one billion sexual harassment scandals. (Now playing, various theaters)
Cage Uncaged
A tribute to the greatest actor of this or any generation, with 35mm prints of Wild at Heart, Valley Girl, and Vampire's Kiss. Need more Cage? Good, because upcoming screenings include Red Rock West (with director John Dahl in attendance!) and Cage's latest epic, Color Out of Space. Cage! (Wild at Heart Sat Jan 11 & Sun Jan 12; Valley Girl Sun Jan 12; Vampire's Kiss Mon Jan 13, Hollywood Theatre)
Cats
Everyone who saw the HUMAN FACE/CAT BODY NIGHTMARE that was the first Cats trailer balked at the weirdly flat faces that seemed to slide off the cast's half-humanoid, half-feline, all-horny bodies. Some thought Universal Pictures might cave to fan pressure, much like the Sonic the Hedgehog brouhaha that unfolded last spring, and manage to stick those faces on by Christmas. They did not, and as a result, Cats is a horrorshow of computer-narrowed cat chins that can't support singing, human-sized mouths. (Now playing, various theaters) SUZETTE SMITH
Dark Waters
As infuriating and horrifying as the subject matter of Dark Water is—it's based on "The Lawyer Who Became DuPont's Worst Nightmare," a 2016 New York Times Magazine story by Nathaniel Rich—it is, in many ways, another paint-by-numbers, based-on-a-true-story legal thriller. Here, Robert Bilott (Mark Ruffalo), a corporate lawyer with a history of representing chemical companies, switches sides to reveal DuPont's decades of catastrophic malfeasance. But Portland arthouse director Todd Haynes (Far From Heaven, Carol) oversees things here, and he captures Dark Waters' sickening story in chilly blues and jaundiced yellows while figuring out exactly how to get the most from his cast. (Now playing, various theaters) ERIK HENRIKSEN
Ford v Ferrari
If you're a lover of car-racing movies, you should probably check out Ford v Ferrari—because this film is likely to be one of the last of its kind. A biopic about the late '60s rivalry between failing racecar company Ferrari and the "wants to be sexy soooo bad" Ford Motor Company, F v F is about how corporations can't help but crush the passion and innovation they so desperately need. But it's impossible to ignore the two elephants in this room: The fetishization of white male toxicity and car culture. (Now playing, various theaters) WM. STEVEN HUMPHREY
The Grudge
Another remake of the 2002 Japanese horror flick Ju-on. Don't watch that VHS tape! No, wait. That was The Ring. Which was a remake of Ringu. This one is... a haunted house? Yes! A haunted house. The lady from GLOW is in it. (Opens Thurs Jan 2, various theaters)
Harry Potter and the Deathly Hallows Part I
Young Harry Potter rushes to defend his good friend after Professor Trelawney discovers Ron Weasley in a compromising position with his patronus. Having used the Time-Turner to more quickly advance to legal drinking age, Hermione blacks out at the Three Broomsticks. (Fri Jan 3-Thurs Jan 9, Academy Theater)
Harry Potter and the Deathly Hallows Part II
In a climactic battle that brings a thrilling close to the saga of young Harry Potter, the students of Hogwarts team up with Voldemort's Death Eaters to brutally slaughter the Wizarding World's true villain, Newt Scamander. While attempting to have his way with Scamander's corpse, Kreacher the house-elf is interrupted by a shocking revelation from Luna Lovegood. (Fri Jan 10-Thurs Jan 16, Academy Theater)
A Hidden Life
The jaw-droppingly gorgeous first half of Terrence Malick's A Hidden Life stacks up with some of the best work the legendary director has ever done—right up there with Badlands, Days of Heaven, The Thin Red Line, and Tree of Life. The second half, though, feels a lot more like... uh, what's the term for Malick's more recent movies, like Knight of Cups, and that one about music, and that one with Ben Affleck? Nü-Malick? Let's go with nü-Malick. Anyway, A Hidden Life's flat, weary second half would be easier to sit through if A Hidden Life wasn't three hours long. (Now playing, various theaters) ERIK HENRIKSEN
---
---
The Informer
Joel Kinnaman plays a dude going undercover... in a prison. On the downside: Joel Kinnaman (Suicide Squad, RoboCop). On the upside: Ana de Armas (Knives Out) and Rosamund Pike (Gone Girl). This didn't screen for critics, so you'll have to do your own research to make an informed decision. Eh? Eh? Shut up, it's January, nobody cares. (Opens Fri Jan 10, various theaters)
Just Mercy
Michael B. Jordan plays civil rights lawyer Bryan Stevenson. Costarring Jamie Foxx and Brie Larson. Stay until after the credits for the stinger, when Captain Marvel fights Killmonger and Electro! (Opens Fri Jan 10, various theaters)
★ Knives Out
Rian Johnson knows his shit. Ever since Brick, the writer/director's brilliant neo-noir from 2005—and on through his conman caper The Brothers Bloom, his sci-fi action flick Looper, and Star Wars: The Last Jedi, which somehow managed to both deconstruct all the Star Wars movies to date while also being the best Star Wars movie to date—Johnson has played with genre in ways few filmmakers can. Both a devotee of formula and a guy who can't resist ripping formulas apart, Johnson makes movies that're simultaneously comforting and surprising—offering a warm rush of the familiar, chased by the acidic sting of the new. Knives Out, Johnson's phenomenally enjoyable riff on a murder-mystery whodunit, is no different. (Now playing, various theaters) ERIK HENRIKSEN
Like a Boss
Like a Boss is barely long enough to qualify as a feature film, clocking at an hour and 23 minutes—which makes total sense, considering there's not much meat on this story, aside from a couple of central themes: the evergreen dilemma of choosing between a career and motherhood, learning how to spot frenemies, and evolving for the sake of a valued friendship. Thankfully, the hilarious cast—which includes Tiffany Haddish, Rose Byrne, and Salma Hayek—makes this mediocre movie watchable. (Opens Fri Jan 10, various theaters) JENNI MOORE
★ Little Women
I loved Greta Gerwig's Lady Bird so much that I went into Little Women with trepidation. Making a follow-up to a movie everyone loved is tricky! And every hater on my block asked why we needed another Little Women movie when the 1995 version is "perfectly fine" and "has Winona Ryder in it." The answer: You don't know how good you can have it! You don't know how good Little Women can be, you poor fools! (Now playing, various theaters) suzette smith
The Man Who Fell to Earth
Thomas Jerome Newton wasn't the first role David Bowie played—he'd been hiding behind characters like Major Tom and Ziggy Stardust since the beginning of his music career—but The Man Who Fell to Earth was Bowie's first major film role, and it's so ideally suited that it's difficult to tell where the actor ends and Newton begins. (Fri Jan 3-Thurs Jan 9, Academy Theater) NED LANNAMANN
★ Marriage Story
In 2005, Noah Baumbach wrote and directed The Squid and the Whale, a movie that dug deep into what it feels like to be a kid in a family that's pulled itself past its breaking point. Baumbach captured the emotions that riot at the core of a divorce so accurately, so sharply, that it was impossible not to feel the movie like a punch to the gut. Almost 15 years later, Baumbach's written and directed Marriage Story, a movie that digs deep into what it feels like to be a husband and a wife in a family that's pulling itself past its breaking point. Marriage Story is brutal and sharp, but it's also funny and sweet, and captures something that's impossible to put into words: The feeling of life as it changes, and the feeling of stories as they come to an end. (Now streaming, Netflix) ERIK HENRIKSEN
The Outsider
Novelist Richard Price is one of the writers behind HBO's miniseries adaptation of Stephen King's 2018 book. (Starts Sun Jan 13, HBO)
★ Parasite
Parasite is director Bong Joon-ho at his very best. At turns hilarious and deeply unsettling, it's a departure from the sci-fi bent of his recent movies (the post-apocalyptic Snowpiercer and the factory-farming-themed Okja), though it's no less concerned with the state of society. (Now playing, various theaters) JASMYNE KEIMIG
---
---
★ Queen & Slim
Queen & Slim may be the best—and is almost certainly the Blackest—film of 2019, and is perhaps most poignant for its gorgeous, complex, and multifaceted portrayal of the Black experience, where sparks of joy and love exist alongside pain, struggle, and oppression. For 48 hours after seeing this movie, I couldn't stop thinking about it. (Now playing, various theaters) JENNI MOORE
Rebel Without a Cause
James Dean stars in a movie that is roughly half as good as its reputation would imply. (Fri Jan 10-Thurs Jan 16, Academy Theater)
Richard Jewell
Clint Eastwood (wow, still alive!) tells the story of Richard Jewell (Paul Walter Hauser), the security guard falsely accused of being behind the bombing at the 2016 Olympics in Atlanta. (Now playing, various theaters)
Star Wars: The Rise of Skywalker
I found The Rise of Skywalker, the last film in the Skywalker saga, boring. And it was not even a long movie, and I'm a fan of the director's (J.J. Abrams) work (particularly Mission: Impossible III—the best in that franchise), and many of the visual effects are impressive­—particularly the haunting business of bringing the late Carrie Fisher back to life. But all together, the film is burdened by too much sentimental family stuff (you are my granddaughter, you are my son, you killed my parents, and so on), and its end did not know how to end for a very long time. (Now playing, various theaters) CHARLES MUDEDE
Uncut Gems
With an excellent turn as Howard Ratner, a jeweler and an asshole, Adam Sandler rarely leaves the screen in Uncut Gems, and the plot is basically Howard and the Terrible, Horrible, No Good, Very Bad Day. That isn't a shock, considering Uncut Gems comes from brothers/writers/directors Josh and Benny Safdie, who party-crashed arthouse theaters with 2017's twitchy, electric Good Time (in which Robert Pattinson was the one playing an asshole having a terrible, horrible, no good, very bad day). Uncut Gems is larger in scope, but like Good Time, its deadened core is a moral vacuum. (Now playing, various theaters) ERIK HENRIKSEN
Underwater
The main source of tension in Underwater isn't the claustrophobic fate of a small crew of oil workers trying to fend off bloodthirsty sea monsters after their drilling rig—stationed seven miles beneath the ocean—is destroyed. It's waiting to see when and if this thriller from director William Eubanks and screenwriters Brian Duffield and Adam Cozard will completely fall apart. (Opens Fri Jan 10, various theaters) ROBERT HAM
★ Waves
To explain much of the plot of Waves would be a disservice. Even a quick description of writer/director Trey Edward Shults' story—a uniquely American, character-driven drama about a Florida family's idyllic bubble bursting—feels like too much of a reveal. As with its title, you need to give yourself over to the film's turbulent narrative and see where it takes you. (Now playing, various theaters) ROBERT HAM
Sponsored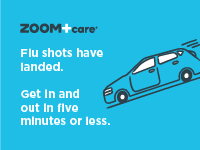 ZOOM+Care makes flu shots easy and safe. Schedule ahead, skip the line—get in and out in 5 minutes.