★ 1917
Legendary screenwriter William Goldman once said of the film industry, "Nobody knows anything," and this is still mostly true, with one exception: If cinematographer Roger Deakins shot the movie, that movie is worth seeing on the biggest screen possible. Even if 1917 were solely the most impressive work of Deakins' remarkable career—which it is—I'd be recommending it. But the World War I movie is also one hell of a stunning storytelling experience from director Sam Mendes, co-writer Krysty Wilson-Cairns, and editor Lee Smith. "But wait," you say, "isn't the whole point of this movie that there aren't any cuts? Why did they need an editor at all?" 1917's hook (or less generously, its gimmick) is that it's meant to unfold in a single, unbroken take. It's one of the rare instances of a film's marketing actually benefiting the finished film, because of the way this knowledge is both paid off... and then subverted. (Now playing, various theaters) BOBBY ROBERTS
At the Video Store
Director James Westby's documentary pays tribute to the lost era of the video store, profiling notable video stores that have gone out of business and the tenacious few that persevere. Westby in attendance. (Thurs Jan 30, Hollywood Theatre)
Sponsored
Win a behind-the-scenes tour of our kitchen, see how we make our artisan edibles, and get some swag.
Avenue 5
The latest from Armando Iannucci, the creator of Veep, In the Loop, and The Thick of It, is set in outerrrrr spaaaaace! (Starts Sun Jan 19, HBO)
★ Bad Boys for Life
Michael Bay's absence behind the camera (although he briefly appears in a cameo that I reflexively booed) is immediately apparent in Bad Boys for Life, which finds Will Smith and Martin Lawrence coming together one more last (?) time as they cautiously descend the sunset slopes of their mountainous careers. The action—still glistening, swooping, and forever circling, as directing duo Adil El Arbi and Bilall Fallah do some damn good Bay-raoke—is slower and mostly coherent. But even more remarkable: For the first time that I can remember, this is a Bad Boys movie primarily fueled by emotion as opposed to disdainfully rejecting it. And get this: That emotion? HUMILITY! I know. What the fuck, right? But fucks are abundant in Bad Boys for Life, and given often, flying just as freely as the one-liners, bullets, and grenades going off frequently and everywhere. (Opens Thurs Feb 16, Miami, the city that keeps the roof blazin') BOBBY ROBERTS
★ Cage Uncaged: Color Out of Space and Red Rock West
The Hollywood Theatre's joyous celebration of Nicolas Cage continues with the new H.P. Lovecraft adaptation Color Out of Space and one of the finest noirs ever made, co-writer and director John Dahl's Red Rock West. Dahl in attendance for Red Rock West. (Color Out of Space Wed Jan 22, Hollywood Theatre; Red Rock West Sat Jan 18, Hollywood Theatre)
★ Chilling Adventures of Sabrina
The greatest show ever made about teen witches. Maybe this season SALEM THE CAT WILL FINALLY TALK (Streams Fri Jan 24, Netflix)
Cinema Classics: City Lights
Charlie Chaplin's silent classic from 1931. (Sat Jan 18 & Sun Jan 19, Hollywood Theatre)
Cunningham
A gritty reboot of the Happy Days multiverse, telling the origin story of family patriarch Howard Cunningham and his soul-crushing attempts to create a mechanical slave race known as the Cylons. (Opens Fri Jan 24, Cinema 21)
Dolittle
I mean, it's Iron Man with talking animals! What more do you want? (Opens Thurs Jan 16, various theaters) SIMON HAM, AGE 12
★ Essential Cinema: California Split
This 1974 gambling comedy made film history for being the first film to use eight-track surround sound. Director Robert Altman, on learning he had this option, immediately made sure to fill all eight channels with mumbled, overlapping dialog from its two stars, Elliott Gould and George Segal. It's pretty fuckin' great. (Sun Jan 19, Northwest Film Center's Whitsell Auditorium) BOBBY ROBERTS
★ The Gentlemen
There's an odd (and fun) sense of formality to The Gentlemen, director Guy Ritchie's newest crime flick that trades the downtrodden, violent British grit of his former films (like Lock, Stock and Two Smoking Barrels and Snatch) for a classier vibe that's still violently gritty. Matthew McConaughey is, as usual, McConaughey (that's a good thing), Colin Farrell is a case study in unflappable hilarity, Hugh Grant is England's greatest treasure, and The Gentlemen is a fun, twisty-turny joyride through Britain's well-heeled drug trade. Its moments of shocking, often comical violence should pair nicely with a snifter of good cognac. (Starts Thurs Jan 23, various theaters) WM. STEVEN HUMPHREY
★ Harold and Maude
Look at the internet for long enough and you'll inevitably find some hot-take-addicted young buck remarking about how an "edgy" movie they "discovered" on Netflix last weekend simply couldn't be made today. Usually that sort of sentiment is bullshit. But Harold and Maude, the dark romantic comedy about a death-obsessed milksop of a young man meeting his 80-year-old girlfriend at a funeral? Okay, that one could have only happened in the '70s, thanks to the minor miracle that was director Hal Ashby. (Thurs Jan 23, Hollywood Theatre) BOBBY ROBERTS
Julia Reichert: 50 Years in Film
The Northwest Film Center presents work from the independent documentarian, with screenings that span from new work—like her 2019 films 9 to 5: The Story of a Movement and American Factory—to 1976's Union Maids. (Through Sun Jan 19, Northwest Film Cetner's Whitsell Auditorium)
Les Misérables
Ladj Ly's modern-day adaptation of Victor Hugo's novel moves the story to contemporary Paris, where tensions burn between the police and the city's downtrodden Muslim population. (Opens Fri Jan 17, Living Room Theaters)
Like a Boss
Like a Boss is barely long enough to qualify as a feature film, clocking at an hour and 23 minutes—which makes total sense, considering there's not much meat on this story, aside from a couple of central themes: the evergreen dilemma of choosing between a career and motherhood, learning how to spot frenemies, and evolving for the sake of a valued friendship. Thankfully, the hilarious cast—which includes Tiffany Haddish, Rose Byrne, and Salma Hayek—makes this mediocre movie watchable. (Now playing various theaters) JENNI MOORE
★ Little Women
Every hater on my block asked why we needed another Little Women movie when the 1995 version is "perfectly fine" and "has Winona Ryder in it." The answer: You don't know how good you can have it! You don't know how good Little Women can be, you poor fools! Greta Gerwig's Little Women is Romance-era-oil-painting gorgeous, but it's also realistic, thanks to the performances of the film's star-studded cast of Saoirse Ronan, Emma Watson, Florence Pugh, and Eliza Scanlen. Directing her actors to talk over each other, Gerwig turns family scenes into rampaging rivers of voices, while also making sure nothing is lost in the chaos. We see the Marches as we see many families: a force bursting into a room. Laura Dern—for the first time in cinematic history—gives the girls' mother a full personality. And when the girls' father turned out to be universally beloved Bob Odenkirk (!) my friend straight-up punched me in the arm because she was already crying and couldn't talk. (Now playing, various theaters)
Our Bodies Our Doctors
To mark the anniversary of Roe v. Wade, Cinema 21 hosts director Jan Haaken's Our Bodies Our Doctors, a documentary about the politicized state of women's healthcare that features "Portland providers, often unsung heroes, and the creative work of feminist clinics in the Pacific Northwest." Screens with We Are Forbidden, a short documentary directed by Brian Lindstrom and Cheryl Strayed, about nine girls' experiences in parts of Nepal where menstruating girls and women are considered impure. Haaken, Lindstrom, Strayed, and Our Bodies Our Doctors producer David Cress in attendance. (Thurs Jan 23, Cinema 21)
PDX Motorcycle Film Fest
A film festival made by people who love wearing leather, popping wheelies, and big bikes you don't have to pedal. Proceeds go towards purchasing inflatable barriers for use during motorcycle races at Portland International Raceway. (Fri Jan 24 & Sat Jan 25, Hollywood Theatre)
Portland Latin American Film Festival: Souvenir
This month's installment in the series spotlighting the best in Latin American film is the premiere of director Armond Cohen's Souvenir, about a mother (Narcos' Paulina Gaitan) agreeing to become a surrogate to an obsessive couple as a means to finally reunite with her son. And that's before things get really complicated. Gaitan in attendance. (Wed Jan 29, Hollywood Theatre)
Portland Underground Film Festival
A weekend-long, shorts-focused fest that seeks to "pay tribute to those films and videos that challenge commonly held attitudes toward technique, content, and form" with blocks of short films ranging from horror, science-fiction, experimental, comedy, and music videos. More at puffpdx.org. (Fri Jan 17-Sun Jan 19, Clinton Street Theater)
Queer Commons: Maurice
An impossibly young Hugh Grant plays the Pompatous of Love in this 1987 Merchant Ivory adaptation of Steve Miller's AM-dial classic "The Joker," about a picker and a grinner named Maurice (James Wilby) who wants to joke and smoke with his beloved midnight toker Scudder (Rupert Graves). If you love shirtless gay British men repressing their true feelings all over the place, whoo boy is this a lip-biter you're gonna love! (Fri Jan 17, Hollywood Theatre) BOBBY ROBERTS
★ Reel Music 37
The 37th installment of Reel Music, the Northwest Film Center's annual roundup of new and noteworthy music-related movies, is a tidy affair: just 14 films scattered over three weeks. Even with this smaller-than-usual scope, the mini-fest remains as well-balanced as ever, with a full range of documentaries and concert films that cover an impressive assortment of genres, including both freshly made fare and some absolute classics. (Through Sun Feb 16, Northwest Film Center's Whitsell Auditorium) ROBERT HAM
Repressed Cinema: Loaded Guns
This month's installment of Ian Sundahl's carefully curated cabinet of 16mm curiosities is a rare print of Loaded Guns, a 1975 Italian experiment in blending crime and comedy, starring Ursula Andress as a flight attendant who accidentally gets caught in the middle of a Neapolitan gang war. Haha. (Tues Jan 21, Hollywood Theatre)
Shrill
The Aidy Bryant comedy based on the work of Lindy West returns for a second season. Review forthcoming at portlandmercury.com/film. (Streams Fri Jan 24, Hulu)
The Song of Names
A man attempts to track down his childhood friend, a violin prodigy who vanished years before. Starring Tim Roth and Clive Owen, and directed by The Red Violin's François Girard. (Opens Fri Jan 17, various theaters)
Sonic Cinema Rolling Stone: Life and Death of Brian Jones
Danny Garcia's documentary about musician Brian Jones, the founder of the Rolling Stones, whose "excessive lifestyle and reputation as 'the original bad boy of rock and roll' cost him dearly." (Sun Jan 19, Hollywood Theatre)
★ SPLIFF
Hey! Did you miss last year's debut screening of SPLIFF, the super fun film fest by stoners for stoners? If so, that's too bad because it was a certifiable BLAST. However! Now you can make up for that grievous error by attending a FREE (that's right FREE) screening of the 2019 SPLIFF Film Festival, where filmmakers, artists, animators, and stoners share original film shorts exploring stoner themes. From serious takes on pot culture to stoner comedy to mind-blowing weirdness—they all have a home at SPLIFF. (Wed Jan 22 & Thurs Jan 23, Revolution Hall) WM. STEVEN HUMPHREY
★ Stage Meets Screen: Heathers
Artists Repertory Theatre's Stage Meets Screen series pairs their latest production, School Girls; or the African Mean Girls Play with a screening of the original mean girls play, 1988's Heathers, one of the decade's few teen movies that got more relevant and timely as the years went by. (Mon Jan 20, Hollywood Theatre) BOBBY ROBERTS
Star Wars: The Rise of Skywalker
At least it's better than Attack of the Clones? (Now playing, various theaters)
Uncut Gems
As Howard Ratner, a professional jeweler and asshole in Manhattan's Diamond District, a great Adam Sandler rarely leaves the screen in Uncut Gems, and the plot is basically Howard and the Terrible, Horrible, No Good, Very Bad Day. That isn't a shock, considering the film comes from brothers/writers/directors Josh and Benny Safdie, who party-crashed the arthouse scene with 2017's Good Time (in which Robert Pattinson was the one playing an asshole having a terrible, horrible, no good, very bad day). Uncut Gems is larger in scope, but like Good Time, it has a moral vacuum at its center—it takes place in the no-man's-land where society's walls crumble, and where those who look out only for themselves can best navigate the rubble. The Safdies aren't interested in morality tales but amorality tales, and their stories' no-holds-barred recklessness, at first freeing, steadily grows exhausting. Thankfully, the Safdies also know how to shoot, cut, and score like nobody else. There's a twitchy, addictive energy to Uncut Gems, and the Safdies' choppy, rapid-fire cuts coalesce into a surreal, exhilarating landscape of prismatic hues, blaring fluorescents, and sharp LEDs. (Now playing, various theaters) ERIK HENRIKSEN
Underscan: Multiple Maniacs and Madame X: An Absolute Ruler
This month, the Northwest Film Center's genre series presents John Waters' 1970 crime comedy Multiple Maniacs, starring Divine and Mink Stole, and the 1978 fantasy Madame X: An Absolute Ruler, which "follows Madame X (Tabea Blumenschein) as she heads the pirate ship Orlando with an iron fist and recruits women from all walks of life to leave behind their boring lives for a new life of adventure on the open seas." (Multiple Maniacs Sun Jan 19, Northwest Film Center's Whitsell Auditorium; Madame X: An Absolute Ruler Sun Jan 26, Northwest Film Center's Whitsell Auditorium)
Underwater
The main source of tension in Underwater isn't the claustrophobic fate of a small crew of oil workers trying to fend off bloodthirsty sea monsters after their drilling rig—stationed seven miles beneath the ocean—is destroyed. It's waiting to see when and if this thriller from director William Eubanks and screenwriters Brian Duffield and Adam Cozard will completely fall apart. (Now playing, under the sea) ROBERT HAM
Weathering with You
Audiences seem to love director Makoto Shinkai (Your Name) and his approach of pairing an original plot with standard anime emotional blocking: boy meets girl, girl has weather powers, boy and girl reach for each another's arms in climactic moments, a character runs until they are exhausted and then they keep running, and also someone must die. Even when Shinkai introduces some interesting ideas about an impending climate apocalypse (oh, like us!), it all feels familiar: The world isn't saved, but the world doesn't end. The world continues, changed. (Opens Fri Jan 17, Century Eastport) SUZETTE SMITH
Weekend Engagements: Things Left Behind
A documentary examining how modern art can affect the way people contextualize world history, focused on artist Miyako Ishiuchi's photography of clothes housed in the Hiroshima Peace Memorial. (Sat Jan 18, Northwest Film Center)
Sponsored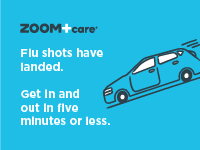 ZOOM+Care makes flu shots easy and safe. Schedule ahead, skip the line—get in and out in 5 minutes.