It's Time for... HIGHBALL!
Sponsored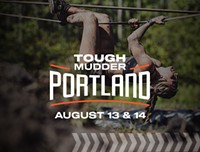 Lock in your summer adventure, Portland. Join us for world famous obstacles over a 5K or 10K distance.
Brace Yourself for Over 40 Specially Crafted Cocktails... for Only $5 Each!
Here at the Portland Mercury, we know just what you need, given the current state of 2017, life, the universe, and everything: You need GOOD BOOZE, and you need it NOW!
So prepare yourself (and your liver) for the Portland Mercury's HIGHBALL! We've teamed up with over 40 of the finest bars and restaurants in Portland—along with our cocktail-lovin' pals at Beam Suntory and Good IV—to bring you this one-of-a-kind boozetacular! At each of Highball's locations, you'll find specially crafted cocktails that are available exclusively during Highball week. Even better? Each of these fantastic, sanity-saving cocktails will be available ALL DAY (not just during happy hour!) and cost you a mere $5!
Check out our cocktail list to discover the drool-inducing recipes for each of Highball's magnificent $5 cocktails! And before you (responsibly) try as many of them as you can, keep a few things in mind....
• Drink responsibly. This goes without saying, but because we love you, here's a reminder: Be safe and smart with your Highball consumption, and never drink and drive!
• Be patient. We all need a drink (or 40) right now. But so do our friends, our neighbors, and our sworn enemies! So if a Highball bar gets slammed, or if there's a crazy line, or they run out of those little umbrellas? Be cool—we'll all feel better soon enough! And pay in cash if you can—it'll save time, and your server will appreciate it.
• Tip your bartenders, and order food. Sure, the best part about Highball are all those $5 drinks... but each of our Highball locations also has great food, and their talented bartenders will be working hard to make sure we all have plenty of fun (and plenty of booze). So relax, grab a bite, and let your bartenders and waitstaff know how much you appreciate 'em!
Without further ado, here are those drink recipes... it's time for HIGHBALL
---
Alberta Street Pub "Whiskito"
Muddled fresh mint, Jim Beam, lemon, honey, soda, agnostura bitters, garnished with mint leaf and lemon peel in a highball glass.
1036 NE Alberta, 503-284-7665
Hours: Daily 4 pm-1 am
albertastreetpub.com
---
The Alibi "Hotel Nacional"
Cruzan aged rum, Apricot liqueur, lime, served in a coupe.
4024 N Interstate, 503-287-5335
Hours: Daily 11 am-2:30 am
alibiportland.com
---
Atlantis Lounge at Mississippi Pizza Pub
"Mustang Maple"
2 parts Jim Beam, 1 part house made ginger maple, 1 part soda water.
3552 N Mississippi 503-288-3231
Hours: Sun-Thurs 11 am-midnight, Fri-Sat 11 am-1 am
mississippipizza.com/atlantis-lounge
---
Bit House Saloon "Maple Crush"
Knob Creek, maple, lemon, ginger beer, bitters, absinthe.
727 SE Grand, 503-954-3913
Hours: Daily 3 pm-2:30 am
bithousesaloon.com
---
Bota Bar "Bangria"
2 oz dry red wine
1/2 oz Salignac cognac
1/2 oz lemon juice
1/2 oz lime juice
1/2 oz white grape juice.
If possible, blend everything together with fresh seasonal fruit (orange, pear, apple etc) and rest overnight. Strain out solids and reserve for service. Serve up with a splash of soda water and garnish. Garnish: wine-soaked fruit, thin wedge semi-hard cheese, carbonated grapes.
606 NE Davis, 971-229-1287
Hours: Tues-Sat noon-10pm
botabar.com
---
Brix Tavern "Toki Your Troubles Away"
1.5 oz Suntory Toki, .75 oz housemade citrus orgeat, .50 oz fresh lemon juice, 1 dash Peychauds bitters. Served down on the rocks, garnish with lemon peel.
1338 NW Hoyt, 503-943-5995
Hours: Mon–Thurs 11 am–midnight, Fri 11 am–1 am, Sat 9:30 am–1 am, Sun 9:30am–midnight
brixtavern.com
---
Clinton Street Pub "The Wool Cap"
Jim Beam rye, bénédictine, Alpine bitters, lemon, and a rosemary sprig.
2516 SE Clinton, 503-236-7137
Hours: Daily 2 pm-2:30 am
---
Conquistador Lounge "The Canelo A'lvarez"
Serrano pepper infused Sauza Silver, blood orange purée, aztec chocolate bitters, fresh lime, agave. Served on the rocks with a cinnamon orange garnish.
2045 SE Belmont
503-232-3227
Hours: Daily 4 pm-2:30 am
---
Crow Bar "The Wrecking Ball"
Hornitos Black, falernum, pineapple lavender shrub, and lime.
3954 N Mississippi
503-280-7099
Hours: Daily 3 pm-2 am
crowbarpdx.com
---
Dig A Pony "Skip A Rope"
1.5 oz Jim Beam Rye
1/2 oz housemade burnt caramel & cardamom syrup
2 dashes Orleans bitters
Topped with soda and garnished with candied ginger.
736 SE Grand, 971-279-4409
Hours: Daily 4 pm-2 am
digaponyportland.com
---
Dot's Cafe "Rock n' Rose"
Cardamom infused Jim Beam, aperol, rose water, fresh lemon juice, and simple syrup. Served in a highball glass, garnished with an Amarena cherry.
2521 SE Clinton, 503-235-0203
Hours: Mon-Fri noon-2:30 am, Sat-Sun 10 am-2:30 am
dotscafeportland.com
---
Double Barrel "Bet on Black"
1 3/4 oz Jim beam Black 1/2 oz spiced black pepper honey 1 oz grapefruit.
Shake, strain over fresh ice in double rocks glass. Grapefruit peel garnish.
2002 SE Division, 503-234-1420
Hours: Daily 2 pm-2:30 am
---
Double Dragon "Daaaaaaamn, Son!"
Jim Beam rye, Torino vermouth, Ancho chili liqueur, apricot, curacao.
Double Dragon
1235 SE Division, 503-230-8340
Hours: Sun-Thur noon-midnight, Fri-Sat noon-1 am
doubledragonpdx.com
---
East Glisan Pizza Lounge "Miss Patty Valentine"
Cruzan Estate light rum, dark rum, and Black Strap rum; House berry balsamic syrup, orange juice, lime juice, St. Elizabeth allspice dram.
8001 NE Glisan, 971-279-4273
Hours: Daily 4 pm-midnight
eastglisan.com
---
Fifth Quadrant "Ginger in the Rye"
Jim Beam Rye whiskey, ginger syrup, fresh orange juice, orange bitters, Lompoc Pamplemousse IPA, and a splash of Reed's ginger beer served on the rocks in a highball glass.
3901-B N Williams
503-288-3996
Hours: Mon-Thurs 11 am-midnight, Fri-Sat 11 am-1 am, Sun 11 am-11 pm
lompocbrewing.com
---
The Fireside "Viva La Playa"
1 oz Sauza Blanco
1/2 oz Cruzan Black Strap rum 3/4 oz house blood orange & thyme shrub
3/4 oz house coffee shrub
2 dashes Fee old fashioned bitters
Soda
Garnished with an umbrella and a fresh blood orange wheel.
801 NW 23rd, 503-477-9505
Hours: Mon-Thurs 11:30 am-10 pm, Fri 11:30 am-midnight, Sat 10 am-midnight, Sun 10 am-5 pm
pdxfireside.com
---
Fortune "The Pen is Mightier"
1.5 oz Jim Beam
.5 lemon
.5 BG Reynolds wild ginger
3 dashes of peach bitters
Topped with soda water.
329 NW Couch, 503-229-7468
Hours: Tues-Sat 8 pm-2 am (Closed Monday)
fortunepdx.com
---
Gold Dust Meridian "Blossom D' Oranger"
Jim Beam, orange bitters, simple syrup, orange water, and absinthe. Served over rock, orange peel.
3267 SE Hawthorne
503-239-1143
Hours: Daily 2 pm-2:30 am
golddustmeridian.com
---
Home, A Bar "The ShinKicker"
In a cocktail shaker, add ice, 2 oz Jim Beam (white label), a splash of fresh lime juice, and cranberry juice. Shake and pour in highball glass over ice. Top with Cock & Bull ginger beer. Garnish with lime wedge.
719 SE Morrison, 503-893-5233
Hours: Daily 4 pm-2:30 am
homebarpdx.com
---
Iconic "Pop-A-Rod Fizz"
2oz Cruzan Estate Diamond light rum
3/4 oz fresh lime
1/2 oz fresh grapefruit
1/2 oz sugar
1/4 oz Maraschino liqueur
Carbonated for 96 hours and bottled.
2226 NE Broadway, 503-946-1621
Hours: Mon-Thurs 3:30 pm-midnight, Fri 3:30 pm-2 am, Sat 9 am-2:30 am, Sun 9 am-midnight
iconiclounge.com
---
Landmark Saloon "The Red Headed Stranger"
1 1/2 oz. Jim Beam
1 1/2 oz. house pressed ginger
2 dashes Peychaud's bitters.
Top off with club soda, garnish with lime and a piece of crystallized ginger. Served over ice in a pint glass.
4847 SE Division, 503-894-8132
Hours: Mon-Sat noon-2 am, Sun noon-midnight
thelandmarksaloon.com
---
Lightning Will "Tropic Thunder"
1.5 oz Pineapple Coconut Base
1.5 oz Cruzan Silver Rum
.5 oz orange juice
3 dashes angostura bitters
Garnished with caramelized pineapple
Shake rum, base, and coconut milk with ice. Strain and pour over ice. Add bitters over top
305 NW 21st, 503-327-8203
Hours: Mon-Thurs 4 pm-1:30 am Fri 4 pm-2:30 am Sat 9 am- 2:30 am Sun 9 am-1 am
lightningwill.com
---
Limelight "Maker's Cherry Bomb"
House-infused organic dark cherry Maker's Mark, Coke, sour and a boozy cherry.
6708 SE Milwaukie
503-235-5797
Hours: Mon-Thurs 11 am-1:30 am, Fri 11 am-2:30 am, Sat 9 am-2:30 am, Sun 9 am-1:30 am
---
Lompoc Tavern "Green Hornet"
Serrano-infused Hornitos tequila, mango puree, and lime juice. Served in bucket with a
chili rim.
1620 NW 23rd, 503-894-9374
Hours: Mon-Thurs 11 am-1 am Fri-Sat 11 am-2 am Sun 11 am-midnight
lompocbrewing.com
---
Loyal Legion "The Bitter End"
2 parts Old Grandad 114, 2 parts Maker's Mark, 2 parts IPA/apricot reduction, 3 parts Cynar, 3 parts Dolin Rouge. Stir components over ice and strain over a large single ice cube, garnish with a lemon peel.
710 SE 6th, 503-235-8272
Hours: Mon-Tues 3 pm-11 pm, Wed-Thurs noon-11 pm, Fri-Sat noon-2 am, Sun noon-10 pm
loyallegionpdx.com
---
Lutz Tavern "Smoke on the Water"
Pinnacle whipped vodka, Townshends No. 5 Smoke Tea Liquor, lemon, cinnamon tincture, house orange bitters.
4639 SE Woodstock, 503-774-0353
Hours: Daily 11 am-2:30 am
---
Mad Son's Pub "Old Fashioned Cherry Bomb"
Jim Beam Red Stag, bitters, cherry juice, flaming cherry, love.
1109 SE Madison, 503-265-8531
Hours: Mon-Fri 11 am-2:30 am, Sat-Sun 10 am-2:30 am
madsonspub.com
---
Nick's Famous Coney Island
"Strangers with Candy"
Jim Beam Kentucky Straight bourbon on ice in a bucket glass, shaken with Apple Pucker, Cranberry juice and raspberry puree. Served with Haribo Gummy Bears.
3746 SE Hawthorne, 503-235-3008
Hours: Mon-Fri 11 am-close, Sat-Sun 10 am-close
nicksfamousconeys.com
---
Night Light Lounge "The Oldtimers Delight"
2 oz Old Overholt Rye
1 oz lemon juice
1/2 oz tarragon-fennel simple
Shaken and strained over new ice
Topped w/ 4 dashes Peychaud's Bitters
2100 SE Clinton, 503-731-6500
Hours: Mon-Fri 2 pm-2:30 am, Sat-Sun 10 am-2:30 am
nightlightlounge.net
---
Quality Bar "Green River"
Maker's Mark, basil leaves, sugar cubes, lime juice, tonic.
931 SW Oak, 503-972-6793
Hours: Mon-Sun 11 am-2:30 am
qualitybarpdx.com
---
The Rambler "The Suffragette"
.75 oz Maker's Mark
.75 oz Gilbey's Gin
.5 oz lime juice
.5 oz ginger syrup
Ginger ale
Club soda
3 dashes of Dutch's Prodi-Bitters
In a Collins glass mix bourbon, gin, lime and ginger syrup. Fill the remaining vacant space with half soda and half ginger ale. Add the bitters. Garnish with a lime wheel and enjoy!
4205 N Mississippi, 503-459-4049
Hours: Mon - Wed 4 pm- midnight, Thurs 4 pm-1 am, Fri 4 pm-2:30 am, Sat noon- 2:30 am, Sun 10 am-midnight
ramblerbar.com
---
Revelry "Little India Egg Cream"
1.5 oz Jim beam
.75 chocolate masala syrup
1.25 coconut milk
Top with soda
210 SE MLK, 971-339-3693
Hours: Sun-Thurs 5 pm-midnight, Fri-Sat 5 pm-2 am
relayrestaurantgroup.com/restaurants/revelry
---
Reverend's BBQ "Native Tongue"
2 oz. Jim Beam
.75 oz Tamarind
.5 oz Pineapple Juice
.5 oz. Demerara Syrup
Shaken, served over ice, topped with 2 Dashes Chocolate Bitters
7712 SE 13th, 503-327-8755
Hours: Sun-Thurs 11:30 am-9 pm, Fri-Sat 11:30 am-10 pm
reverendsbbq.com
---
Sandy Hut "The Green Lantern"
Effen vodka, Apple Pucker, lime, orange, basil. Served up.
1430 NE Sandy, 503-235-7972
Hours: Mon-Fri 2 pm-2:30 am, Sat-Sun 10:30 am-2:30 am
---
Saucebox "The Broadway Lovely"
1oz Cruzan 151
1oz Fresh Lime Juice
1oz Brown Sugar Syrup
214 SW Broadway, 503-241-3393
Hours: Tues-Thurs 4:30 pm-midnight, Fri 4:30 pm-2:30 am, Sat 5 pm-2:30 am (Closed Sun-Mon)
saucebox.com
---
Slow Bar "Blackie Lawless"
Jim Beam Black, black peppercorn, pomegranate, lemon
533 SE Grand, 503-230-7767
Hours: Daily 11:30 am-2:30 am
slowbar.net
---
Smokehouse Tavern "The Brown Hornet"
1 1/2 oz Old Crow whiskey
3/4 oz Root beer syrup
3 oz Soda water
Ceylon bark
Lemon peel
Assemble in a 10oz highball glass, garnish with Ceylon, fresh lemon peel, and a couple of skinny straws.
1401 SE Morrison #117, 971-279-4850
Hours: Mon-Thurs 11 am-11 pm, Fri 11 am-midnight, Sat 10 am-midnight, Sun 10 am-11 pm
smokehouse21.com
---
The Standard "The Lewis & Clark"
12 bottles Jim Beam (approx 300 ounces)
12 2-litre bottles Ginger Ale (approx 800 ounces)
3 cans frozen Lime-Aid mix
1 cup minced ginger
Mix all of the ingredients together, pour into slushie machine, and let that shit freeze up!
14 NE 22nd, 503-233-4181
Hours: Daily 3 pm-2:30 am
---
Stella Taco "Spicy Tomatillo- Pineapple Rita"
2oz Serrano Infused Sauza Tequila Blanco
1oz Triple Sec
1oz Tomatillo Juice
1/2oz Pineapple Juice
3/4oz Fresh Lime Juice
Stella Salt Blend
Rim glass with Stella salt blend. Combine ingredients in a shaker with ice. Shake. Strain into glass filled with fresh ice. Enjoy!
(Both Locations)
2940 NE Alberta, 971-407-3705
Hours: Tues-Sun 11 am-9 pm
3060 SE Division, 503-206-5446
Hours: Daily 11 am-9 pm
stellatacopdx.com
---
Swank and Swine "Nelson County"
Makers 46, Fernet, Chai, Angostura. Shaken and double strained into a coupe.
808 SW Taylor, 503-943-5844
Swine Bar Hours: Sun-Thurs 3 pm–midnight, Fri-Sat 3 pm– 1 am
Swank Restaurant Hours:
Dinner daily 5–10 pm, lunch weekdays 11am–2 pm, breakfast daily 6:30-10 am, brunch weekends 10 am–2 pm
swankandswine.com
---
Tilt (Pearl) "Emancipation Medication"
4 parts Old Overholt Straight Rye Whiskey infused with cardamom, caraway, and cloves (the three C's)
1 part house-made ginger syrup
1 part honey
1 part fresh squeezed lemon juice
1 10 year Laphroig Single Malt Scotch soaked lemon wheel
Combine rye, ginger, lemon, and honey in a cocktail shaker, add ice, shake and double strain over a big cube and garnish with the aromatic lemon wheel.
1335 NW Everett, Suite 120, 503-894-9528
Hours: Sun-Thurs 7 am-11 pm Fri-Sat 7 am-midnight
tiltitup.com
---
Tryst "Aztec Reina"
1 1/2 oz Hornitos Black Barrel Tequila
1 oz Pineapple Juice
1/2 oz lemon juice
1/2 tsp ginger puree
2 dashes Fee Brothers Aztec Chocolate Bitters
Shaken and served on the rocks
19 SW 2nd, 503-477-8637
Hours: Daily 4 pm-2 am
bartryst.com
---
Valentines "Here comes the Suntory"
Suntory Toki Whisky, dash of water, one sugar cube, 3 dashes of Fee Brothers old fashion aromatic bitters, oregon cherry, blood orange twist, rocks.
232 SW Ankeny, 503-248-1600
Hours: Daily 5 pm-2:30 am
valentinespdx.com
---
The Wayback "The Daddy Lolo"
1.5 oz Sauza Hornitos Reposado
.5 oz Lillet
.5 oz Combier L'Original
.75 oz Sour Sop Juice
1 oz Lemon Juice
.75 oz Thai Chili Simple
8-10 Fresh Thai Coriander Leaf
In pint glass, muddle coriander with ice. Add remaining ingredients. Top with ice and shake vigorously. Double strain into rocks glass filled with ice. Garnish with a Thai Chili and a pinch of salt.
4719 N Albina, 503-222-2774
Hours: Daily 11am-midnight
tannergoods.com/pages/ the-wayback
---
Wilfs "Kentucky Spring Fling"
Jim Beam Choice bourbon, cucumber simple syrup, ginger beer, splash of lime juice, on the rocks. (Glass included, while supplies last)
800 NW 6th, 503-223-0070
Hours: Mon 11:30 am-2 pm, Tues-Thurs 11:30 am-11 pm, Fri 11:30 am-midnight, Sat 5 pm-midnight
wilfsrestaurant.com