As you doubtless know, dear Portlander, our fair city is one of the best cities to live in (and eat in!) for those who enjoy the ethical, physical, and environmental benefits of a healthy diet—and, for one week, it's about to get even better.
Welcome to the Portland Mercury's first-ever Veg Week—a week designed not only for vegans and vegetarians, but for all Portlanders who want to enjoy some of the best, most inventive dishes Portland restaurants have to offer! Not only are all Veg Week dishes 100 percent vegan, but they're also—from October 9-14 only—available for HALF-PRICE!
Sponsored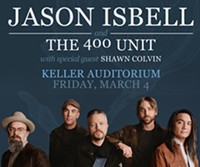 Jason Isbell has established himself as one of the most respected songwriters of his generation. Don't miss Jason Isbell and the 400 Unit, March 4th at Keller Auditorium!
Veg Week is brought to you by the Portland Mercury and our pals at the Portland Veg Fest, Farm Spirit, Wildwood Farm Sanctuary, Twist Yoga, and Peace Seed Organic—and before you tuck in, keep a few things in mind:
Tip, and tip well.
Veg Week is brought to you by a lot of hard-working people, and you're getting a great deal. Show them some love.
Be patient.
You might've noticed, but there are a few people in Portland who are vegetarian or vegan. Which means there'll be lines at some restaurants during Veg Week. We promise, it'll be worth it.
Drink (and eat) up.
Veg Week restaurants don't just have their half-price entrées—they've also got a bunch of other fantastic dishes and drinks. Take advantage!
Be social.
You'll find everything you need—including updates, reviews, and a handy map of Veg Week locations—at portlandvegweek.com. And the Mercury's Facebook, Twitter, and Instagram will help you stay in the loop, too. #PDXVegWeek
---
---
Aviv's Falafel Bowl
Raise your glass to the noble chickpea, for it lives solely for pain. No other legume gets the ever-loving hell smashed out of it with quite so much relish, and to such effect. For Veg Week, we celebrate this gustatory Job with Aviv's sumptuous Falafel Bowl. This sweet daddy has savory, crunchy falafel balls (pummeled chickpeas) served over a mountain of fries, vegetables, zhoug, amba, and hummus (macerated chickpeas). It makes absolutely no sense that such a delicious creation should be available for a mere fiver, but that's the kind of topsy turvy week this is.
1125 SE Division, avivpdx.com
Veg Week dish available Mon-Fri 11 am-10 pm, Sat 10 am-10 pm
Veg Week price $5
---
Bar Maven's Majadra
Bar Maven owner Bashar Farah is kicking it old-school for Veg Week—by bringing back the tasty majadra his mom used to serve up when he was a kid! Majadra's a lentil dish found all over the Middle East, but Farah's whipped his into a vegan delight: A tasty concoction of lentils, fried onions, and red bulger is served with a vegan kefta kabob and seasoned with tangy almond milk yogurt. It's cheap, vegan decadence that your mom would approve of, right in the heart of Foster-Powell.
6219 SE Foster, barmaven-pdx.com
Veg Week dish available Mon-Sat 4 pm-2:30 am
Veg Week price $6
---
Biwa's Udon
Southeast izakaya mainstay Biwa holds the secret to some of the most sought-after noodles in our fair city, and it's sharing the wealth for Veg Week. Pop in (when you can find a seat) and score the restaurant's vegan udon—chewy and toothsome noodles bathing in a flavorful konbu and mushroom dashi soup, and garnished simply and perfectly with green onions. Fall is here, Portland, and a pervasive Northwest chill is threatening to claim squatters' rights in your bones. This $6 delight is exactly the thing to wallop the hell out of it.
215 SE 9th, biwarestaurant.com
Veg Week dish available Mon-Sat 11:30 am-2 am
Veg Week price $6
---
Brass Tacks' Vegan Caprese
The great North Portland sandwich shop Brass Tacks is serving up a delicious, completely vegan sandwich with all-local ingredients for Veg Week! The Vegan Caprese has vegan mozzarella (house-made with zucchini, coconut oil, and agar agar), locally farmed heirloom tomatoes and fresh basil, olive oil, balsamic reduction, salt, and pepper on a baked French roll—and if you're desiring some extra kick, toss on some house-made, roasted red pepper vegan salami for $2 more. Brass Tacks always makes their responsibly-sourced sandwiches from scratch, and the Vegan Caprese is sure to be a hit.
3535 N Vancouver, brasstackssandwhiches.com
Veg Week dish available  Mon-Fri 10 am-7 pm, Sat 9 am-7 pm
Veg Week price $4 ($2 extra for vegan salami)
---
Ground Breaker Gastropub's Gluten-Free Late Summer Vegetable Wrap
To Portland's everlasting shame, very few places offer a nice, sturdy gluten-free wrap with seasonable vegetables. Thankfully, Ground Breaker Gastropub is here to fill the void. The great inner Southeast brewery and pub—whose beers and food are already 100 percent gluten-free—is serving a delicious wrap with kohlrabi (Google it, it's tasty), chanterelle mushrooms, beets, arugula, basil pesto, green beans, and cashew cream. Pair it with a pale ale, a dark ale, an IPA, or the blackberry-based Olallie. Portland just got a little better.
2030 SE 7th, groundbreakerbrewing.com
Veg Week dish available Wed-Sat 12 pm-9 pm
Veg Week price $7
---
Ichiza Kitchen and Tea House's Tonkotsu Ramen
Now that fall is officially upon us, we can finally summon back all our favorite "basic" interests: pumpkin-spiced everything, wearing boots and sweaters, getting cozy on the couch with football (or a book), and oh yes—a big warm bowl of ramen! Ichiza's Kitchen in Goose Hollow already offers vegan Pan-Asian cuisine and a lovely selection of oolong teas. But the sight of their Veg Week offering will make your mouth water: umami-rich Tonkotsu ramen with a generous helping of vegan "pork belly" floating on a cloudy, slow-cooked dashi broth of kombu seaweed, Tokyo negi onions, and shiitake mushrooms.
1628 SW Jefferson, ichizakitchen.com
Veg Week dish available Wed-Sat 3-10 pm
Veg Week price $7
---
Laughing Planet's Thai Peanut Burrito
A general rule in life is you shouldn't pass up a good $5 burrito. Laughing Planet's slightly spicy, veggie-centric, Thai-inspired burrito is one you shouldn't miss—and, fortunately, you're probably not too far from one right now, since there are five spots around town where you can get it. Laughing Planet's Thai Peanut Burrito boasts lemongrass Thai peanut sauce (so good), garlic green beans, broccoli, brown rice, cilantro lime slaw, and spinach—all wrapped in a whole-wheat tortilla.
721 NW 9th, 1720 SW 4th, 3320 SE Belmont, 3765 N Mississippi, 1914 NW 42nd
Veg Week dish available Mon-Sat 11 am-9 pm
Veg Week price $5
---
Loyal Legion's Vegan Corndog and Fries
God bless Loyal Legion. This place takes its beer seriously, with a massive selection and a tap system that, they humbly note, "rivals a NASA program." They're putting just as much care and passion into Veg Week, switching up their beloved corndog to make it fit for vegans and vegetarians! At the core? Field Roast's excellent vegan frankfurter, which Loyal Legion dunks in house-made vegan batter and fries until it's golden brown—then delivers alongside some phenomenal fries. Loyal Legion claims their Vegan Corndog pairs perfectly with any vegan beer on the menu. You could take their word for it, but we recommend thoroughly testing that claim.
710 SE 6th, loyallegionpdx.com
Veg Week dish available Mon-Thurs 12 pm-midnight, Fri-Sat 12 pm-2 am
Veg Week price $5
---
Mississippi Pizza Pub's The Hothouse & The Franks and Peas
Since pizza is humanity's sole key to enlightenment and long-term happiness, we're blessed to have noble institutions like Mississippi Pizza Pub bringing more pies into the world. This Veg Week, they're concocted two new tickets to paradise: the Franks and Peas, and the Hothouse. The first features caramelized onions, a vegan ranch sauce base, Frank's RedHot-drenched cauliflower, chopped garlic, black-eyed peas, and fresh green onions. The latter centers on a zingy red sauce base, mixed kale greens, zucchini, sweet onion, sun-dried tomatoes, chopped garlic, Mama Lil's peppers, and fresh basil. Don't blame us if you fall in love. Twice.
3552 N Mississippi, mississippipizza.com
Veg Week dish available Mon-Thurs 11 am-12 am, Fri-Sat 11 am-1 am
Veg Week price $4 for two slices
---
Next Level Burger's Special Sauce Burger & Cup O' Chili
Made in the image and likeness of the holiest of burgers—the In-N-Out Burger—this tower of goodness is divine intervention. Next Level Burger's Special Sauce Burger lavishes in its own mystery: the special sauce in question is a combination of Thousand Island dressing, fry sauce, and "a little kick" that'll bring you to your knees. It's smothered atop a veggie patty with cheese, delightfully briny pickles, and fresh tomato, onions, and lettuce. What's more, this burger's got a little buddy: a cup of house-made, three-bean chili garnished with red onions.
4121 SE Hawthorne, nextlevelburger.com
Veg Week dish available Mon-Sat 11am-10 pm, Veg Week price $5.75
---
Night Light Lounge's Sweet Potato Poutine
Is there anything as comforting as a warm belly? No, there is not. Luckily, the Night Light Lounge's Sweet Potato Poutine is a one-way ticket to Warm Belly City. It's got sweet-potato fries drenched with rich mushroom gravy and sprinkled with the sprightly chopped herb condiment gremolata. If it's comfort you're looking for this Veg Week—and it probably is, considering the weather—this dish is your best bet. Heed the siren call of the sweet potato and get thyself to the Night Light.
2100 SE Clinton, nightlightlounge.net
Veg Week dish available Mon-Sat 2 pm-2 am
Veg Week price $5
---
No Bones Beach Club's Jackfruit Flautas with Tomatillo-Avocado Sauce and Cashew Crema
Of all the foods you can make without meat or dairy, flautas are one of the best suited to the job—I've never had vegan flautas I didn't like, and I can't say the same for their meat-filled cousins—so it's wonderful news that No Bones Beach Club is serving some special vegan flautas for Veg Week. How can flautas be special? Well, behold all the delicious things in these flautas: Made with white corn tortillas layered with jackfruit "carnitas," peppers, onions, vegan cheese from Field Roast's Chao Creamery, tomatillo-avocado salsa (YES PLEASE), and cashew crema, No Bones' Jackfruit Flautas are a crispy, saucy, spicy delight. And given the mix of colorful veggies and sauces involved, they're also beautiful to look at.
3928 N Mississippi, nobonespdx.com
Veg Week dish available Tues-Thurs 4-10 pm, Fri-Sat 11 am-11:45 pm
Veg Week price $6
---
Noraneko's Vegetable Ramen
Noraneko is the sister restaurant to Biwa, and their name, charmingly, translates to "stray cats." But they're perhaps better known for the fact that everything at Noraneko—save for the noodles—is made by hand. For Veg Week, they're discounting their simple, "mushroom-powered" Vegetable Ramen, which, after a lot of hard work to get the vegan broth just right, has become one of the staff's favorite dishes. And it gets better: ovo-vegetarians can add an egg for a dollar, and everyone can add fried tofu for $2 or extra garlic at no additional cost.
1430 SE Water, noranekoramen.com
Veg Week dish available  Mon-Sat 11 am-2 am
Veg Week price $5
---
Off The Griddle's French Dip Sandwich
True, standard French dip sandwiches can often be problematic, but you'll want to get in line for Off the Griddle's vegan French Dip Sandwich. The "steak" is made with soy curls marinated to perfection and layered with mushrooms, onions, and Swiss "cheese"—all served au jus on a toasted-golden hoagie roll. Off The Griddle reports their sandwich is "melting and dripping with goodness" that you can dip and chomp to your heart's content. It might even be enough to convert the French dip skeptics among us.
6526 SE Foster, facebook.com/offthegriddle
Veg Week dish available Mon-Sat 9 am-2 pm and 4 pm-11 pm
Veg Week price $5
---
Papa G's Deli's The Letter O
Don't you love a meal whose completeness takes you back to your childhood Lunchables, but without the slimy processed meat? Well, Papa G's Deli has a vegan alternative: the perfectly balanced Letter O features a bowl of chili mac (objectively one of the best foods), half a tempeh Reuben (is there anything more adorable than a half-sandwich?), and two Choco-Choco Chip cookies—and all of it is made with organic ingredients. Papa G's would also like to remind you that Damian Lillard is vegan, which means this meal is "fit for an all-star." But if you can read, you already knew that. Go Blazers!
2314 SE Division, facebook.com/PapaGsVeganOrganicDeli
Veg Week dish available  Mon-Sat 11 am-9 pm
Veg Week price $7
---
Rad Fare's El Pobrecito Burger
Nashville-style fried chicken is the ultimate in spicy, hot chicken. But that's a no-go for the non-meat-eaters among us, so Rad Fare have taken it upon themselves to create a vegan sandwich version with all the sweet 'n' savory flavors Nashville hot chicken embodies. Starting with deep-fried seitan, they add their house-made vegan ranch, coleslaw, and plenty of hot sauce. Served on a vegan rustic bun and coming with a side of fries, the El Pobrecito is one of Rad Fare's best sellers—and Veg Week is the perfect time to grab one at a terrific price.
3503 N Mississippi location only
radfare.com
Veg Week dish available 11 am-11 pm daily
Veg Week price $5
---
Revelry's Crispy Cauliflower Rice Bowl
Cauliflower gets a bad rap as a boring vegetable, but in the right hands, it's downright delicious. Revelry's Veg Week offering highlights the best aspects of cauliflower, frying it to a crisp for crunch and zing, then tossing it in a miso cumin vinaigrette and fried curry leaves. But there's more: a yummy, filling chickpea masala provides a counterpoint, as does the yu choy. It all sits on a bed of rice, making the Crispy Cauliflower Rice Bowl a complete, hearty meal in and of itself.
210 SE MLK, revelrypdx.com
Veg Week dish available Mon 5-10 pm, Tues-Sat 5 pm-midnight
Veg Week price $7.50
---
Sasquatch Brewing Co.'s
Spaghetti and Meatless-Ball Sub
After a hard day's brewing, Sasquatch's brewers, Ryan Nicolai and Mike Paladino, crave the traditional fare of their Italian heritage. So Sasquatch's Veg Week dish puts all the comfort of a classic dish of spaghetti and meatballs into a vegan sandwich! It all starts with a Baker & Spice sub roll, which is stuffed to bursting with savory, plant-based "meatballs," melted cashew cheese, lots of garlicky marinara, and—yes—spaghetti. It's a classic Italian dish, without the pesky need for utensils. As our friends at Sasquatch say, "Vegan food can be as gooey and melty and gut-busting as anything else!"
2531 NW 30th location only, sasquatchbrewery.com
Veg Week dish available Mon-Sat 11:30 am-8 pm
Veg Week price $6
---
Stacked Sandwich Shop's Vegan Pita Gyro
As far as inspiration goes, you can't do much better than this: The sandwich geniuses at Stacked Sandwich Shop have created a dish that reminds them of "the gyros you get in Paris—stuffed with fries and goodies and covered in sauce." For Stacked's Vegan Pita Gyro, those goodies include zucchini, grilled mushrooms, the hot chili pepper paste harissa, and Ota Tofu tzatziki. Throw in those fries and wrap it all up in a house-made vegan pita, and you've got a gyro that'll stand right up there with the best of 'em.
1643 SE 3rd
stackedsandwichshop.com
Veg Week dish available
 Mon-Sat 11 am-8 pm
Veg Week price $6
---
The Sudra's Chickenless Tikka Masala
Food-loving Portlanders—vegan or not—are doubtless already familiar with the Sudra, the beloved Indian-inspired vegan restaurant that has outposts in both Northeast and St Johns. For Veg Week, they're offering their Chickenless Tikka Masala—a welcome twist on the Indian standard, this time with Beyond Meat "chicken," bell peppers, onions, and cashew tikka sauce. It's good enough that you'll want to get it both in Northeast and in St Johns.
2333 NE Glisan and 8777 N Lombard thesudra.com
Veg Week dish available Mon-Sat 11 am-10 pm
Veg Week price $6
---
Virtuous Pie 's White Pie
Here's the thing about white pizza pie: thanks to relying on a whole lot of dairy, it's just about impossible to get it vegan. Or it was—until the oh-so-virtuous heroes at Virtuous Pie stepped up! This Veg Week, try their inspired take on the classic New York-style white pie—with a garlic-herb oil base and a mouth-watering blend of cashew mozzarella, ricotta, oregano, and crushed red pepper. Oh, and bonus: Everything on this beauty of a pie is made in-house. Take that, New York.
1126 SE Division St. #200, virtuouspie.com
Veg Week dish available Mon-Fri 11 am-11 pm, Sat 11 am-11 pm
Veg Week price $7
---
Water Avenue Coffee's Tri-Grain Polenta, Shaved Summer Squash, and Roasted Vegetables
This Veg Week, Water Avenue Coffee has arranged a vibrant lineup of seasonal treats to enjoy—right before the dreary Portland winter starts up and ruins everything. Consider: Eggplant, heirloom cherry tomatoes, roasted squash, shaved zucchini, and Mama Lil's peppers—all arranged on a bed of delicious polenta made from Ayers Creek's stone-ground corn, red quinoa, the ancient Ethiopian staple teff, and vegetable stock. Add in some herb salad, and you've got one of Veg Week's liveliest, brightest offerings—and a meal you can think back fondly on once the soul-draining rains really kick in.
1028 SE Water Ave #145 location only, wateravenuecoffee.com,
Veg Week dish available Mon-Sat 7 am-3 pm
Veg Week price $4
---
Wolf & Bear's Falafel
If you love vittles made fresh and from scratch, you're going to trip over your feet running to Wolf & Bear's. Their pita wraps are the stuff of legend, and their concoction for Veg Week will be no different. Get your mouth ready for this: fresh falafel, hummus, grilled eggplant, roasted red peppers and onions, homemade tahini sauce, and greens served in a warm, soft pita—or if you prefer, as a salad! Don't be too ashamed if you pick an extra up to nosh at home later.
113 SE 28th location only
eatwolfandbears.com
Veg Week dish available Mon-Sat 11 am-9 pm
Veg Week price $4
---
Xico's Plato Vegano Mixto
In a town filled with excellent Mexican food, Xico has a tremendously loyal following, and for very good reason: Their locally sourced, Oaxacan-styled food is on point, fresh, and best enjoyed with an artisanal mezcal cocktail on their charming patio. Their Veg Week entry—a Plato Vegano Mixto—promises to hit even greater heights. Inspired by the cuisines of Veracruz and the Yucatan Peninsula, this sampling platter includes mushroom empanada made with freshly ground corn masa, grilled ripe plantain and pecan chipotle salsa, Yucateco black beans simmered with grilled onion and cumin, and a salad of sweet and hot roasted chiles with zucchini and squash. Prepare to adore every bite.
3715 SE Division, xicopdx.com
Veg Week dish available Mon-Thurs 5-9 pm, Fri-Sat 5-11 pm
Veg Week price $12