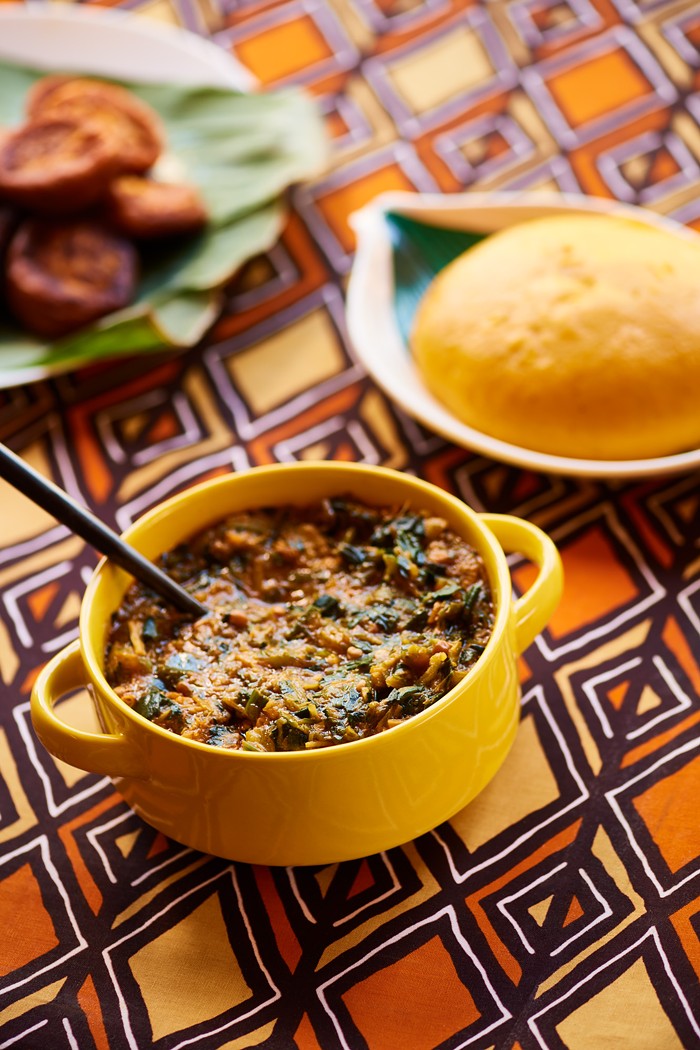 Tuesday's Takeout Club returns this week with an eye on multi-course takeout meals for a good cause, West African cuisine, and the deft to-go touch of established local chain Killer Burger.
Chef In Your Garden / Akadi
Every summer Portland non-profit Growing Gardens holds a series of garden party fundraiser dinners—Chef In My Garden—at local vineyards or other idyllic outdoor locations. The main triumph of the series has always been the excellent curation of chefs, usually established or up-and-coming names in the local restaurant scene. But this year necessary COVID pandemic safety precautions led Growing Gardens to try offering the multi-course dining experiences as takeaway meals to be enjoyed at people's homes, changing the name to
Chef In Your Garden
.
Since Growing Gardens' mission focuses on home garden creation, education, and all the myriad ways that such activities support healthy and equitable communities, it isn't surprising that their line-up of weekly dinners pulls from some of Portland's most exciting and diverse restaurants right now. Past weeks included Diane Lam of Sunshine Noodles and Vince Nguyen of Berlu. Future weeks will see meals put together by Thuy Pham of Mama Dút Foods, Elsy Dinvil of Creole Me Up and Amalia Sierra of Tierra del Sol.
Since interaction with the chef was always a big part of Chef In My Garden, the evening comes with a short prerecorded video or group Zoom call with the chef who designed the meal where they can describe the dinner, offer instructions on how to best enjoy the food, and talk about the inspiration behind it. In my case, I was lucky to try a basket of courses by NE Portland West African cuisine restaurant Akadi's chef Fatou Ouattara. This meant fried plantains, spicy stews, and a mysterious ball of plantain fufu, which Ouattara explained should be molded into a bite-sized bowl to cradle the stew so both tastes could be experienced together.
As a long appreciator of food and story performances, like local food-focused storytellers Tender Table and Jared Goodman's The Jewish Project, Ouattara's presentation with the meal was likely my favorite aspect of the evening. But running a close second was the experience itself because it's so rare now to sit down for a meal and have it be a true event. Combined with the opportunity to try a variety of dishes from a potentially unfamiliar restaurant, that $175 fundraiser ticket (dinner for two) price becomes a little easier to swallow. Takeout these days is a pizza or a box of sushi—certainly celebratory but not as exceedingly special as what Growing Gardens seeks to provide with their summer fundraiser.
Killer Burger
It's time again to sing the praises of a local staple. Killer Burger didn't go away when the coronavirus shut down the state's restaurants. They simply switched to pick-up and delivery, and Killer Burger had takeout on lock far before the pandemic. Their thoughtfully designed cardboard to-go boxes have perforated top flaps for easy removal so the box becomes a basket whenever you reach your dining destination, and with every burger comes an unspoken, but *chef's kiss* perfect amount of side fries. It's just understood that all burgers deserve a little side fry!
But there's another reason to mention Killer Burger in this week's Takeout Club. That's the return of the former menu favorite Jose Mendoza burger, which the local chain had to retire from the menu after losing a supplier for its roasted green chiles ingredient. Thankfully they found a new chile connection and are back in the business of putting the aforementioned chiles, bacon, Monterey Jack cheese, house sauce, grilled onion, and pickle together with burger and bun for everyone who missed that particular combination.
For my money, I'm still all about the classic concoction—those chiles offer more moisture than they do spice—but from their seamless ordering system, to their traveling KB food truck (whose schedule several of my friends have memorized), it's obvious Killer Burger thought long and hard about how to make their takeout service the best experience they could offer.