The Mercury provides news and fun every single day—but your help is essential. If you believe Portland benefits from smart, local journalism and arts coverage, please consider making a small monthly contribution, because without you, there is no us. Thanks for your support!
GOOD MORNING, PORTLAND! Expect a few showers today, and a mostly sunny weekend, but check it out: temps will get close to freezing each morning for the next week! (Better put on your flannel thong. But first, let's try on some NEWS.)
IN LOCAL NEWS:
• Republican Christine Drazan still refuses to see the writing on the wall, and at this point is not conceding to Tina Kotek in the governor's race. Perhaps she's holding out for drag-ass Clackamas County who, at the earliest, will finish counting their votes on Saturday night. (Narrator's voice: It won't be enough.)
• For those MAGAs in the back:
Oregon has zero credible reports of widespread voter fraud in this election. Zero. The rare cases that do happen will be caught and the votes won't count. #orpol #TrustedInfo2022

— Secretary of State Shemia Fagan | #VoteReady 📬🗳 (@OregonSOS) November 11, 2022
• Related: 137 Oregon counties and towns failed to do their research, and voted to ban therapeutic psilocybin service centers in their areas.
• ICYMI: Yesterday, newly elected commissioner Rene Gonzalez tweeted out thanks to his supporters while also showing some love for a member of the right-wing extremist organization Patriot Prayer, Quincy Franklin, who is also an outspoken homophobe and promoted the racist Muslim Ban. Gonzalez eventually deleted the tweet without explanation or apology—but unlucky him, I took a screenshot of it. (Wait... didn't Gonzalez keep insisting he was a Democrat?)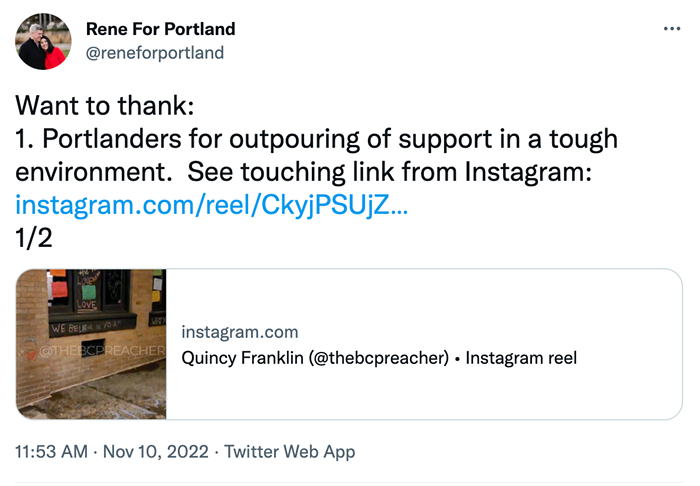 • By the way, thanks a pantload, WEST HILLS and GRESHAM for your help in getting Gonzalez elected.
These Portland neighborhoods helped Rene Gonzalez defeat Jo Ann Hardesty: Interactive map https://t.co/dGdzfy8tJd

— The Oregonian (@Oregonian) November 11, 2022
• Related: "Oregonians remove slavery language from state constitution, though by 'shockingly close' margin." 
• After six months at the helm of the Joint Office of Homeless Services, interim director Shannon Singleton has announced she'll be stepping down by the end of November. So how's the national search going for a permanent director for this extremely tough job? Our Alex Zielinski has more details.
• As we all expected, TriMet has been going through some financial difficulties, and their board members voted Wednesday to proceed with a proposal for a biannual 30 cent fare increase starting in January 2024. BUT! The public does have a say in this before they pull the trigger. Find out more from our Isabella Garcia.
How much do you remember about this week's election? (C'MON... it was only TWO days ago!) We bet you'll score HUGE on this week's super-fun edition of POP QUIZ PDX! We believe in you! 🧠💪https://t.co/5sz8S4hkZF

— Portland Mercury 🗞 (@portlandmercury) November 10, 2022
IN NATIONAL/WORLD NEWS:
• Ukraine has reportedly taken back the city of Kherson after a Russian retreat, signaling a major defeat for Putin.
• The party of domestic terrorism (Republicans) are quickly realizing their strategy of destroying democracy and taking away abortion rights has bitten them in the ass, as Democrats have taken big leads in state legislatures and are tantalizingly close to taking the senate.
• Meanwhile, Republicans are already bickering among themselves in preparation for the possibility of taking control over the House, and Speaker/Shithead Kevin McCarthy could be the first casualty.
Man Who Lost Everything In Crypto Just Wishes Several Thousand More People Had Warned Him https://t.co/ZyBuovjIiA pic.twitter.com/COUssOnQHh

— The Onion (@TheOnion) November 11, 2022
.• And the hits just keep on coming for serial liar/Sandy Hook denier Alex Jones, who was just slapped with ANOTHER huge fine by a judge—a cool $473 million extra. (Just put it on his tab!)
• Twitter has paused their "Twitter Blue" service after an onslaught of funny people trolled the service by paying to sign up for verification and imitating celebrities and countries. (Oh, no! How is Musk going to avoid bankruptcy now?)
Kevin Conroy, Iconic Batman Voice Actor, Dies at 66 https://t.co/o1dio9KNW1

— Variety (@Variety) November 11, 2022
• And finally... I, too, am guilty of this unfathomable crime.
Talking to my friend vs her dog pic.twitter.com/uLDhVGJDzB

— Emma Pope (@emmerpope) November 10, 2022