The Mercury provides news and fun every single day—but your help is essential. If you believe Portland benefits from smart, local journalism and arts coverage, please consider making a small monthly contribution, because without you, there is no us. Thanks for your support! 
GOOD MORNING, PORTLAND! We got some sunshine yesterday, but today it's back to drizzle. I hope you're able to do some nesting and enjoy the cold and dark November weather like it's meant to be enjoyed: From inside, under blankets. And while you're at it, enjoy this NEWS.
IN LOCAL NEWS:
• Portland City Council voted yesterday to amend the city's Department of Justice settlement to allow an independent monitor to oversee the Portland Police Bureau's compliance with the DOJ's demands regarding the bureau's excessive use of force. The DOJ filed a complaint against Portland in 2012 following multiple incidents of Portland police officers using force or killing people with mental illness, but the Portland Police Bureau didn't stop there, and have continued to do bad shit since then...so the DOJ settlement agreement has lasted longer than people initially thought. Check out Abe Asher's story for more. 
• The Portland teachers' strike is on Day 6, and teachers are still rallying daily with as much energy as the first day. We'll keep following the story for you, but for now, check out these picket signs from the rally yesterday:
A few photos from today's @pdxteachers rally. @portlandmercury pic.twitter.com/OmdVVnlQT3

— Taylor Griggs (@taylorjgriggs) November 8, 2023
• Well, lookee here, the Portland Bureau of Transportation is finally adding some substantial barriers to the bike lane on NE 21st Ave across I-84. Someone biking was seriously injured by a reckless driver at this intersection in September, prompting some anonymous tactical urbanists to install barriers of their own...which PBOT promptly took down. Better late than never, I guess. 
Safety improvements are in the works for the NE 21st Ave overpass over I-84. Today, PBOT installed heavy concrete planters where a curve in the road meets the two-way bike lane, hardening protection for bicyclists. pic.twitter.com/mfuoiw6P6A

— Portland Bureau of Transportation (@PBOTinfo) November 8, 2023
• You may not have thought you needed a story about Portland's Shrek Raves, but you do. This article has everything: Judith Butler, the quote "Who here would fuck Shrek?," a description of a donkey (unclear if it's THE Donkey) "lit from within by satanic fire." I don't know if I'll make it to the next Shrek Rave, but I'll definitely read whatever dance party reviews Ben Coleman writes for the Mercury.
At a Shrek Rave in Portland, gender-swapped costumes and Smash Mouth beats took over the dance floor.https://t.co/d3MJ1xgPhb

— Portland Mercury 🗞 (@portlandmercury) November 8, 2023
• The University of Oregon has around 1,400 graduate employees, all of whom are underpaid and overworked, and they just voted overwhelmingly to authorize a strike. The strike could start at the end of the month...right before finals week. As a U of O alum, I can speak to how crucial graduate students are to the university running smoothly, and their labor is especially needed during final exams: The professors teaching 300+ student lectures are sure as hell not going to be happy about grading those papers and tests on their own. 
•A new full length album from Portland-based rapper Milc
•A song written from the perspective of our music columnist's boisterous 75-pound dog
•How is this Beyoncé dance night not sold out?
•Here's your fresh, local music updates Hear in Portland.https://t.co/gnBGUPiJIh

— Portland Mercury 🗞 (@portlandmercury) November 9, 2023
IN NATIONAL/WORLD NEWS:
• Five Republican presidential candidates (not including the one who matters) held another debate last night, vying for the opportunity to come in second in the primary after Donald Trump.Highlights seem to include: Vivek Ramaswamy hinting at "far-flung conspiracy theories" (no surprise there), Nikki Haley calling Ron DeSantis a liberal on the environment (uh...), and Trump holding his own rally across town. 
• The Hollywood actors' strike is over after members of SAG-AFTRA reached a contract deal with studios yesterday. More specifics about the deal will be available soon, as will new TV shows, etc. 
After 118 days of the actors guild being out on strike, SAG-AFTRA and the studios have reached a tentative deal on a new contract that could see Hollywood up and running again within weeks https://t.co/d44ZKl4n6o pic.twitter.com/JykzRUhhH8

— Deadline Hollywood (@DEADLINE) November 9, 2023
• Ivanka Trump took the witness stand in her father's New York fraud trial, testifying she "didn't know much" about financial documents at the heart of the case. Compared to her two brothers, who have testified in the case as co-defendants, Ivanka was described as acting much more controlled on the stand. In other news, I've come to see courtroom sketches as a masterful form of fine art: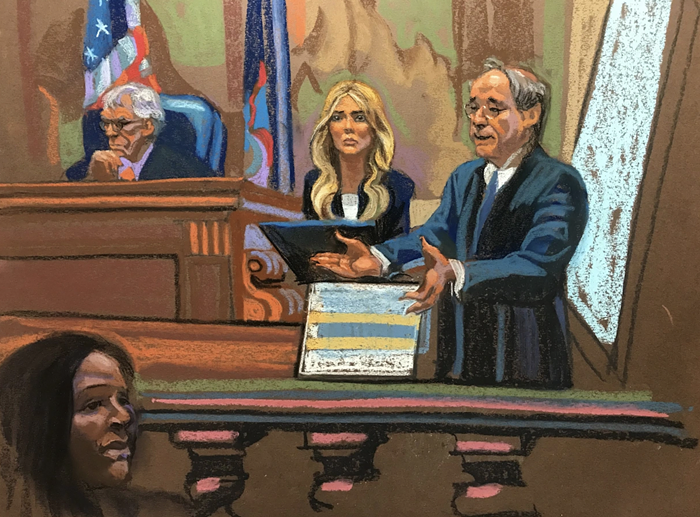 Residents sheltered in place for hours after chemical plant explosion in rural Texas injured worker https://t.co/Ts1ShhG6G5

— The Associated Press (@AP) November 9, 2023
• Israel has evidently agreed to four-hour "civilian pauses" to allow civilians to flee Gaza while it gets pounded by air strikes and a ground invasion. To people calling for a cease-fire, this is not sufficient, but it's also concerning that this is only happening after more than 10,000 people in Gaza have been killed, including more than 4,000 children. President Biden said "it's taken a little longer than [he] hoped" to come to this decision. (No shit.)
• Finally...happy belated birthday to these two cuties. And happy Thursday to you all.
 

 

View this post on Instagram