Happy Hour Guide
Altabira City Tavern
1021 NE Grand
Located on the sixth floor of the Hotel Eastlund, Altabira is slightly more than your garden-variety hotel restaurant. The people-watching vibe tends toward the after-work crowd: Folks from Metro and other Lloyd District professional buildings fill the place, but hotel guests attending events at the Moda Center across the street also represent. That said, the food is surprisingly good and well priced. A butternut squash and caramelized onion personal pizza ($8) was large enough to split, and the house-made Kobe beef corndogs ($5) exceeded expectations. The cocktails and wines are discounted, but the beer is the best deal: $4 for a pint of either Commons Urban Farmhouse, Oakshire Amber, Seismic IPA, or Double Mountain Pale Ale amply cover your bases. Patio is heated but not covered, making it a great fair-weather destination. HEATHER ARNDT ANDERSON
Sponsored
Sketch comedy troupes from all over N. America descend on The Siren Theater for 3 glorious nights.
Happy hour: daily 4-6 pm, $4 beers, $5 wells, $5-7 wine, $7 cocktails, $4-8 menu
---
Bang Bang
4727 NE Fremont
Before I say anything else about this Asian fusion restaurant off of the quaint Fremont drag, I have to mention Bang Bang's drunken wings ($6). The majestically sauced gems are currently one of the most amazing foods I've ever put into my mouth and are completely worth the inconvenience of trying to make Bang Bang's incredibly tight 5-to-6 pm happy hour window. Their amazingness almost made me forget that I also enjoyed an order of the spring rolls ($5)—expressively constructed, deep-fried flavor blasts that should also make an impression on anyone's list of culinary favorites. To glue these swirling flavor profiles together, I employed the services of an expertly made Bang Bang Old Fashioned ($6), spiced with housemade cardamom bitters and highlighted with a classy giant ice cube. The happy hour menu's impressive list of skewers will insure my swift return, especially if they're anything like those wings! CHRIS SUTTON
Happy Hour: daily 5-6 pm & 9:30 pm-midnight, $5 wine, $5-6 cocktails, $6 Fernet + Miller High Life, $2-6 menu
---
BTU Brasserie
5846 NE Sandy
Chef Chris Bogart isn't Chinese, but he grew up eating at his dad's Chinese restaurant in Vermont (hey, Vermonters and Oregonians need Chinese food, too). Chewy, savory dim sum classics like pork pot stickers and bao—albeit the kind you fold like a finger sandwich instead of a legit steamed, filled bun—are $5 during happy hour. And for better or worse, you don't have to look at any hanging grilled ducks in the window. It's too bad BTU is slowly veering away from brewing their house beers, like their lager. BRIAN YAEGER
Happy Hour: all day Tues, Wed-Fri 2-6 pm, $1 off beer, $5 menu
---
Church
2600 NE Sandy
The mere existence of a bar called Church—with tailor-made distinctions like wood-paneled walls, medieval-style menus, and a cute "confessions" photo booth—belies the type of welcome pretentiousness inherent in so much of modern Portland nightlife. That being said, the hushpuppies ($5), divine corn dollops served with a luscious "voodoo sauce" that seems to be a mix of maple syrup and heavenly nectar, are definitely worthy of worship. So filling were these delights that I had scant room left for the gregarious Church Burger ($8), a thick, Gouda-tinged slab that left me with food paralysis. To repent for my gluttonous sins, I delved into a Pickle Back, which conjoins a shot of Evan Williams with an equal amount of spicy, housemade pickle juice, creating a sensation that seeks to clean your palette with flavorful inquisition and fiery immolation. CHRIS SUTTON
Happy Hour: daily 4-7 pm, $1 off house wine, $5-7 cocktails, $5-8 menu
---
Epif
404 NE 28th
There's no shortage of bars on NE 28th, but just a few blocks north of the street's most beaten path is Epif, a vegan restaurant focusing on South American fare. They're also focusing on pisco, with Epif's owners—who live right behind the restaurant—boasting the largest pisco selection in Portland. (They've also got a tempting deal to try some, with a happy hour bargain that gets you a healthy shot along with a Full Sail Session for $5. DONE.) Inside, Epif is cozy, warm, and friendly, with a happy hour menu that leans hard on the cocktails to make things even warmer, from the $4 Manzana (bourbon, spiced apple syrup, orange, lemon, and soda water) to a $6 pisco sour. The refreshing Lima (dark rum, ginger syrup, lime, and ginger ale; $4) will hit the spot once the weather warms up, and it goes well with both the papas ($5), which'd just be French fries if it weren't for the ají amarillo sauce, or the sweet potato chips ($4), best dipped with a good dollop of pebre, a Chilean salsa. ERIK HENRIKSEN
Happy Hour: daily 4-6 pm, $1 off beer and wine, $4-6 cocktails, $4-6 menu
---
The Hilt
1934 NE Alberta
When I visited the Hilt one particularly wet and dreary Monday evening, the darkly lit environs—combined with the loud music and louder video games—had me assuming I'd stumbled into a friendly but typical neighborhood bar. However, after analyzing the Mediterranean-themed happy hour menu and specialty drinks list, I realized this place has taken pains to include plenty of creative nuances within its everyman presentation. I imagine that on a nicer afternoon, the considerable outside patio would've perfectly complemented my effervescent Needles & Pins cocktail (ginger beer and pepper-infused whisky, YUM!). All the same, ensconcing one's self intimately in the cozy strip of front booths—and devouring a roasted zucchini garbanzo burger ($5) and deliciously tangy Kasseri cheese fries ($3.50) while occasionally leaning back to watch Alberta Street slosh by—is certainly a worthy scenario for post-grind relaxation as well. CHRIS SUTTON
Happy Hour: Mon-Sat 4-7 pm, all day Sun, $1 off wells & beers, $3-5.50 menu
---
Nepo 42
5403 NE 42nd
Nepo 42, an approachable neighborhood place that has the look of an Irish pub, might have one of the single most decadent and amazing happy hour items in Portland. The fried chicken and waffle is not a mere after-work snack item. No small cheese plate or two-bite slider, this one. It is a sizable portion of fried bird with bacon and sage maple syrup, and Nepo 42 also has a deep bench of drink specials to pair with all that greasy goodness. The Champagne Cocktail ($5) is like a leveled-up mimosa—it's a fizzy, clear blending of bubbles and citrus—and the Ruby Press ($6) makes maximum use of grapefruit vodka. The brunchy drinks and syrupy waffle are slightly at odds with the soccer hooligan-esque décor, but once you have chicken and booze in front of you, you won't even notice. JOE STRECKERT
Happy Hour: daily 3-6 pm, beer $4.50, cider $5.50, $5-6 cocktails, $6 wine, $3-7 menu
---
Prime Rib + Chocolate Cake
1200 NE Broadway
If the name sounds like boxes you'd tick on a wedding invitation, that's surely the point. Prime Rib + Chocolate Cake took the place of the NE Broadway outpost of Newport Seafood Grill, but rest assured it's owned by the same megacorp (Restaurants Unlimited) and it's the same sort of soothingly bland, one-menu-fits-all type of joint that's ideal for pacifying all comers after a weekend matinee at nearby Lloyd Cinemas. The happy hour deals are cheap and absurdly filling, which is all you really need from a place like this. They include a slider with fries for $1.99—if you don't want the namesake prime rib (served with horseradish and caramelized onions), they have cod and barbecue beef options, too—a not-bad Caesar salad for $2.99, and, yes, actual goddamn chocolate cake for $3.99. That last one is a gooey, molten, caramel-drenched, chain-restaurant confection that'll instantly whisk you away to Anytown, Middle America. In other words, what PR+CC lacks in excitement, it makes up for in sheer, unadulterated, anonymous comfort. NED LANNAMANN
Happy Hour: daily 3-6 pm & 8 pm-close, all day Sunday, $3 beers, $4 wells, $5 select cocktails & wine, $1.99-6.99 menu
---
Tapalaya
28 NE 28th
At first, the idea of highbrow, small-plate New Orleans cuisine seemed like a fusion too far. But I learned that Tapalaya's food is delicious, intelligent, and fully within anyone's budget for the amount you're given—especially during happy hour. After settling into what felt like an upscale southern folk-art installation, the first timer in me waanted to try the Taste of Tapalaya ($4), a plate of three house specialties rotated daily, which during my visit consisted of delectable samples of their salad and gumbo with an expertly fried oyster. From there I could've eaten everything on the menu, but eventually settled on the plump and juicy pork belly banh mi ($5) to share mouth time with their beautiful Uptown NOLA and Down River Drop (both $6)—specialty drinks that I threw down like I was living my own private Mardi Gras. CHRIS SUTTON
Happy Hour: daily 4-6 pm, $4-6 cocktails, $5 wine, $4-6 menu
Sponsored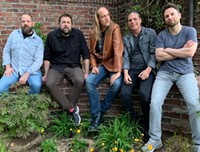 Rediscover the sounds of RUSH through The RUSH Collective - This Friday, June 24 at The Doug Fir.