FOR A CITY that's a leader in the national food scene, Portland sure is late to the party when it comes to certain food trends.
Sponsored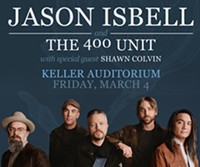 Jason Isbell has established himself as one of the most respected songwriters of his generation. Don't miss Jason Isbell and the 400 Unit, March 4th at Keller Auditorium!
The ramen wave has crested here, years after New York and Los Angeles had moved on—and now we're riding the high tide of poke that's long flooded other cities. Poke Mon on SE Hawthorne is the city's first restaurant devoted to the Hawaiian favorite of raw fish and a soy-spiked sauce, along with an ever-growing smattering of places around town that also feature the dish [Last Supper, May 25, 2016].
Poke Mon's name was announced before the eponymous mobile game craze launched, and like the app, it's easy to see why poke is appealing to the masses. (As a side note, if Olympia Provisions—formerly known as Olympic Provisions—had to change its name because of the athletic competition, where the hell is the cease-and-desist letter from Nintendo?)
With a streamlined interior of white tile and blond wood, a massive rendering of their adorable puffy fish logo with air plants, and a shimmering refrigerator case stacked high with LaCroix, Poke Mon could not be rocking trendiness harder. Perhaps I'm getting way too deep when thinking about a counter-service fish place, yet I'm worried that if this is New Portland, we're following the curve instead of setting it. Don't get me wrong, I'll be back to eat here often: Poke Mon is a great lunch splurge or a nice light dinner on a hot day, but it's got about as much originality as, well, white subway tiles and Edison light bulbs.
Poke, as served by Poke Mon's chef Colin Yoshimoto (formerly of Nodoguro and Nong's Khao Man Gai), takes fresh, sustainably sourced fish, adds a base of mixed greens or rice to make it a full meal, and fluffs it up with fancy toppings. After working my way through all the bowls, the standout was the spicy yuzu albacore ($10.75), combining the Pacific tuna with red onion, cucumber, jalapeño, avocado, radish, and (not so) spicy yuzu sauce.
The cubes of Hawaiian ahi ($11.75) do well with the sesame-heavy original sauce, which is actually my favorite of the sauces, and the kimchi tako ($11.75) has tender poached octopus popping with local Choi's kimchi and that sesame-forward sauce. While the salmon was my favorite poke preparation, the garlic salmon has a lingering bitterness from the grapefruit slices and the slightly tart ponzu sauce.
At this point, the sides (each $3) are best left to hungry eaters who need a bit more to get full—the cucumber salad is decent, while the macaroni salad lacks verve, and the seaweed salad is far too sweet. There's an inexpensive sake list, and the $3 pour of Hakutsuru Junmai is surprisingly enjoyable.
Poke Mon becomes great fun once you start dreaming up your own custom bowls: In my case that's salmon with original sauce, brown rice, cucumber, nori, sweet onion, avocado, and the crazy-addictive puffed rice, bubu arare, for incredible bursts of texture and salt throughout my meal. Go forth and make your poke your own.
---
Tues-Sun 11 am-9 pm
Counter service and takeout; not good for large parties