From the delicious Nodoguro's omakase to the nonstop hungry-hungry-hippo action of the ubiquitous sushi belt, Portland may not be LA or even Seattle, but we're no slouch when it comes to sushi.
Sponsored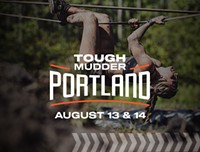 Lock in your summer adventure, Portland. Join us for world famous obstacles over a 5K or 10K distance.
For every style of food, there are those restaurants that are fine, but kicked into no-brainer territory for subjective reasons: low prices, for instance, or proximity and quality of competition. A C+ quickly becomes a B- if it's the only spot you can walk to. Can I remember the name of the sushi place down the street from my office, where I eat at least once a month? Of course not.
Sushi One has all the hallmarks of one of those places: generic name, minimal exterior signage and decor, laminated menus and dry-erase markers, and a mostly residential location at North Rosa Parks and Denver Ave—a no-man's-land between the Kenton retail and restaurant stretch and the neon motelscape of North Interstate.
Yet within these beyond-unassuming walls is, well, an unassuming space. Tables and chairs you can't describe if you're not looking at them, a smattering of cute cat paintings and cool vintage-y travel posters advertising tourism in Japan, a vaguely unfinished hallway leading to the bathrooms....
Okay. So you're not getting the ambiance of a trendier place, sleek minimalism, or plush luxury. There are no views outside and the lights are turned up too high to see the street anyway. But you're also not paying for any of that. And nor are you paying for an imitation, like you would at those forgettable middle-ground sushi no-places.
Your bigger donburi-style rice bowls with sashimi top-out at $20 for the Chirashizushi (although I'm partial to the $17 Korean Chirashi, with a spicy gochujang sauce and masago, that tiny orange roe). There's nothing on the nigiri list over $7, yet the yellowtail belly melts satisfyingly into a rich fishfatty tongue-coating just the same. The servers are always ready to recommend the day's best options—on a recent visit the sea urchin was on point (ha), and was clean, bright, and gorgeous on the plate ($6.50).
While the fish is high quality and the preparation and plating impressive, none of it is going to blow your mind. Sushi One's cooked bites are the more delightful surprises—like tempura jalapeño poppers (stuffed with cream cheese and spicy tuna and shrimp, they may be the only thing on the menu that comes close to living up to the word "spicy"). It's hard, emotionally, to eat baby octopus karaage (the word "baby" on a menu should be reserved for greens and corn), but with a light tempura crunch, bouncy chewiness, and eight tiny arms, they're as delicious as they are adorable ($6.50).
The clean but rich house broth in the udon soup ($6.50) is another non-sushi winner—though it's fairly spare without the "Ichi Udon" additions of kamaboko (those pink and white slices of what I still kind of wish I'd never been told were cured pureed fish) and tenkasu flake (bringing the price up to $8). Even then, you'll probably want to add some protein if this is to be a meal. (Happily, the tempura shrimp are served on the side, not soggy in the broth, +$2.50.)
This may sound like drinking food, but the only bar is the sushi bar (and like any sushi bar worth its salt, the preparation is a worthy show in itself). There's beer and wine, but no hard liquor, and one of those "happy" hours that only appears cheap because the portions are much smaller. While there is an adequate sake list, there's just something about a dry, crisp rice lager that makes this food shine: like good vinegared sushi rice, a glass of Sapporo basically has minimal flavor, maximal structure, and no lingering aroma or flavor—its defining characteristic is that it doesn't have the roundness or weight that a beer with more barley typically does, and that makes it the perfect accompaniment to something so subtle as raw fish.
So even if nothing at this restaurant has changed my life, why then, after passing seemingly similar generic sushi restaurants, does my mouth water for Sushi One's too-bright interior and college dorm furniture? Turns out, this isn't a midgrade sushi spot elevated by convenience. It's a legitimate contender, and the price is more than right. But there's a thin line between "best-kept secret" and "wrong place, right time," so hopefully not too many people will sleep on this slightly out-of-the way gem.
Mon-Thur 4:30-9:30 pm, Fri 4:30-10 pm, Sat 5-10 pm; Lunch Tues-Fri 11:30 am- 2:30 pm, Sat noon-3pm; Happy Hour 4:30-6 pm, but the regular menu offers better bang for your buck.