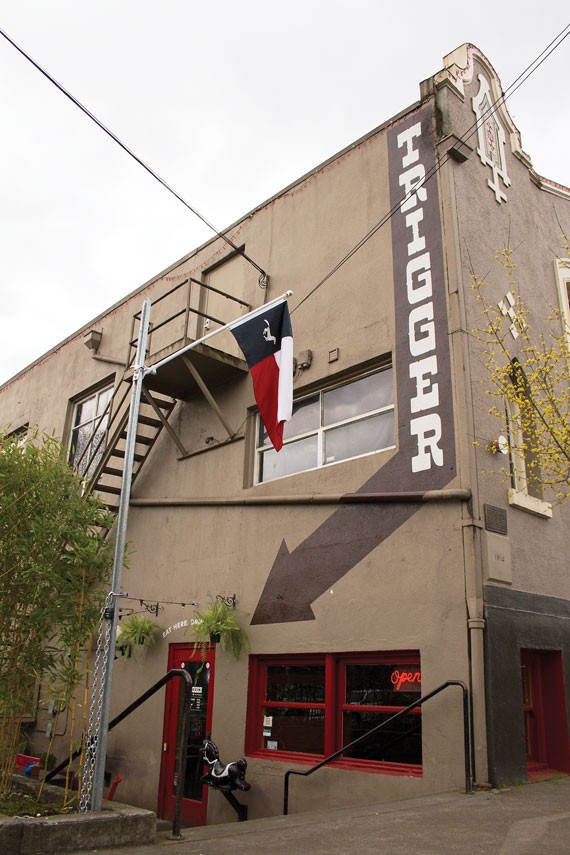 TRIGGER is the new Tex-Mex dugout of Bunk and Bunk Bar co-founder Tommy Habetz, a chef for whom cooks seem to have a lot of respect. He has the anarchic and pleasure-forward abandon with food that you'd expect from a former Mario Batali employee, and stays true to his principles here with a menu of quesadillas, fajitas, tacos, and big drinks.
A lunchtime menu heavy on tacos and quesadillas is a smaller version of the full evening spread. Try the Machaca tacos ($4), two crispy corn shells filled with shredded beef and garnish. The meats at Trigger are uniformly high quality and perfectly cooked, so this one is worth the money. The fried chicken taco with queso and crema ($4) is good, but the balance of chicken to moist ingredients favors the moisture and it's hard to taste the chicken.
Fajitas for one or two, available as either grilled chicken ($12/$16), hanger steak, or smoked brisket versions ($13/$17), are the best realized of the entrées—the key being that fajitas don't have cheese. The beautifully rosy strips of medium-rare hanger steak were seasoned with a surprisingly restrained hand—some dynamic char and spice would have been welcome, actually—but when stacked in the fresh, tender flour tortillas with the fragrant peppers, guacamole, and tomatillo salsa, it was an excellent package of textures and flavors. The enchiladas (cheese, $12, or chicken, $13), baked in an earthenware dish, have the same fat overload issue as the quesadillas. Both the fajitas and the enchiladas come with creamy, deeply flavored refried beans and a respectable Mexican rice.
A good chile relleno is a hard thing to pull off. Every pepper has a different thickness, which makes roasting times a moving target. While Trigger's version ($9) was beautifully cleaned and presented (this isn't a batter-dipped version), the fruit itself was a ways from being tender enough to cut well.
Tequila rules the roost, and the Trigger margarita ($8), served on the rocks in a pint glass, is efficient and well balanced with fresh lime. More complex cocktails failed.
To give a member of the beloved Bunk family such mixed marks feels like stepping on the pirate flag of a young and dynamic restaurant scene. I'm optimistic that with a slightly expanded menu and renewed attention to detail, his proven brand of hedonism can work here, too.
-CHRIS ONSTAD
This place is closed.
Trigger
128 NE Russell, Portland, OR
503-327-8234
Hours: Mon-Thurs 11am-10pm, Fri 11am-midnight, Sat 5pm-midnight, Sun 5-10pm