The hotel bar is an odd form of time travel—one leg in the past with the other leg also in the past, but slightly closer to the present. It makes sense: Hotel time is anti-time—tiny compartments stuck on the same day for decades, reset regularly by a cleaning crew to the standard of comfort and sophistication struck at its inception, no matter when that was. The hotel bar caters to time-lost hotel guests as well as to citizens of the local present.
Sponsored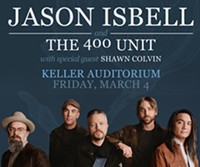 Jason Isbell has established himself as one of the most respected songwriters of his generation. Don't miss Jason Isbell and the 400 Unit, March 4th at Keller Auditorium!
As the bar at the Dossier Hotel, Opal was intended as an entryway to Omertà (the lavish near-fine dining Italian restaurant that will shockingly shut its doors this weekend), and the newest entry in the convoluted empire of John Janulis' Lightning Bar Collective (Bye and Bye, Century, etc.) and Kurt Huffman's ChefStable (Coopers Hall, La Moule, every goddamn restaurant). At three months old, Opal may not feel exactly new, but it is decidedly contemporary.
Or anyway, it has a contemporary decadence, like if an Instagram algorithm designed a bar: high ceilings, a classically trippy black-and-white tile floor, undulating bench and booth seating, picture windows on both Alder and Park as well as into the lobby of the hotel, and myriad tiny white marble tables. It's a space aching for a dance floor and DJ booth, maybe even a bandstand. (Though it seems unlikely to expect this bar to go the way of Lightning Bar Collective's Sentinel Hotel bar-cum-nightclub, Jackknife.) The mint green menus are in dark hardcover embossed with holographic green and purple. I'm a sucker for it, just like I'm a sucker for the "Animation" feed on Instagram.
The drinks—no goofy outsized martini glasses here, by the way—tend to feature bitters like an American cognate to Campari, St. George Spirits' Bruto Americano (in the Bruto Loves Olive, a drink that at first tastes like any classic whiskey cocktail until a sneaker wave of briny bitterness pulls you under, $12), or sweet, specific liqueurs (like the French brand Giffard's pink grapefruit liqueur in the honeyed Talk Talk, $13, or peach liqueur in the silky tequila-and-egg-white Sweetpea, $14).
Inconsistent quality makes it hard to recommend the Ramos fizz they call a Harold Ramos, but on a good night, it's a delight: a boozy (gin) creamsicle authentically showcasing orange flower water, but with an upped citrus zinginess sweetly sealed with pineapple gomme instead of a simple syrup. (On an off night, it's a $12 glass of cream with unappetizingly subtle undertones of fruit and gin.)
None are quite worth going out of your way for, and unless it's early in the morning and you want eggs benedict on house focaccia (an admirable use), at these luxury hotel prices (a $17 panini?), the food feels like it was a tease for Omertà's more exciting fare. (With Omertà out, and its replacement a mystery, Huffman promised the Mercury there would be "more exciting things to come"—so fingers crossed.) The more snacky bar food is the safer bet. Fried fingerling potatoes are killer: satisfyingly crispy, with onions and herbs just this side of too much—and affordable at $5. A sizeable $12 grilled radicchio salad also strikes a nice balance, with blue cheese and grilled apple tempering the bitter radicchio.
It's already hard to tell in a Lightning Collective bar who's a local and who's a visitor. Opal has the hotel bar staple of three-to-five middle aged white guys clearly enjoying the hell out of their business trip, but are the tiny-fedora'd and otherwise aggressively moneyed-looking younger types visiting from Hollywood or aping its style? Or are they the Trump crowd, somehow? Opal is the second Lightning-related bar opened with the help of Provenance Hotels, owner of many Portland luxury hotels, whose CEO Gordon Sondland's secret million-dollar donation to Trump's inauguration fund reportedly saw him being vetted for an ambassadorship in September.
Or maybe the patrons are as manufactured and curated as the art on the walls. One recent night, there was a video shoot happening across the restaurant. A man and woman sat next to each other smiling, pawing at each other's arms—creepily, silently simulating moments of an impossibly well-lit date. The director said, "Kiss her on the cheek," and a tiny psychosexual train derailed briefly across both actors' faces. As time stopped and rewound infinitely in that booth, my party and I argued over whether it was an ad for the hotel or b-roll for a reality show. Regardless, that's the kind of bar Opal is.