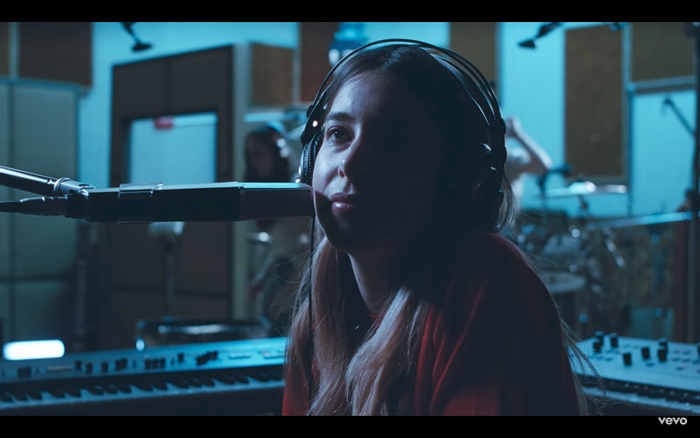 Paul Thomas Anderson is at it again. After directing three videos for Radiohead's 2016 album A Moon Shaped Pool—one of which, "Daydreaming," played in 35mm at the Hollywood Theatre last spring—Anderson's releasing a new rockumentary, Valentine, which follows the making of Haim's gorgeous new album, Something to Tell You, at Valentine Recording Studios in Los Angeles.
Haim released one of the three songs featured, "Right Now," as a music video back in April. It's pretty spectacular—the sisters' raw talent is on full display as they perform the track live in the studio, with Danielle singing at the piano while Este and Alana play dueling drum parts. (Este's bass face might be the best part, though.)
There's a note on Valentine's 35mm film canister: "This short plays well with concert films, musicals, late night shows, sing-a-longs and a glass of beer. Please play loud!" Thankfully, Hollywood Theatre is screening the 14-minute short in 35mm this Friday, September 1 at 7:15 pm (before the L7 documentary Pretend We're Dead at 7:30 pm) and Sunday, September 3 at 7:15 pm (before Valley Girl at 7:30 pm).
Coincidentally (or not), Haim plays the Roseland Theater next Tuesday, September 5. Portland's getting a whole week of Haim!