WEDNESDAY 3/30
KING'S COURT: J DILLA TRIBUTE: SLUM VILLAGE, BLACK MILK, GUILTY SIMPSON, PHAT KAT
(Star Theater, 13 NW 6th) See My, What a Busy Week!
RICHMOND FONTAINE
(Kenton Club, 2025 N Kilpatrick) See My, What a Busy Week!
Sponsored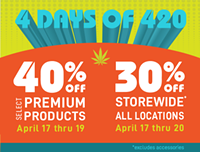 30-40% off Premier Dispensaries April 17-20
Flower, pre-rolls, edibles, carts and more.
These 4 Days of 420 are for you.
FIELD MUSIC, HAZEL ENGLISH
(Doug Fir, 830 E Burnside) Read our article on Field Music.
LOUDON WAINWRIGHT III, CAROLINE COTTER
(Alberta Rose Theatre, 3000 NE Alberta) Of all the moderately successful, acoustic guitar-toting singer/songwriters who rose to prominence in the early '70s, Loudon Wainwright III arguably kept it the realest. As acerbic as Randy Newman, as poignant as Neil Young, and as melancholy as Joni Mitchell, Wainwright was a perfect storm who wrote songs that were simply too fucked up for most mainstream ears. "Whatever Happened to Us" is one of the most incendiary eulogies to a deteriorating relationship ever penned ("We used to be in love, but now we're in hate/You used to say I came too early, but it was you who came too late"). At the other end of the emotional spectrum is "Motel Blues," a song that expertly captures the soul-shattering loneliness of "life on the road," and likely blew a fledgling John Darnielle's mind. The problem when you're really talented and witty but sort of a shitty parent: You have really talented and witty kids who direct their resentment toward you in song. See son Rufus Wainwright's heartbreaking "Dinner at Eight" and daughter Martha Wainwright's much more straightforward "Bloody Mother Fucking Asshole." I guess it's the circle of life, or something. MORGAN TROPER
SWMRS, THE FRIGHTS
(Analog Café, 720 SE Hawthorne) Since 2013, San Diego three-piece the Frights have released lo-fi recordings of their '50s rockabilly surf-punk, aptly self-described as "dirty doo-wop." Their go-to combination of catchy, wailing guitar riffs over echoey, fuzzed vocals with silly meta-melodramatic lyrics is an instant dose of youthful excitement. Their debut self-titled LP and the two EPs that followed, Tongues/Puppy Knuckles and DeathFrights Split, are lyrically equal parts a celebration and satire of Buddy Holly-era rock 'n' roll love songs. The end product is a slew of lively, fun breaths of nostalgia. Last year the band joined FIDLAR frontman Zac Carper in the studio to produce their 2016 sophomore LP, You Are Going to Hate This, on Dangerbird Records. I wanted the name to be another joke, but it's not. I do hate this. It'd be understandable if they'd wanted to go in a different artistic direction, since their previous releases have fallen within a hyper-niche genre, or if they'd wanted to remaster for crystal-clear production or add some voiceovers. But like FIDLAR's Too, the Frights' new album feels needlessly overproduced—half of the songs are re-recorded versions of older songs that should have been left alone. Luckily for concertgoers, it doesn't seem like their production tweaks will translate live. CAMERON CROWELL
THIRSTY CITY: SLICK DEVIOUS, ONEWERD, BRYSON FISHER, DAN DILLINGER, CTZN, NORTHERNDRAW
(The Know, 2026 NE Alberta) Come out to the Know tonight for Thirsty City, a monthly event featuring local hip-hop artists and touring emcees. Headliner Slick Devious of Renaissance Coalition has been hard at work on his forthcoming solo project, Casual Anger—a proposed 50-track album to be released later this year. The project will be Slick's sixth overall, and fourth solo album following last year's remarkable Portal. The Thirsty City show will feature all-new material from Casual Anger. Fellow Portland emcee Bryson "The Alien" Fisher, whose debut, hVil mVry, dropped last month, will open the evening, along with San Francisco rapper OneWerd, Brooklyn emcee Dan Dillinger, CTZN of Berkeley, California, and a DJ set from NorthernDraw. SKYLER WALRATH 
THURSDAY 3/31
SUNFLOWER BEAN, WEAVES
(Analog Café, 720 SE Hawthorne) Read our article on Sunflower Bean.
THE LOWER 48, RIO GRANDS, TIBURONES
(Doug Fir, 830 E Burnside) Seven years ago the Lower 48 first united in Minneapolis, creating upbeat, folky tunes inspired by leaving home. Years later the Portland transplants are more active than ever, evolving from those roots on their most mature release to date, their second full-length Hot Fool. After a single from their self-titled EP was featured in a Super Bowl commercial last year, the band has stayed busy, playing as Y La Bamba's backing band the past few months and doing some fine-tuning in the studio. Their sound falls somewhere between Simon and Garfunkel and the B-52s, in a land of surf, psych, and harmonic dance. After playing together for so long, the Lower 48 have become masters of their instruments, something that's undeniable at their high-energy shows—if you haven't caught one yet, it's a must. JENI WREN STOTTRUP
ABBATH, HIGH ON FIRE, SKELETONWITCH, TRIBULATION
(Roseland, 8 NW 6th) It took no time for Abbath Doom Occulta to start a new project once he officially severed ties with longtime black metal institution Immortal in 2015. His new band—naturally called Abbath—continues Immortal's tradition of injecting black metal with rock 'n' roll attitude. Tonight Abbath is joined by fellow Scandinavians Tribulation, whose album The Children of the Night also includes elements of classic rock in its deathly metal (the record was deservedly the talk of metalheads worldwide last year). This unmerciful lineup for Decibel Magazine's 2016 Tour is rounded out by Bay Area doom godfathers High on Fire and classic thrash nodders Skeletonwitch. There's a little something for everyone here. And simply put—this is the metal event of early 2016. MARK LORE
FRIDAY 4/1
GAZEBOS, BOYFRIENDS, THE BEDROOMS
(Mississippi Studios, 3939 N Mississippi) See My, What a Busy Week!
APRIL FOOLS THRASH BASH: HECTIC SHOCK, HEADLESS PEZ, MORE HELL
(Ash Street Saloon, 225 SW Ash) Of all the metal sub-genres out there, thrash is the one that probably has the most wiggle room as far as attitudes and subject matter are concerned. On one end of the thrash spectrum, there are mean, scowling bands that take their posturing and lyrics very seriously. On the other, there are bands that know how to have fun, like local lunatics Hectic Shock. Hectic Shock's raised-middle-finger thrash stylings are as crazed, evil, loose-lipped, and wild as anything out there. From their live shows to Summoning Hell, the CD which Hectic Shock will be releasing this evening, the band's frivolity shines through quite well. Consider lyrics from opening track "Hectic Shock": "Get in the pit/Take another hit/Punched in the tit/Kicked in the clit." From there, Summoning Hell plays like the soundtrack for a head-banging, neck-wrecking party that forever lives in infamy for its unbridled debauchery and blasphemy. ARIS HUNTER WALES
TIBURONES, DEATH SONGS, KULULULU
(Bunk Bar, 1028 SE Water) To watch Death Songs, the solo moniker of Nick Delffs, is to step into a Mississippi backyard party ripe with foot stomping and feverish, emotional highs like a voodoo spell cast by his warbly and intoxicating tenor. The artist, currently based in Boise, is never too far from Portland—he's the drummer for Tiburones, the sweet fruit of his longtime collaboration with Luz Elena Mendoza. Delffs is finally releasing his next full-length sometime this year, long awaited since 2013's stunning Sung Inside a House. At this show Delffs and bandmate Alison Clarys will play a mix of new and old material, giving a taste of what we can expect on this next record. The night also celebrates Tiburones' video release for "Golden House" off their luscious recent release, Eva. JWS
PRINCE RAMA, DINNER, HOSANNAS
(Doug Fir, 830 E Burnside) Brooklyn dance duo Prince Rama's Xtreme Now is not just a record—it's an energy drink, a couture activewear line, a metaphysical "now-age" philosophy. It's a jacked-up sports lifestyle fit for the hereafter. The 11-track album embodies a high-stakes Braveheart meets Point Break hair-metal experience. In Xtreme Now, sisters Taraka and Nimai Larson have ambitiously created a conceptual, multifaceted art piece. Their visual art background is apparent not only in their music and high-octane branding, but also in their off-the-wall live performances. This show is your chance to break a sweat to visionary dance-pop hits. Who knows—you may even get ripped. ANNA MCCLAIN
YUNG LEAN, THAIBOY DIGITAL
(Hawthorne Theatre, 1507 SE César E. Chávez) Rap music now has such a ubiquitous global influence that even a place as ghetto-removed as Scandinavia can produce something artistic and relevant within the genre. Swedish rapper Yung Lean and his fellow Sad Boys do exactly that by absorbing the drugged-out trap stylings of Gucci Mane and then replacing the cocaine packs and random violence with Arizona iced tea and complex emotional content. Add a bit of adolescent psychedelia, and the resulting sound is akin to slathering Kurt Cobain's introspective teen spirit with a pint of purple sizzurp. The auto-tune might at first seem borderline excessive, but when the effect meshes with Lean's lazy drawl, the resulting futuristic sheen swirls beautifully through Yung Gud and Yung Sherman's psycho-glacial productions. Between them and fellow isolationist MC Thaiboy Digital, a glorious depression is bound to rock Hawthorne Theatre tonight. CHRIS SUTTON
OUT FROM THE SHADOWS II: ANNEX, IN LETTER FORM, THE PRIDS, UNDERPASS, VICE DEVICE, TERMINAL A, LUST ERA, WEIRD CANDLE, SPIRIT HOST, DIGNITARY
(Panic Room, 3100 NE Sandy) In its second year, Out from the Shadows brings post-punk and darkwave bands into the light. The festival aims to bring together acts that keep the legacy and icy sounds of groups like Killing Joke and Christian Death alive, and with a mighty lineup of 21 bands, you'll find music from across the spectrum of goth-rock subgenres. Friday includes Vancouver, BC's EBM-influenced synth punks Weird Candle and the gloomy noise-pop of local veterans the Prids, while Saturday finds the psychedelic meditations of Oakland's Malditos and the sleaze-pop of Berlin's Das Fluff alongside Portland goth powerhouses Arctic Flowers and Soft Kill. Proceeds from the festival benefit XRAY.fm. DANIELA SERNA
LOVE IN THIS CLUB 1080P SHOWCASE: BOBBY DRAINO, AUSCULTATION
(Holocene, 1001 SE Morrison) Bobby Draino is an electronic artist originally from Vancouver, BC, whose work can be found on influential dance record labels 1080p and 100% Silk. His experimental sound is hard to pin down, although off-kilter dubby acid house kissed by baby doll vocals characterizes some of his recent output. The iridescent sound of fellow label-mate Auscultation (Joel Shanahan) is an invitingly melodic foray into house music. If it were playing in your friend's car, you would immediately tell them to turn it up. It's thoughtful music that makes you feel good, and Shanahan brings to it the added bliss of a live hardware performance. CHRISTINA BROUSSARD
SATURDAY 4/2
CLUB NITTY GRITTY DANCE NIGHT
(Kenton Club, 2025 N Kilpatrick) See My, What a Busy Week!
OUT FROM THE SHADOWS II: DAS FLUFF, ARCTIC FLOWERS, SOFT KILL, SHADOWHOUSE, LUNCH, SHADOW AGE, FOREVER GREY, MALDITOS, GHOST NOISE, GANSER, SWAMPLAND
(Panic Room, 3100 NE Sandy) See Friday's preview.
DENZEL CURRY, ALLAN KINGDOM, JK THE REAPER
(Hawthorne Theatre, 1507 SE César E. Chávez) As far as gathering momentum goes, Allan Kingdom was doing just fine on his own. The young St. Paul, Minnesota, emcee and producer has been playing the mixtape game for the past half-decade, and his 2014 EP, Future Memoirs, earned him great reviews. That same year, Kingdom was named the Twin Cities' best hip-hop artist by his local alt-weekly, and he made Complex's list of "25 New Rappers to Watch Out For." Which is all great! But then in early 2015, Kingdom showed up on "All Day," a single by Kanye West that also featured Paul McCartney. Kingdom's quirky refrain was a refreshing section of the otherwise heavy tune, and all of a sudden, everyone was interested. As they should be: Kingdom's new mixtape, Northern Lights, is a consistently excellent mix of shape-shifting rap, soulfully sung vocals, and dusky, synth-driven beats. BEN SALMON
GENDERS, MOONCHILD, SUNBATHE
(The Know, 2026 NE Alberta) Genders' sound is a little hard to pinpoint. It reminds me of post-garage indie, but carries their nostalgic hue in a likeable way. What if a California surf band, a Portland women-inclusive guitar group and an early '00s New York indie band fused into one versatile being? Genders can go hard, they can go soft, but the Portland band definitely has a competitive edge on their harmonies and spooky psych influences. I'd disagree that they're goth—their 2013 record, Get Lost, loves the sun a little too much. I think their self-classification of "YOLO rock" is apt. Genders is good driving music for a summer river trip, and their live shows are tight as hell. SUZETTE SMITH
SUNDAY 4/3
DRECKIG, COPY, AMANI
(Rontoms, 600 E Burnside) See My, What a Busy Week!
CULLEN OMORI, LIVING HOUR
(Doug Fir, 830 E Burnside) Call me a sap, but this quote from Cullen Omori's bio hit me right in the heart: "I had this overwhelming feeling that perhaps the apex of my life both as a musician and as an individual would be relegated to five years in my late teens/early 20s." He's talking about his breakthrough with the Smith Westerns, a glammy garage-pop band that earned a fair amount of music blog buzz around 2010, released a few albums, and then fizzled out. Rather than allowing that fizzle to rule his music-making future, Omori channeled his interest in synths, sullen feelings, and shimmering '80s vibes into a new solo album released on Sub Pop. The wonderful dream-pop record, New Misery, spills over with sparkling hooks, but never quite sheds its sense of melancholy. If this is the direction Omori goes from here, he's going to be just fine. BS
FREDDIE GIBBS, ILLFIGHTYOU, CHAZ FRENCH, COOL NUTZ
(Hawthorne Theatre, 1507 SE César E. Chávez) If you fed the blueprint for a rapper who was equal parts genius, gangsta, and great into a 3D printer, Freddie Gibbs would be the prototype. Though he was already a legend within the vibrating beehive of hip-hop mixtape culture, Gibbs eventually broke through commercially with Piñata, his 2014 collaboration with crate-digging beatmaster Madlib. The project proved inspiring for both parties, with Gibbs' gritty Gary, Indiana, gangsterisms pushing the intellectual envelope over the Beat Konducta's dusty funk-scapes, earning both well-deserved acclaim. But Freddie hasn't rested on this celebrated laurel—the newfound attention has only ratcheted up the amount of videos, cameos, and mixtape gems that continue to flood the internet, along with official releases like last year's amazing Shadow of a Doubt. It truly does seem like Freddie Gibbs' hustling prowess and lyrical potency are operating in nonstop tandem. CS
BURIALS, HONDURAN, DISPOSSESSED
(High Water Mark, 6800 NE MLK) It's been almost a year since Portland power-thrash trio Honduran bid a very unceremonious farewell via their Facebook page. Six years, two 7-inches, and two full-lengths seemed to have depleted the mighty arbiters of underground noise. But we always had the insane majesty of their swan song, 2013's Street Eagles... until now. In less than auspicious circumstances, the band has returned for one final time, at the behest of an important benefit show to help alleviate the financial blow dealt to Oddball Tattoo's Jesse Grimmett from some unfortunate medical expenses. This benefit bill also features one of the final Portland shows for Burials. If the music weren't going to be so goddamn loud tonight, there'd be a chance you just might hear faint sniffles from the crowd. In the interim, you will hear some of Portland's heaviest bringing their noisiest for some of the city's rowdiest. RYAN J. PRADO
MONDAY 4/4
THE FUR COATS, LIQUIDLIGHT, THE LOVE JUNKIES
(Holocene, 1001 SE Morrison) See My, What a Busy Week!
SONGHOY BLUES, LITTLE STAR
(Doug Fir, 830 E Burnside) Forced from their homes by Ansar Dine, a religious extremist group that prohibits rock music (among other conservative agendas), Garba Touré, Aliou Touré, and Oumar Touré—three guys with the same surname who are not actually related—started a guitar-lick-heavy project in Mali's capital city of Bamako. When their paths crossed Blur's Damon Albarn and Nick Zinner of Yeah Yeah Yeahs, Songhoy Blues became a fluid, energetic guitar band with a lot of star power in their pocket. The lyrics and vocals of Songhoy Blues are Malian, but their songs and jam-style have a very classic Western guitar tweedle. The documentary They Will Have to Kill Us First recounts their frightening but fortunate path, and will screen at the Hollywood Theatre on April 7. SS Also see our preview of They Will Have to Kill Us First.
TUESDAY 4/5
DIARRHEA PLANET, MUSIC BAND, BOONE HOWARD
(Doug Fir, 830 E Burnside) See My, What a Busy Week!, and read our article on Diarrhea Planet.
ESCONDIDO
(Bunk Bar, 1028 SE Water) When David Lynch thinks your band's wonderful, you don't need many other cheerleaders. Aside from Lynch's endorsement, Escondido is currently on the heels of a whirlwind South by Southwest touchdown, an appearance on Conan, and spots on the soundtracks of Girls and Nashville. Theirs is one of those trajectories that ought to yield crazy dividends, and for good reason. Escondido marries sun-scorched alt-country veiled in a Morricone patina as heard on "Evil Girls" on their LP Walking with a Stranger. Singer Jessica Maros projects like a sleepy siren over the fertile melodies forged by bandmate Tyler James. It's a bewitching brew that's part spaghetti western, part Wild at Heart ayahuasca head-trip, and all sonically intoxicating. RJP