WEDNESDAY 6/1
LA LUZ, SICK SAD WORLD
(Mississippi Studios, 3939 N Mississippi) La Luz's morose surf masterpiece Weirdo Shrine clocks in at 31 minutes, roughly the same length as an episode of Scooby-Doo, Where Are You! (including commercials, duh). The connection's a stretch, but last summer it inspired me to drunkenly pen Scooby-Doo fan-fiction that was soundtracked by the former Seattle band's Ty Segall-produced (swoon) 2015 release, which is itself inspired by cartoonist Charles Burns' graphic novel Black Hole. Though my embarrassingly plot hole-rife manifesto won't see the light of day, I will never cease to extol the immeasurable brilliance of La Luz—the now-LA-based four-piece's doo-wop harmonies are beguilingly sweet, hypnotizing listeners until guitarist/singer Shana Cleveland's agile shredding solos strike with unmerciful venom. On the album's slowly seductive standout "I'll Be True," Cleveland muses, "I don't know what I'm gonna do/No one else treats me like you do" against keyboardist Alice Sandahl's funereal organ melodies with such ambiguity you have to wonder whether she's in love or plotting murder. CIARA DOLAN
Sponsored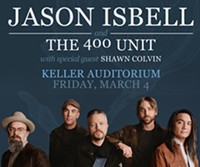 Jason Isbell has established himself as one of the most respected songwriters of his generation. Don't miss Jason Isbell and the 400 Unit, March 4th at Keller Auditorium!
THE HOTELIER, WALTER ETC, LOONE, SABONIS
(Analog Café, 720 SE Hawthorne) There is old and there is new. Old Portland had Dekum Manor, a dilapidated punk house where the Hotelier delivered a jagged and inspiring set to a mere handful of attendees, none of us remotely aware of the looming condo that will soon inhabit that very lot. Old emo, on the other hand, had a bunch of iconic (yet never really all that popular) bands who paved the way for the current onslaught of celebrated emo revivalists, a category of which the Hotelier have been anointed the saviors. Such myopic nostalgia discounts the bravery and wondrously alive nature of Goodness, which captures the Massachusetts band at their creative zenith with little regard for their—or any other—past musical work. Keep looking back and you'll miss the future. EZRA A. CARAEFF
CAM'RON, THE UNDERACHIEVERS, G HERBO, SMOKE DZA, NYCK CAUTION
(Crystal Ballroom, 1332 W Burnside) The Underachievers aren't ones for excessive vocal refrains. The hip-hop duo's 2013 breakout mixtape Indigoism immediately cuts in with AK the Underachiever's quick, wordy verse set over a sinister bad-trip beat. This no-filler style has become a staple of the psychedelic-influenced Beast Coast acts from East Flatbush like Joey Bada$$ and the Flatbush Zombies. The Underachievers search for something more meaningful amid the gentrification of their neighborhood, AK and Issa Gold's battle with mental illness, and institutional classifications they may not accept. On "Sun Through the Rain," Issa Gold raps over a delicate piano and airy synth, "I don't give a fuck about your new sports car/I don't give a fuck about your new whack bars" before fading into some "third eye shit" on the song "Maxing Out." After their recent appearance on Vice's Indigo Children documentary, the Underachievers released a new, less psychedelic mixtape, It Happened in Flatbush. CAMERON CROWELL
GRAMMIES, JOHANNA WARREN, LIKE A VILLAIN
(Holocene, 1001 SE Morrison) At every Grammies show the phrase "Thank you for coming" repeats from the PA, but this week at Holocene it'll be for the last time. The experimental duo (who are often compared to Flying Lotus) are drummer Dan Sutherland and saxophonist Noah Bernstein. Grammies' foundations lay in jazz and R&B, but they rip these apart for an effect that's smart, playful, and otherworldly. They've never taken themselves too seriously, even though they stand out as one of the tightest original jazz groups to crop up in the Northwest recently. They've released two fantastic full-lengths, Award Winning and Great Sounding, as well as a Banana Stand live album. But don't let these records be your only experience with Grammies—see them for yourself, before they drift off into the night as a memory of a "great sounding" band. JENI WREN STOTTRUP
THURSDAY 6/2
SIOUX FALLS, NEVER YOUNG, ALIEN BOY, DOG THIEVES
(Black Water Bar, 835 NE Broadway) Never Young, a relatively new project from Bay Area musicians Nik Soelter and Chris Adams—formerly of the beloved and tragically defunct screamo band Calculator—blend Anglophile shoegaze with disinterred mid-'90s emo. The group's latest, Singles Tape 1, consists of three excellent, angular pop songs that sound like the dBs' Chris Stamey reared on Nothing Feels Good-era Promise Ring. Headlining are Portland favorites Sioux Falls, who have received no shortage of national and local press but I'd like to officially add my lipstick to their collar: Their debut (double) LP, Rot Forever, is a sprawling indie rock micro-masterpiece that's as impetuous as it is tightly orchestrated—it's one of the most important records released by a Portland band in years. MORGAN TROPER
THE KILLS, LA WITCH
(Roseland, 8 NW 6th) Indie-rock duo the Kills release their fifth album, Ash & Ice, just one day after this Portland appearance, so the setlist will probably be full of new material. But so far the record's first two singles—"Doing It to Death" and "Siberian Nights"—have been largely underwhelming. Opener LA Witch's SoCal séance-punk sounds like it's been drowned in reverb and resurrected with monotonously repeated incantations. These days the genre of fuzz-laden surf is oversaturated with subpar bands, but LA Witch's scorching riffs and sludgy melodies are the real deal. CD
FRIDAY 6/3
SAM BEAM & JESCA HOOP,MARLON WILLIAMS
(Aladdin Theater, 3017 SE Milwaukie) Sam Beam, perhaps better known as indie-folk whisperer Iron & Wine, has a name that sounds like whiskey and a voice that sounds like oatmeal. This year, Beam emerged from underneath his usual moniker to join singer/songwriter Jesca Hoop on their joint release Love Letter for Fire. Whether billed as Sam Beam or Iron & Wine, the result is much the same: precious, expressionistic, and contemporary indie-folk music grounded in gospel tradition with icy and treble-y acoustic aloofness. Jesca Hoop's rootsy alto—as well as midnight-blue string arrangements and some inventive production—warm Beam up a bit, but overall this is still music for soft places, moonlight, shiny marbles, and sailors. WILLIAM KENNEDY
CORINNE BAILEY RAE, MOOREA MASA
(Mississippi Studios, 3939 N Mississippi) Blooming out of Northern England, over the last decade pop-soul musician Corinne Bailey Rae has received countless accolades for her multifaceted talent in songwriting, singing, and production. Her music, especially on the latest collection The Heart Speaks in Whispers, is usually executed with a perfectionist's touch (this is only her third full-length album in 10 years). A wide spectrum of iconic heroines like Jill Scott, early Amy Winehouse, and Erykah Badu can be heard creeping within the well-crafted nuances. Occasionally Rae's beautiful guitar playing finds a spotlight during her performances, and it's these moments where her genius shines the brightest. It's not every day that platinum-selling, Grammy Award-winning artists grace the spatially modest Mississippi Studios, so it would definitely behoove those who appreciate high-quality melodies to get intimate with this kind of greatness. CHRIS SUTTON
AIMEE MANN & TED LEO
(Revolution Hall, 1300 SE Stark) Not only is Aimee Mann alt-rock royalty, she's also got a dry sense of humor. While it might not be apparent in her somber solo work or former new wave band 'Til Tuesday, her onstage banter with Ted Leo in their collaboration the Both showcases Mann's deadpan wit. If you're unfamiliar with her musical work, you might recognize Mann from her many TV and movie cameos. Whether she's playing a toeless nihilist kidnapper in The Big Lebowski, Fred and Carrie's housecleaner in Portlandia, or doing a bit with Patton Oswalt or Paul F. Tompkins, Mann has discreetly immortalized herself in America's music and comedy landscapes. ANNA McCLAIN
SATURDAY 6/4
THE BORN LOSERS, BASHFACE, EARTHWORLD
(The Know, 2026 NE Alberta) Following up a hyper-charged 2013 reunion show, the Born Losers return again with exactly 33 copies of a new/old record in tow. Originally formed in 1997 in Anchorage, Alaska, the band migrated to Portland in 2003 only to disband a couple of years later. Frontman Ryan Sollee went on to form the Builders and the Butchers, and the legend stayed legend... until now, again. The record is essentially a redux of their 2004 LP, Dead Man, but this new take expands on the band's older material, spouting fiery garage-punk not unlike Murder City Devils on tracks like "Code Red." "Make Me Die Tonight" parlays a more traditional punk milieu, with guitarist Gabe Castro's razor-sharp riffs leading the march. Opening is math-prog wunderkind Bashface and the electro-pop delights of Earthworld, featuring Builder and Butcher Ray Rude. Earthworld's psych grooves run deep on their self-titled debut release, pitting vocoder dreams over spacy beats and extraterrestrial melodies. RYAN J. PRADO
ARBOR LABOR UNION, FREAK HEAT WAVES
(Mississippi Studios, 3939 N Mississippi) There's something dark, weird, and wild-eyed about I Hear You, the new album—and Sub Pop debut—from the Georgia band Arbor Labor Union. These four dudes (formerly known as Pinecones) make droning guitar-rock that tends to dig itself into a gritty groove and then just chug along, powered by amplified brawn and the dull thwack of indelicate drums. Above it all, a guy strains and yelps his way through surreal incantations that often sound like they're in tune with some other song. It all works... most of the time. At its best, I Hear You recalls the Velvets' one-note cool, Television's jangle-jams, and Meat Puppets' freakiness. At its worst, Arbor Labor Union simply goes on too long. Rein it in, fellas. You're on to something. BEN SALMON
SUNDAY 6/5
MAHER SHALAL HASH BAZ
(Yale Union, 800 SE 10th) As part of their exhibition on artist/designer/filmmaker Susan Cianciolo, tonight Yale Union hosts Japanese music ensemble Maher Shalal Hash Baz playing among "memory kits, altered sleeping bags, and unanimated soft people" designed by the artist. Led by early punk pioneer and naivist composer Tori Kudo, MSHB is more of a theater troupe or happening than a traditional band—an amorphous group that disregards the line that divides performer from audience. Sprouting out of a chance encounter at a Les Rallizes Dénudés concert between Kudo, future wife Reiki, and euphonium player Hiro Nakazaki, it has encompassed long-standing collaborators and surprised passersby. DANIELA SERNA
MONDAY 6/6
MUTUAL BENEFIT, FLORIST
(Doug Fir, 830 E Burnside) Read our story on Florist.
KEVIN MORBY, JAYE BARTELL
(Mississippi Studios, 3939 N Mississippi) Read our story on Kevin Morby.
THE SADIES, SHADOWY MEN ON A SHADOWY PLANET, KRIS ORLOWSKI, MICHAEL DAMRON
(Star Theater, 13 NW 6th) Shadowy Men on a Shadowy Planet will likely never live down their legacy as the band that provided all the interstitial and theme music for the TV show The Kids in the Hall. But, obviously, those between-sketch snippets don't provide the full picture of the Canadian trio's accomplishments. Though they scoffed at the notion of being called a "surf band," SMOASP were the ones who best adopted the sound and spirit of that genre over the course of their three '90s-era albums, adding in healthy doses of rockabilly and early country, a touch of hot jazz, and a sharp sense of humor. The band is making a rare stateside appearance this month in support of the recently released box set Oh I Guess We Were a Fucking Surf Band After All.... ROBERT HAM Also see My, What a Busy Week!
AT THE DRIVE-IN, LES BUTCHERETTES
(Crystal Ballroom, 1332 W Burnside) Before forming nu-prog band the Mars Volta at the turn of the millennium, vocalist Cedric Bixler-Zavala and guitarist Omar Rodriguez-Lopez were the creative force behind At the Drive-In, one of the best and most influential rock bands of the last 25 years. At the Drive-In broke up just as their swan song LP, Relationship of Command, entered popular consciousness, an act that inadvertently secured their cult-band status. And any cult band embarking on a reunion tour is a delicate scenario. At the Drive-In was an iconoclastic, fringe-mainstream group who extolled punk virtues, fucked around on national television, and probably did intend to die before they got old—so a massively publicized reunion tour feels antithetical to everything they once stood for. Still, it'll be hard to deny the thrill of seeing amphetamine-fueled Relationship showstoppers "One Armed Scissor" and "Invalid Litter Dept." live—just try not to think about the fact that these guys really are 40 years old. MT
TUESDAY 6/7
MODERN BASEBALL, JOYCE MANOR, THIN LIPS
(Hawthorne Theatre, 1507 SE César E. Chávez) Read our story on Modern Baseball.
SAM HUMANS, LKNPF, EAGLE SUN KING
(The Know, 2026 NE Alberta) Read our story on Sam Humans.
MIRAH, JHEREK BISCHOFF
(The Old Church, 1422 SW 11th) Regardless of which instruments she's accompanied by, Mirah is consistently stunning live. But it's hard to know the depth of her powers until you've heard her voice wrap itself around a string section. In an era where songwriters bring in the strings excessively and unnecessarily, Mirah's songs seem written with chamber arrangements in mind; they're dynamic, spacious, and quietly precise. For this tour she teams up with the ever-prolific composer Jherek Bischoff, whose work extends from David Byrne collaborations to Kronos Quartet commissions to producing Xiu Xiu's upcoming album of songs from Twin Peaks. Both Mirah and Bischoff will be bringing a mix of new and old songs to the table while a string quartet backs them up. The last time Mirah toured with a chamber group behind her was nearly a decade ago, so don't miss this rare opportunity. JOSHUA JAMES AMBERSON Also see My, What a Busy Week!
PUP, ROZWELL KID, CHARLY BLISS, LEE COREY OSWALD
(Doug Fir, 830 E Burnside) With their sophomore album The Dream Is Over, the Toronto punks of PUP prove their rise to prominence after the release of their fantastic 2014 self-titled album was no fluke. Over the past two years, they've toured incessantly, often sandwiched in the middle of otherwise packed bills and just as often smoking their competition. PUP's stripes came by way of their catchy melodies (performed very loudly), impassioned and heartfelt playing (done very loudly), and happy-angry-shouty vocals (shouted very loudly). The new album has been teased by a couple of great advance singles, including the brilliant "If This Tour Doesn't Kill You, I Will," which reinvents the trite on-the-road clichés of crap like Bob Seger's "Turn the Page." (Check out the gross but hilarious video.) But for my money, The Dream Is Over's masterstroke is "Sleep in the Heat," a breakup song that crushes emotions of frustration and euphoria together into a pop song that's as effective and as difficult to ignore as a brick through your windshield. NED LANNAMANN
ROBBIE FULKS, AMBER SWEENEY
(White Eagle, 836 N Russell) This June will mark 20 years since Bloodshot Records released Country Love Songs, the pitch-perfect debut from Chicago singer/songwriter Robbie Fulks. Convincingly twangy, wryly hilarious, and catchy as a cold, the album established Fulks as a monster talent and kicked off a two-decade run of releases as diverse and delightful as any in the roots/country/folk field. The most recent record in that run is this year's Upland Stories, and it finds the now fiftysomething Fulks in a mellow mood, with the spotlight squarely on his supple voice and the well-crafted tunes of a life well lived. Over the years, Fulks has been in bluegrass bands, recorded noisy instrumentals, cranked out power-pop, and covered Michael Jackson. Now he seems to have settled into doing what he does best: writing beautiful songs and performing them beautifully. Don't miss him when he does exactly that at White Eagle tonight. BS