WEDNESDAY 6/8
KAKI KING, GLOCKABELLE
(Mississippi Studios, 3939 N Mississippi) Listening to Kaki King brings out the nerdy band kid in me. I want to talk about tone, melody, complexity... vibrato? Staccato? Okay, I might've lost the language, but I suspect this is what makes King such a force—her music creates a space where those who can casually talk about music theory and those of us who've since forgotten the lingo can happily coexist. The genre-bending guitar maven has been aurally shape-shifting for more than a decade, creating lush, vibrant soundscapes that are as complex as they are viscerally joyful. More than anything, Kaki King is a reminder that magicians may very well walk among us. JENNA FLETCHER Also see My, What a Busy Week!
Sponsored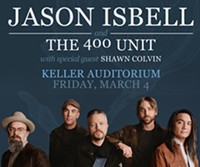 Jason Isbell has established himself as one of the most respected songwriters of his generation. Don't miss Jason Isbell and the 400 Unit, March 4th at Keller Auditorium!
CHUCK RAGAN, MICHAEL DEAN DAMRON, KRIS ORLOWSKI
(Star Theater, 13 NW 6th) Chuck Ragan's music recalls listening to good ol' country jams at the county fair. Its roots lie in solid songwriting and classic textures, while stories of love and the road shine through. But Ragan's long history with his band, post-hardcore staples Hot Water Music, isn't far from the surface. Like an American version of the Pogues, his music holds a sense of urgency that's imbued with punk. This is no surprise, as Ragan is one of the artists who helped define punk and post-hardcore over the past 20 years. Whether touring solo or with his impressive list of collaborators—including Rocky Votolato, with whom he co-released the EP Kindred Spirit last year—Ragan is not afraid to channel pure emotion in his skilled live performances, guaranteeing each set will be a memorable experience. JENI WREN STOTTRUP
THURSDAY 6/9
BRONCHO, WINTER, BILLY CHANGER
(Mississippi Studios, 3939 N Mississippi) If Winter's music bears any resemblance to the season, it's in the sunny mornings after a big snow—when the white light is blindingly reflective, and childlike excitement abounds as it's officially declared a snow day. It's been just over a year since Winter released their debut LP, Supreme Blue Dream, on Los Angeles DIY-pop label Lolipop Records. The album is highlighted by diverse guitar tones that range from glittery psychedelic-rock, to shoegaze noise-pop, and even to Robert Smith-like goth. Frontwoman Samira Winter switches between singing in English and Portuguese as she simmers on different forms of longing. Her voice has an icy cadence that pairs nicely with the warm backing music, with this disparity perfectly capturing the conflicted nature of desire. CAMERON CROWELL
FRIDAY 6/10
ADIA VICTORIA, BLOSSOM
(Bunk Bar, 1028 SE Water) See My, What a Busy Week!
VOIVOD, KING PARROT, CHILD BITE, WERESQUATCH
(Dante's, 350 W Burnside) Quebec has a long history of producing weirdo metal bands, ones that take a sideways approach to otherwise familiar subgenres (see: Gorguts, Cryptopsy, Chthe'ilist). But that tradition mostly started with Voivod. Not many thrash bands can get away with covering Pink Floyd and King Crimson, but Voivod doesn't just cover those bands—those prog-rock influences have always been right on the surface. Their off-kilter arrangements, odd time signatures, and wiry riffs aren't exactly standard circle pit fodder, but they produced classics like 1987's Killing Technology. Voivod just released the Post Society EP, and three decades in, they're still wonderfully weird. MATTHEW W. SULLIVAN
THE WHITE BUFFALO, ROOT JACK
(Wonder Ballroom, 128 NE Russell) There's a revival of back-to-basics country singer/songwriters underway. Artists like Sturgill Simpson, Kacey Musgraves, Chris Stapleton, Ashley Monroe, and (to some extent) Jason Isbell are all releasing twangy tunes that resonate far beyond the Heartland. Despite a career that stretches back to the early 2000s, the White Buffalo (AKA Jake Smith) crafts Americana folk-rock anthems that feel at home within this current trend. Smith wields a husky, soulful voice with blunt lyrical delivery. ("Your love is a motherfucking revelation," he sings on "Home Is in Your Arms.") On his latest album, 2015's Love and the Death of Damnation, Smith—who hails from Los Angeles—touches on everything from gentrification to struggles with faith, from getting stoned to Smith & Wessons. Fans of the Sons of Anarchy TV series may also recognize his gritty tunes from the show, but anyone else interested should grab a ticket and listen up. KEVIN W. SMITH
SATURDAY 6/11
URAL THOMAS AND THE PAIN, LEWI LONGMIRE & THE LEFT COAST ROASTERS
(Aladdin Theater, 3017 SE Milwaukie) See My, What a Busy Week!, and read our story on Ural Thomas and the Pain.
THE BODY, R.I.P., L.I.A.R.
(The Know, 2026 NE Alberta) Read our story on R.I.P.
SUPERHEAVEN, CREEPOID, THE SPIRIT OF THE BEEHIVE, GLACIER VEINS
(Analog Café, 720 SE Hawthorne) Superheaven draw from the same shoegaze-indebted Pennsylvania well as Nothing and Title Fight. Don't let their hardcore-bred contemporaries confuse you; Superheaven aims for late-'90s/early-'00s radio rock with their hyper-affected sonic palette and clearly drawn melodies. While the aforementioned Title Fight and other outfits have validated the textures of '90s post-Nirvana guitar pop, Superheaven pull off the sound with the emotional depth of a guitar rig rundown video. 2015's Ours Is Chrome hones the pop elements, recalling elements of the Breeders' freak hit Last Splash, but Superheaven seem more intent on showcasing their massive sound than on making pop with it. Tone is in the fingers, man. MAC POGUE
NRVS LVRS, HART & HARE, SLEEPING LESSONS
(SMART Collective, 6923 SE Foster) For a "dark" synth indie-pop band, NRVS LVRS has a very optimistic sound. Their 2015 full-length The Golden West is rich in ethereal summer-feel hits—"City Lights" for walking around in speckled darkness, "Black Diamonds" for the hot wind in your hair through a car window. There's a game happening between the low, gravelly vocals of Andrew Gomez and the higher ranges of Wendy Brents and Bevin Fernandez, an uneven push-pull that could grate, soothe, or both. Check them out at a skateboarding collective in middle-deep Southeast or, if that's too outie (it's Saturday, come on), they're also playing Rontoms on Sunday with Mattress and Reptaliens. SUZETTE SMITH
KINK H20 SHOW: EVERCLEAR, THE WILD FEATHERS, BARNS COURTNEY, GREG HOLDEN
(Tom McCall Waterfront Park, 1020 SW Naito) For fans who grew up in the '00s, Everclear wasn't a band from Portland; they were a band from TV. But the outfit's hometown makes some sense: An outsiders' outsider group, they were too harsh for the mainstream, yet too wide-eyed for alternative. They were the kids that made punks cringe with uncomfortable guffaws about their own parents' divorce. In a town filled with horrific excursions like the Wipers' "D-7" and Elliott Smith's Sgt. Pepper-hears-Ian Curtis routine, Everclear fit right in. A town divided by Portlandia's obnoxiously docile antics could only play host to a Top 40 act as emotionally torn as Everclear. MP
SUNDAY 6/12
BED, GENDERS, LITTLE STAR
(Mississippi Studios, 3939 N Mississippi) Read our story on Bed.
MATTRESS, NRVS LVRS, REPTALIENS
(Rontoms, 600 E Burnside) Rex Marshall's existential industrial project Mattress mixes gritty and weary soul vocals. Marshall recently released a new recording, "Fuck the Future," on Modest Mouse frontman Isaac Brock's label, Glacial Pace, and it's a creepy, winding realm of sounds. Picking up on his years spent in Vegas, the now Portland-based artist has a dramatic and glitzy edge, like the tired singer in an old rundown casino or the pyromaniac running the laser light show. Opening this Sunday Session are NVRS LVRS and the recently debuted duo Reptaliens—the dreamy, explorative brainchild of Portland veterans Bambi and Cole. EMILY VANKOUGHNETT Also see Saturday's listing.
JAILL, MOPE GROOVES, SURF STONED & THE SUN DRUNKS
(The Know, 2026 NE Alberta) When music writers think a band is not just underrated, but super-duper underrated, they'll use the phrase "criminally underrated" to imply that said band is SO underrated, it should be illegal. And that's not only true with Jaill, but it also happens to be a clever little play on words... y'know, because jail is a place you might go if you commit a crime. The point here is that Jaill is a terrific pop-rock combo out of Milwaukee, Wisconsin that has pumped out a ton of great music over the past 15 years, much of it self-released, some on big indies like Sub Pop and Burger Records. Jaill's songs walk a line between prickly pop and jangle-punk, sometimes sounding like a leaner, meaner New Pornographers without the baroque bent. The band's most recent album, 2015's Brain Cream, is another worthy addition to their criminally... umm... outstanding catalog. BEN SALMON
El REY BATTLE OF THE BANDS: LA NOBLEZA DE AGUILILLA, LA MAR-K DE TIERRA CLIENTE, DOMADOR DE LA SIERRA, RUTA LIBRE
(Tom McCall Waterfront Park, 1020 SW Naito) Billed as a battle of the bands, 93.1 El Rey will host two of Aguililla, Michoacan's most beloved hometown heroes—La Nobleza de Aguililla and La Mar-K de Tierra Caliente. Credited with popularizing music from the tierra caliente region within the US, La Nobleza's veteran sound is a faintly futuristic take on banda, pairing drums and electric guitar with a background of synthesized accordions, strings, and harps. Also hailing from my own grandparents' small town are the match's underdogs, La Mar-K, who have quickly risen in ranks since forming in 2007. As the two go mano a mano at this daytime family affair, get warmed up for the big fight with local acts Ruta Libre and Domador de la Sierra. And if this wasn't already reason enough, a ticket to the show gives you entry to the rest of the Rose Festival for the day. EMILLY PRADO
MONDAY 6/13
ALL PEOPLE, PUPPY BREATH, COOL AMERICAN
(Anarres Infoshop, 7101 N Lombard) See All-Ages Action!
JASON WEBLEY, ODDJOB ENSEMBLE, JOHANNA WARREN
(Holocene, 1001 SE Morrison) Not everyone can silence a large group of rowdy Reed students, but not everyone can command a room like Jason Webley. Years ago, at a solo show at Reed's Eliot Hall Chapel, the clamor from the 200 or so students had been steadily drowning out an increasingly agitated Webley. But instead of turning up the volume or shouting himself hoarse, Webley did the opposite: He stepped away from the microphone and quietly began to tell a story about a carrot. Within seconds the crowd fell silent, and he regained control of the room. Moments like these are what make Webley a unique performer. He can lead a ragtag parade of merry revelers through the streets, or he can silence even the most inebriated crowd and conduct story time. The Washington-native singer, guitar player, accordionist, and troubadour may look and sound a lot like Frank's Wild Years-era Tom Waits, but he's earned his own cultish following over the course of his 15 years as a performer, deservedly so. You can always depend on Webley for a fun live show, but be respectful, damn it. SANTI ELIJAH HOLLEY
TUESDAY 6/14
SECRET DRUM BAND, GOLDEN DONNA, DOUBLEPLUSGOOD, DJ ALLAN WILSON
(Holocene, 1001 SE Morrison) Tonight Portland's favorite percussion ensemble celebrates 10 years in the making and the kickoff of a West Coast tour. The brainchild of percussion prodigy Lisa Schonberg, Secret Drum Band is an experience not to be missed with a fluid lineup currently boasting members of Unwound, Psychomagic, !!!, and two-thirds of Explode into Colors. The septet will showcase their recently recorded first studio album and premiere a handful of music videos directed by local artists, including Jodi Darby and Leif J Lee. Prepare yourselves to be teleported to an altered world for the evening—one that's filled with dark ambience and beings who don understated space-age sleeping bags. EP
BATTLES, CHANTI DARLING, MÁSCARAS
(Wonder Ballroom, 128 NE Russell) Led by former Magic Mouth vocalist Chanticleer Trü, Chanti Darling brings together some of Portland's best—acclaimed solo electronic artist Natasha Kmeto, Gossip's Hannah Blilie, Wild Flag's Rebecca Cole, producer Damon Boucher—to channel a relatively untouched era of R&B nostalgia. It isn't '90s new jack swing, or early-'00s soft synth/short snare nonchalance. Chanti Darling's R&B nods to early-'90s house divas, '70s discofunk, and early-'80s Prince protégé projects. Their songs are fully realized pop gems that sound like little else in modern music. Anyone who balked at Portland's "Best New Band" having only one song online needs to hush up, go to their show, and let the group's backup dancers and Trü's jaw-dropping vocal acrobatics blow their mind. Because Chanti Darling is the best live band Portland has had in a long time, maybe ever. JOSHUA JAMES AMBERSON Also see My, What a Busy Week!