AS A DIRECTOR, John Carpenter singlehandedly destroyed the innocence and safety of babysitting with Halloween, created one of film's meanest protagonists with Escape from New York's Snake Plissken, and with Nostradamus-like accuracy predicted the alien-controlled political puppet show we have today with They Live.
Sponsored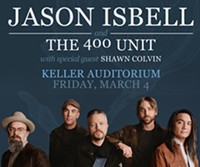 Jason Isbell has established himself as one of the most respected songwriters of his generation. Don't miss Jason Isbell and the 400 Unit, March 4th at Keller Auditorium!
As influential and groundbreaking as many of his films were to the horror and sci-fi genres, what truly sets Carpenter's apart are their excellent scores and soundtracks. After all, in a horror film it's not the masked murderer or shape-shifting alien that gets your heart rate up—it's the pulsating, frightening music behind the images that really sets your spine tingling. For virtually everything Carpenter has put to film, he's had a hand in composing and sometimes even performing the musical accompaniment. Not only did he create the visual template for terrifying cinema, he also made the blueprints for maximum sonic impact.
On a soggy lunch-hour phone call with Carpenter, I had to do a little backpedaling after asking why he has decided to focus more on creating music instead of films in the twilight of his career.
"Not that you're old or anything..." I muttered.
He swiftly and playfully interrupted, "Yes, I am. Let's just say it. Let's get it on the table. I'm an old man now. And as an old man, I get to do this. I love it!"
The "this" he's referring to are the two solo studio albums he's released, 2015's Lost Themes and 2016's Lost Themes II. Both Themes records contain haunting instrumental music that Carpenter says was "all improvised recently," not unearthed from archives of his soundtrack work from years past. For him, turning more of his attention to music is not an unusual endeavor.  
"I came from music. My father was a music teacher. I grew up with it," he says. "My first love is cinema. It's always going to be, I think. But [the Lost Themes records] are an opportunity to do something and have sort of a second act in my career."
Lost Themes II churns with spooky and minimalistic synth-driven music. All of it is stamped with Carpenter's distinctive style, so you naturally find your mind taking you places you've been in his films. "Hofner Dawn" sounds like it would play as the credits roll after a post-apocalyptic adventure. As soon as "Bela Lugosi" kicks in, you feel like you're standing in a dark alley on the wrong end of a murderous stare. Each track has you looking over your shoulder or questioning every shadow.
I asked Carpenter why his recent music is so ominous and dark, since it wasn't inspired by a scary movie. He responded quickly before I could finish my sentence.
"No, no. There's happiness everywhere. What are you talking about?" he laughs, and continues, "It's movie music. Movies always have some sort of conflict going in them. I suppose that's the reason. I don't know, they just come out that way. I have minimal chops. I'm not pretending to be a great musician. I just have a feel. That's what I bring. It's all feel." 
Even though he's comfortable making music, taking the show onto live stages is widely out of Carpenter's comfort zone. Standing in front of an audience is something he's not accustomed to.
"It's terrifying but it's fun. You'll see someone who's having a great time but frightened to death. I'm the guy behind the camera, you know? What am I doing standing out here?"