FOR ALL OF its good qualities, one of the most likeable things about Brooklyn band Big Thief's debut album, Masterpiece, is how easily its parts fit together.
Sponsored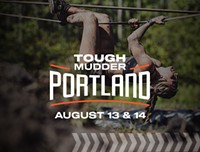 Lock in your summer adventure, Portland. Join us for world famous obstacles over a 5K or 10K distance.
Songwriter and frontwoman Adrianne Lenker's delicate vocals are often enveloped in the warm crunch of Buck Meek's electric guitar, but they're never overpowered. When they're not crunchy, Meek's guitar parts jangle and swoop with abrasive glee, but they always play nice with the airtight rhythmic work of bassist Max Oleartchik and drummer Jason Burger, who left the band shortly after recording the album and was replaced by James Krivchenia.
On Masterpiece, Big Thief alternately sounds like an unearthed field recording ("Little Arrow"), a pop band with a broken heart's pulse ("Vegas"), and a classic, buzzy indie-rock outfit ("Interstate"). "Velvet Ring" is a fluttery, fingerpicked descendent of Elliott Smith's bedroom lullabies, while the title track—a tumbling jumble of riffs and melody—is one of the best songs of 2016.
But Big Thief never sounds off-track, overly ambitious, or unsure of itself, which is pretty amazing, given the serendipitous nature of how the project came together. This is not a quartet that spent years tightening up in a practice space somewhere—instead, Lenker and Meek's first interaction was based on rejection.
"We played a house concert together during my last year of college [in Boston]. He asked if he could use my guitar, and I told him no," Lenker says over the phone. "He remembers that very well. I have a harder time remembering that."
Shortly after moving to New York in late 2012, Lenker took a break from unpacking to stop at a corner store. There she ran into Meek, whom she hadn't seen since that night back in Boston. He gave her a bike tour of the city, and the two started playing music together. They spent the next two years playing anywhere that would have them.
Eventually they added Oleartchik on bass, also after running into him on the street. According to Lenker, he and Meek had become friends one summer as teenagers, but hadn't seen each other for a decade. Drummer Krivchenia joined the band after engineering Masterpiece. "He came along just for fun and to hang out," Lenker says, "but by the end of that session... he knew all the songs."
Despite the haphazard origin story, Lenker quickly realized she had happened upon the right people to flesh out her folksy songs. The evidence is all over Masterpiece.
"It finally kind of felt like we had the right alchemy and it happened really naturally," she says. "I just really feel like they're inside the spirit of the songs and they bring all this life into these different parts of the songs. I feel like they make them bigger, and I get to experience the songs while I'm also playing them."
The key word there for Lenker is "songs." She says she's not worried about a particular vibe or a certain kind of sound. Instead she's "obsessed" with quality songwriting, and draws influence from renowned tunesmiths like Neil Young, Bruce Springsteen, and Iris Dement.
"I just look up to songwriters, you know?" she says. "Those are my influences.... We just want to play good songs and play parts that serve the song."
Luckily that comes pretty easily for Big Thief.
"That's the beauty of finding the right people," Lenker says, "where they just kind of get it."