ASK A MUSICIAN about their artistic influences, and chances are pretty good they'll play coy.
Sponsored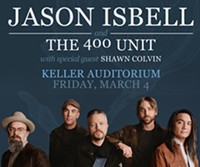 Jason Isbell has established himself as one of the most respected songwriters of his generation. Don't miss Jason Isbell and the 400 Unit, March 4th at Keller Auditorium!
At best, you'll get a thoughtful response that makes sense. Those are rare. More likely, you'll get some hemming and hawing, and then a short list of carefully curated artists selected to showcase maximum cool. At worst, you'll just get the hemming and hawing.
And then there's Portland's Honey Bucket, who have nothing to hide. Last year the trio recorded a bunch of great covers in one day and called the resulting cassette Honey Bucket Plays the Classics. The tracklist reads like a who's who of post-punk and jangle-pop-rock, with covers of Television Personalities, the Clean, the Fall, Half Japanese, Devo, Alan Vega, Richard Hell, and so on. Lots of people have rad record collections, but few synthesize those sounds into something that's uncomplicated and irresistible.
Honey Bucket has figured out that formula. The band's new album, Magical World—released by Portland label See My Friends—is a mid-fi wonder, packed with woozy DIY spirit and wily hooks. Across 13 tracks, Vince Skelly (bass/vocals), Matt Radosevich (guitar/vocals), and Jon Grothman (drums) are somehow disheveled and charming, urgent and easygoing.
At first, Magical World presents itself as post-punk snarl, with one-chord riffs, rapid-pulse bass lines, and occasional cloudbursts of guitar squawk to cut the tension. Opening track "Downtown" is a street-walking strut that rumbles its way through the minutiae of everyday life, and it's followed by "Teleporter," a slender tune paced by Radosevich's guitar, which sounds like a sewing machine needle hard at work. "This That" rides a gently swaying barebones groove and evolves into a tangle of horn skronk in its second half.
As tracks fly by, Honey Bucket's pop jones asserts itself. "Relatively Warm" is a sunny, acoustic strum-pop song so intimately recorded, you can practically feel the guitar pick rubbing against your eardrum. "Unexplainable Phenomenon" soars and flutters at a walking pace. Skelly and Radosevich have an undeniable gift for sneaky melodies, like the singsong first single "Devo Hat," the roller-coaster melancholy of "Smile Pt. II," and closing track "Comet Tails," a relentless earworm whose main theme consists of just four notes.
Therein lies the beauty of Honey Bucket: They do more than most bands, using less than most bands. Their Magical World is uncluttered and inescapable.