WEDNESDAY 10/19
DAMIEN JURADO, PATRICK DETHLEFS
Sponsored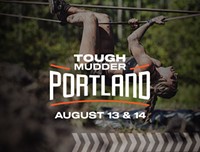 Lock in your summer adventure, Portland. Join us for world famous obstacles over a 5K or 10K distance.
(The Old Church, 1422 SW 11th) Damien Jurado's Visions of Us on the Land completes a trilogy of albums he's been releasing since 2012. All three center on a lush narrative about a man and his journey through a mysterious (and perhaps mystical) place called Maraqopa. Whether it's fantasy or a thinly veiled exploration of the landscape of the self, Jurado's music holds surprising warmth and an expansive quality that distinguishes him from a wake of other indie rock artists. Visions is simply the latest sparkling addition to over 20 years' worth of compelling, devastating, and rich sound experimentations. JENNA FLETCHER
THURSDAY 10/20
(White Eagle, 836 N Russell) You can't get your paws on legendary songwriter Alejandro Escovedo's new album, Burn Something Beautiful, until October 28, so think of tonight's super-intimate show at the White Eagle as a preview of sorts—especially since Escovedo recorded it right here in Portland with R.E.M.'s Peter Buck, the Minus 5's Scott McCaughey, and a bevy of local guests. Will some of them show up tonight? There's only one way to find out. NED LANNAMANN
BRANDY CLARK, THE STUBBORN LOVERS
(Mission Theater, 1624 NW Glisan) Read our story on Brandy Clark.
(Doug Fir, 830 E Burnside) Read our story on Flock of Dimes.
SWEEPING EXITS, BLOWOUT, LUBEC
(Valentine's, 232 SW Ankeny) Read our story on Sweeping Exits.
(Crystal Ballroom, 1332 W Burnside) Since its inception as a bare-bones bicycle-touring duo 10 years ago, Portland's Blind Pilot has added members, instruments, and richer textures, usually at the cost of expediency. Three years passed between the band's debut and sophomore albums, and five more before the release of its latest, And Then Like Lions. Each song is meticulously composed, from harmonies and slow-building arrangements to lush string and brass sections. Frontman and songwriter Israel Nebeker wrote And Then Like Lions following the breakup of his 13-year relationship and the cancer diagnosis—and then the passing—of his father, the artist Royal Nebeker. All of this this imbues the album with a more melancholic tone than the previous two, but, in true Blind Pilot fashion, it ends on a note of perseverance, hope, and, of course, growth. SANTI ELIJAH HOLLEY
SUN ANGLE, TENDER AGE, MATTRESS
(Mississippi Studios, 3939 N Mississippi) Connoisseurs of vivid musicality are bound to rejoice in the aural swells found on Sun Angle's brilliant Skullflower. The engaging Portland trio explores the cosmos of psych decadence on the new album's droning tunes, like opener "American Beauty," which fuses the borderless tenets of art-rock within the guitar-bass-drums triptych of pop. "Kill the Ill" writhes in freeform musical deconstruction, with Charlie Salas-Humara's lead guitar steering the song into jammy realms. The rhythm section of bassist Marius Libman and drummer Papi Fimbres is about as solid as you'll find in the city, with incendiary propulsion on the Latin-tinged "Leave Your Body" and straightforward standout "Drink the Moon." To say Sun Angle is one of the best bands in town is an easy assessment—their willingness to exist as part of and apart from Portland's thriving music community is inspiring. Besides that, the entire band is funny as fuck. RYAN J. PRADO
(The Old Church, 1422 SW 11th) In a recent interview with Pitchfork, saxophonist Rudresh Mahanthappa said that when he and fellow Indian American artist Vijay Iyer came up in the jazz world, "There was a different sort of expectation, or projection, that what we were doing had to be Indian." Luckily, it didn't take long for critics and fans to wipe away those preconceptions once they heard Mahanthappa perform. He plays alto sax with panache and a depth of feeling that's most accessible to folks who have absorbed the history of jazz like a sponge. Mahanthappa's latest album as a bandleader, Bird Calls, finds him exploring and deconstructing various strains of jazz, with the fragmented bebop of "Both Hands" and "Chillin'" giving way to freeform experiments, like the sputtering and jagged closing bonus track "Albacross." ROBERT HAM
(Wonder Ballroom, 128 NE Russell) Get used to "M'lover," the first track on Kishi Bashi's new record, Sonderlust, because you're going to be hearing it in commercials and during the emotional swells of indie dramas for the next few years. The upbeat, pitch-shifted chatter sounds like an Animal Collective hit, but its optimistic sentiment could unseat the iron clench that Lumineers song holds on our American weddings. I'm not bashing Bashi, who—though he has written a pop, romance-oriented record this time around—remains an interesting composer, especially with his masterful use of sample loop manipulation at live shows. Somewhere 15-year-olds are falling in love to this record, and good for them. SUZETTE SMITH
FRIDAY 10/21
DEATH FROM ABOVE 1979, BLACK REBEL MOTORCYCLE CLUB, DEAP VALLY
(Roseland, 8 NW 6th) This is a great chance to see two badass bands on the same bill, as they co-headline a national tour. I still believe that Black Rebel Motorcycle Club—from California and particularly popular in Europe—is one the best rock bands of the past 20 years, and their 2005 record Howl is one of my favorite albums of all time. Now I'm pumped BRMC is teaming up with Toronto-based DFA 1979, and I'll be seeing them both live for the first time. It will be a great show, and if you like rock music you should go. DOUG BROWN
(Wonder Ballroom, 128 NE Russell) See All-Ages Action!
(Hawthorne Theatre, 1507 SE César E. Chávez) In 1991 my extremely patient dad took my best friend and me to an unbelievably curated show called Clash of the Titans. This event featured Slayer, Megadeth, and, most importantly, Anthrax, who visually separated themselves from the other apocalyptic acts by performing on a safety yellow and red op-art stage with the gigantic head of Not Man, their Alfred E. Neumanesque mascot, as its centerpiece. Anthrax didn't possess the typical death-and-skulls presentation, and instead proudly flaunted the cartoonish garb of East Coast skate-punk culture. This spoke to us in a way that other "serious" metal bands didn't, while hip-hop forays like "I'm the Man" only solidified our love for guitarist Scott Ian. Since then I've always maintained to defiant purists that this influentially playful take on New York nihilism earned Anthrax their thrash-metal elder statesmen badges, if not a permanent place in the genre's hall of fame. CHRIS SUTTON
SATURDAY 10/22
TOMMY STINSON'S COWBOYS IN THE CAMPFIRE, RACHEL DEAN AND TIM GREY
(Bunk Bar, 1028 SE Water) What's the first band that comes to mind when you hear the name Tommy Stinson? If you answered Guns N' Roses, go directly to jail, do not pass go, do not collect $200. The Replacements' guitarist recently announced a new album from Bash and Pop, the band he formed after the 'Mats' breakup in 1991, which will be out on Fat Possum in 2017—a fitting follow-up to the recent 'Mats reunion. To tide us over in the meantime, Stinson is now on a tour that he's dubbed "Cowboys in the Campfire," playing stripped-down, twangy renditions of tunes from his unjustly overlooked solo career and beyond, accompanied by guitarist Chip Roberts. NED LANNAMANN
(Keller Auditorium, 222 SW Clay) He may be universally regarded as the godfather of shock rock, but Alice Cooper is comparatively underrated as a composer and musician. Though best known for classic rock staples like "School's Out" and "No More Mr. Nice Guy," Cooper is far from a singles act: 1972's School's Out and the 1973 follow-up Billion Dollar Babies swaggered across the chasm that separates glam and metal, and remain some of the catchiest and most concise pre-punk rock records ever released. Cooper has also transformed the narrative of sardonic, apolitical anthem "Elected"—off Billion Dollar Babies, and originally written about Richard Nixon—into a reality, announcing his own bid for the presidency earlier this year. A counter on aliceforpresident.com estimates 2.1K votes in the bag—look out, Gary Johnson, he's gaining on you! MORGAN TROPER
(Arlene Schnitzer Concert Hall, 1037 SW Broadway) This weekend, Portland's biggest band offers up an exquisite set list featuring a pair of 21st-century American composers, and will kick off each concert with music for brass, harp, and strings by Pulitzer Prize winner Christopher Rouse. Following this sublime appetizer for the ears, our hometown symphony welcomes back percussionist Colin Currie to the Schnitz to perform Switch—a frenetic composition created by 36-year-old Andrew Norman, whose queer musical sensibility is influenced equally by the centuries-old tradition of classical sound, video games, world travel, and remote controls. This piece requires the soloist's mastery of drums, cymbals, bongos, gongs, tin cans, and a slew of other things to hit—dear god, go if you are able. BRIAN HORAY
(Aladdin Theater, 3017 SE Milwaukie) After a long and surreal presidential election, British songwriter Billy Bragg—with his leftist politics and mug-of-ale accent—is just what you need. Born of the same post-punk era that produced the Smiths, Bragg has lately fancied himself a sort of neo-WPA troubadour, killing New World Order fascists with his acoustic guitar and baritone. With this year's release, Shine a Light: Field Recordings from the Great American Railroad, Bragg and American songwriter Joe Henry cover classic folk tunes from the age of New Deal politics, particularly songs like "Rock Island Line" and "Hobo's Lullaby." It just goes to show that anyone can help make America great again, even a socialist singer/songwriter from the UK. WILLIAM KENNEDY
HUNGERS, ATRIARCH, SHRINE OF THE SERPENT, SOL
(The Raven, 3100 NE Sandy) Everyone's got a dark side—that suppressed madness confined to the deepest corner of the psyche that's only allowed to express its morbid thoughts and feelings internally. No matter how soft-souled someone's mask may look, every so often some bad things go through their head. Local trio Hungers give their unhinged and haunted internal voices a platform on their latest, Ascesis—an angry, confrontational beast that demands your full attention for seven tracks. Vocalist and guitarist A.M. sounds grimy, harsh, and confident, like a troll under a bridge delivering a speech fit for a dictator. A.M. and fellow guitarist K.L. join forces to create a thick swamp of measured, lumbering punishment, with the gentle lily of an occasional bleak melody floating across. Meanwhile, drummer N.H. drops jarring, trampling tom- and kick-heavy rhythms down your spine. Each song is more gargantuan than the next, and by the time you're done traversing the muck Hungers has created on Ascesis, the only thing you can do is hit rewind and play it again. ARIS HUNTER WALES
SUNDAY 10/23
ROCK FOR ROCKWOOD: M. WARD, THE THERMALS, THE HELIO SEQUENCE, EMILY WELLS
(Revolution Hall, 1300 SE Stark) Tonight Revolution Hall is hosting Rock for Rockwood, a one-night music festival featuring M. Ward, the Thermals, the Helio Sequence, and Emily Wells. Proceeds will benefit the recently founded Rockwood Boys & Girls Club, which provides kids in one of the city's poorest neighborhoods a place to go after school. CIARA DOLAN Also see All-Ages Action!
(Arlene Schnitzer Concert Hall, 1037 SW Broadway) See Saturday's preview.
JACUZZI BOYS, STALLION, DOGHEART
(Mississippi Studios, 3939 N Mississippi) Miami's Jacuzzi Boys found a sound and latched onto it like the sticky heat of South Florida. This month the three-piece is releasing their fourth full-length, Ping Pong, on their own Mag Mag label. While the pace of singles "Lucky Blade" and "Boys Like Blood" is slowed down compared to the two-minute lo-fi punk sprints of older songs like "Glazin'," "Cool Vapors," or "Happy Damage," the band's signature fuzzy tone and pulsating bass lines remain. Jacuzzi Boys certainly won't reinvent the wheel with any of their releases, but they also won't let their wheel wear down to tattered rubber—each new release feels like the Michelin Man stepped in to polish and tweak things just enough to ensure that the ride continues. CAMERON CROWELL
MONDAY 10/24
(Wonder Ballroom, 128 NE Russell) One of alternative R&B's newest rising stars, Gallant sings with a skyrocketing falsetto and heartwrenching vulnerability that's almost too tender to bear. Finally, after opening for ZHU—and quite honestly stealing the show—in April, Gallant returns to Portland for a headliner gig! The show was moved to the more spacious Wonder Ballroom, so he'll be able to stun way more fans with live renditions of "Bourbon," "Skipping Stones," and of course, "Weight in Gold." JENNI MOORE
(Arlene Schnitzer Concert Hall, 1037 SW Broadway) See Saturday's preview.
WOODEN SHJIPS, THE LAVENDER FLU
(Mississippi Studios, 3939 N Mississippi) Wooden Shjips (silent "j") revive the droning synths, tranced-out rhythms, and hallucinatory guitar wanderings of '60s Nuggets-era psychedelia. Cut from the same sonic San Francisco cloth that produced Thee Oh Sees, Wooden Shjips have been tripping strong since their self-titled 2007 debut. Their most recent record, Back to Land, ramps up the velocity and lets the excess fall away. "In the Roses" begins with the whole band churning together in fifth gear as phasing guitar buzzsaws behind warbling organ and a relentless rhythm section. Dripping with reverb, bandleader Ripley Johnson's vocals are as unintelligible as the faraway voices that come drifting in from the other side of a trip, and aurally shining guitar and organ freakouts fill the sonic space between verses. This is the perfect musical complement to the autumn mushroom season. SAM BOVARNICK
TUESDAY 10/25
SCREAMING FEMALES, MOOR MOTHER, MACHO BOYS
(Doug Fir, 830 E Burnside) In almost any conversation about something other than women who shred, there's a 90 percent chance I'd rather be talking about women who shred, how cool they are, and how much I wish I were a woman who shreds. The real-life manifestation of this desire is Marissa Paternoster, the lead singer and guitarist of three-piece rock outfit Screaming Females. With Paternoster's ripping guitar solos and controlled vocals (she can go from high-pitched, nasal screams to Liz Phairesque deadpan alto seamlessly), Screaming Females is a bundle of refined aggression laced with contemporary nods to rock's past. On last year's Rose Mountain, the band finds themselves at the dangerous intersection of alternative rock, indie, and punk, but successfully straddles that space with strength and nuance. EMMA BURKE
(Keller Auditorium, 222 SW Clay) It's easy to view Pet Shop Boys' breakthrough single "West End Girls" as an artifact of '80s London, but the reality is that the song found popularity as an underground dance hit on the West Coast of the US long before the re-recorded version climbed to the top of UK charts. In all likelihood, though, the duo's classic late-'80s output was something of an unusual musical spectacle to audiences on both sides of the Atlantic: Singer Neil Tennant's delivery drips with the detached gravity of a dream state, and unrelenting hooks propel incisive lyrics that belie the easy characterization of most dance floor fodder as banal. It's a celebrated take on synth-pop—novel enough to be instantly gripping, familiar enough to live inside—that qualifies Pet Shop Boys as English cultural icons and keeps American listeners hitting repeat today. NATHAN TUCKER