AS THE WORLD becomes more and more interconnected, it grows increasingly difficult to disconnect. This became a bit of a problem for Jenn Wasner.
Sponsored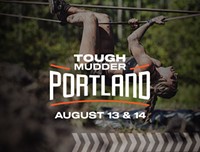 Lock in your summer adventure, Portland. Join us for world famous obstacles over a 5K or 10K distance.
After building an impressive career as half of Baltimore's beloved indie rock duo Wye Oak, Wasner felt overwhelmed by outside distractions. In need of some solitude, she spent two transient years driving around the country by herself before eventually landing in the burgeoning musical hub of Durham, North Carolina.
"One of the reasons that I've found it helpful to isolate myself is that I tend to use social situations like a drug," Wasner says. "It was always easier when I was hitting a wall creatively to go hang out with a friend or see a show. I'm happy to be in a place where those easy distractions are not always available to me. It's important to be lonely sometimes."
This self-prescribed isolation and time to focus led to the creation of Wasner's new project, Flock of Dimes.
"It's a catch-all umbrella for anything I might like to pursue," she says. "I imagine that there will be different collaborators along the way, but my involvement is the only constant."
Flock of Dimes' debut full-length, If You See Me, Say Yes, centers on subtlety. Synths swoop like string sections, and dreamily modest dynamics are strengthened by Wasner's stunning alto, which is often (and rightfully) compared to that of Eurythmics' Annie Lennox. At its heart, this record finds Wasner unpacking why spending time alone is necessary for growth—its 12 songs are bookended by opener "Sometimes It Is Right..." and closing track "...To Have No Answer."
For those worried that her relocation and new project might signal the demise of Wye Oak, fear not: Wasner's solitude has reignited her desire for joyful creation, both solo and with Wye Oak.
"What I hope people understand is that the vitality of this project only feeds into the vitality of Wye Oak, and vice versa," she says. "I have a really short attention span and want to be able to put as much new music out into the world as possible, and it's become obvious that having multiple outlets is the only way to feel satisfied."