NIGHT AFTER NIGHT, she watches the watchers. She intoxicates them with the flickering glow of film reels, gazing down from her booth at the backs of their heads and the napes of their necks. If male patrons can't keep their hands to themselves, she shows no mercy.
Sponsored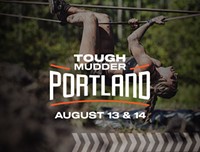 Lock in your summer adventure, Portland. Join us for world famous obstacles over a 5K or 10K distance.
She's the Projectionist—the vampiric heroine of Sweeping Exits' new EP.
The Portland glam-punk band's latest release functions as a soundtrack to an imagined cinematic narrative created by frontwoman Mira Glitterhound (vocals/guitar). Her bloodthirsty protagonist is a young woman working at a movie theater in the late 1950s who literally consumes predatory men.
"The vampires in this canon, I made them in the most extreme form in that they eat and devour humans," says Glitterhound. "Once they're done, there's pretty much just bones left."
Glitterhound has released music under the Sweeping Exits moniker for about 10 years, but The Projectionist is her first following this concept and her first joined by Myrrh Crow (keyboard/vocals), Sonia Weber (drums/bass), and Shanley Narens (strings). It's a prequel to the band's forthcoming full-length, Glitter and Blood, which will serve as an extension of the EP's storyline.
The Projectionist's four songs are cloaked in the velvety, temptingly opulent sounds of goth, baroque, and punk. Glitterhound cites influences like the Adverts, the interdisciplinary artistry of David Bowie, and Nick Cave's macabre literary flair (specifically on his 1986 record Your Funeral... My Trial), but also adds, "I felt that there was this deep connection between the harmonic structures of dark '60s jazz—stuff like Wayne Shorter—and '80s goth."
Inspired by Italian horror films (particularly Mario Bava's Black Sunday), Glitterhound sees the EP as an opportunity to reclaim horror as "an instrument of feminism," since the genre often perpetuates images of violence against women. This feeling of reclamation runs throughout The Projectionist, as the vampire takes control away from misogynist men and lavishes in the theater's darkness. But it's also reclaiming the fear queer people face in their daily lives—fear that Glitterhound projects back on to her vampire's victims.
"For me it was about experiences I've had as a trans woman that were very disempowering, like being harassed on the street, or threatened, or followed," she says. "I think the vampire's a vehicle for all the power I wish that I had in those situations."
The EP's opening title track sounds hopelessly sinister; the cold caress of strings spins into a pocket orchestra of skittish piano, drums that sound like your heartbeat pounding in your ears, and Glitterhound's unsparing eulogy: "You don't deserve to be free/You deserve to be eaten alive." The finger-snapping tempo of "Brigitte Bardot" shimmies and scoots across the greasy hoods of muscle cars with the overeager bombast of '50s doo-wop, but with a caustic sneer that's as menacing as a poisoned milkshake.
"Reprieve" is spoken-word dialogue over unsettling layers of string melodies. It's the EP's most theatrical moment, but also its most heavy, lyric-wise. Glitterhound assumes the role of a mother trying to convince her daughter not to run away: "Aren't you so lucky to have a good Christian mother to show you what you are and aren't to do/To protect you from yourself/You can't be trusted to know yourself." The girl does run away, and is taken in by the Projectionist.
The standout closing track, "Charming (Once You Realize You're Dead)," layers catchy guitar riffs, purred "oohs" and "ahs," and a cascading organ melody as Glitterhound sings, "You have very little time to try and change your mind once you realize you're dead." It's a complex requiem for the vampire's victims, since most won't try to repent until she's already cut off their heads.
Sweeping Exits' songs obviously don't advocate for real-life violence, but instead actualize the profound desire to turn hate into something positive. Glitterhound's vampire antihero gets sustenance from the flesh of her oppressors—she absorbs their evil, and it makes her stronger.
"To me, vampires and queers are the perfect analogy, because vampires are these outcasts, but they're also so powerful and strong," says Glitterhound. "I think all queer people are strong. We're just strong because we have to be."