WEDNESDAY 11/23
FRED AND TOODY, MICHAEL HURLEY
(The Know, 2026 NE Alberta) Tonight's bill features three local legends: Fred and Toody Cole of seminal Pacific Northwest punk band Dead Moon and outsider folk wizard Michael Hurley. It's also one of the last shows at the Know's current address on Alberta before the venue starts moving over to its new location on Sandy. It's the perfect occasion for reminiscin'—just bring 10 bucks and get in line early. CIARA DOLAN
Sponsored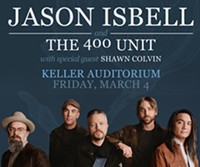 Jason Isbell has established himself as one of the most respected songwriters of his generation. Don't miss Jason Isbell and the 400 Unit, March 4th at Keller Auditorium!
EAR CANDY: FLOATING ROOM, DROWSE, HEX VISION
(Mississippi Studios, 3939 N Mississippi) Read our story on Floating Room.
FEA, COCKEYE, THE WILDER
(Dante's, 350 W Burnside) Read our story on Fea.
YG, RJ, KAMAIYAH, SAD BOY
(Roseland, 8 NW 6th) Earlier this year, YG and Nipsey Hussle collaborated to release the single "FDT" (which stands for "Fuck Donald Trump"), accompanied by an incendiary music video that attracted the attention of the Secret Service and the LAPD. Uniting African Americans and Latinos in hopes of defeating a shared enemy, "FDT" is a powerful rallying cry, and one of the more potent political attacks by any mainstream rapper during the presidential election season. While less militant, YG's follow-up single "FDT 2" with white rappers G-Eazy and Macklemore extended this message of unity. I'd thought "FDT" was a good anthem, but probably not one with any staying power. And when I learned YG, RJ, Kamaiyah, and Sad Boy were embarking on an "FDT Tour" in late November, I didn't see the point. Surely Hillary would be president-elect by now, and we could begin forgetting we'd ever heard the vile name Donald Trump. Welp. The joke's on me, guys. It looks like this is a song we're going to be singing for a long time to come. SANTI ELIJAH HOLLEY
NORFOLK AND WESTERN, DOLOREAN DUO
(Alberta Rose Theatre, 3000 NE Alberta) The "folk" part of Norfolk and Western's name made it easy to peg them as part of the groundswell of acoustic-oriented bands that rose to prominence in Portland in the '00s. But Norfolk—whose mainstays, Adam Selzer and Rachel Blumberg, have been all over the Portland music scene in various capacities over the years—always boasted a sense of sonic adventure, in which hushed strums would give way to a blare of feedback, and old-timey sounds collided with a fully modern approach to songwriting. The band reunited for a one-off show in 2013, and tonight, on Thanksgiving Eve, they're repeating the trick with a lineup that surveys different parts of their 10-year span. Selzer and Blumberg will be joined by bassist Dave Depper, keyboardist/trumpetist Cory Gray, violist Amanda Lawrence, and the Decemberists' Chris Funk on banjo and pedal steel guitar. To sweeten the pot, Al James and Jon Neufeld of the much-missed Dolorean open the show. NED LANNAMANN
THURSDAY 11/24
Happy Thanksgiving! Fuck Trump!
FRIDAY 11/25
TWERK! THANKSGIVING RECOVERY: DJ ILL CAMINO
(Killingsworth Dynasty, 832 N Killingsworth) After eating all those beans, greens, potatoes, tomatoes at what was hopefully a super-lit Thanksgiving dinner where you cussed-out your racist uncle, a couple hours of diligent twerking and imbibing is necessary. This Twerk PDX dance party will be bumping hip-hop, R&B, trap, and bounce music, and the spacious Dynasty floor will provide a safe space for everyone's recovery, including LGBT. JENNI MOORE
NEUROSIS, YOB, KOWLOON WALLED CITY
(Hawthorne Theatre, 1507 SE César E. Chávez) Give thanks, local lovers of heavy music. Portland's metal event of the year happens over a long holiday weekend, so you can fully dedicate yourself to stuffing your ear holes and headbanging your brain into mashed potatoes. Legendary West Coast volume-dealers Neurosis recently celebrated 30 years of existence with the release of their 11th album, Fires Within Fires. Like all Neurosis albums, it's an adventurous amalgam of dark folk, grown-up punk, creeping sludge, and beautiful post-metal that wanders as much as it thunders. It's an incredible work of art from a band that is uncompromising, resilient, and forever influential. Neurosis' two-night stand at the Hawthorne features two killer openers: lumbering Bay Area noisemakers Kowloon Walled City and Oregon doom titans YOB. Each released their most recent album on Neurosis' own label, Neurot Recordings, in case you need more reasons to respect the nights' headliner. BEN SALMON
BLACK SHEEP BLACK FRIDAY: U SCO, CALYX, HANG THE OLD YEAR, BLESSED, DOWAGER, BEACH PARTY, PHANTOM FAMILY, SAID GONER, EVIL SPEAKERS
(High Water Mark, 6800 NE MLK) There are moments of purely chaotic beauty on Dowager's second EP that defy the laws of reasoning. Throughout Title Track, vocalist/guitarist Benardo Relampagos screams like his feet are on fire, alternately caressing and trying to break his instrument to find the empathetic tones necessary to convey his anger. It's as much an indictment of the sticky realms of post-hardcore as it is a denouncement of pop, echoing the aural property lines of bands like Make Believe and early Converge. "Sleep Paralysis" struts on cathartic riffs of minor-chord delirium before folding into itself with finger-tapped progressive flourishes and flashy rhythmic interplay from bassist Kevin Thrakulchavee and drummer Ben Scott. Relampagos' grating vocals propel songs through frightening environs, each pulsing with some unknown ferocity and living as its own rebel yell for three or four minutes. Buy this EP if you're pissed at the world right now. RYAN J. PRADO
BLACK MARKET FRIDAY: MÁSCARAS, LITTLE STAR, BED., ANNA TIVEL
(Mississippi Studios, 3939 N Mississippi) Black Friday is perhaps the most depressing display of "American-ness" disguised as a holiday. It channels all of the intoxicated bravado of the 4th of July into pure capitalistic id. While some of us mock the hypocritical post-Thanksgiving consumerism, we still have to come to terms with the fact that a person getting trampled to death at a Walmart is normal in this country. Luckily, some of Portland's tenderest indie rock bands will spend Black Friday singing odes to self-care while the world is seemingly spiraling into the ground. Little Star's debut full-length Being Close and bed.'s EP Klickitat were two bright spots in a dour year. Now, I'm no proponent of rock 'n' roll saviorism, but I'll be damned if Little Star's "Calming Ritual" and bed.'s "Wayward" aren't two of the most beautiful examples of introverted musical catharsis. CAMERON CROWELL
CAR SEAT HEADREST, THE DOMESTICS
(Wonder Ballroom, 128 NE Russell) Calling a band Car Seat Headrest might seem like an odd choice, but given some background, you'll get it. The main brain behind the project is Will Toledo, a 24-year-old Seattleite. Toledo recorded his vocals for the first few albums in the backseat of his car for privacy—hence the band name. Over the course of six years and 12 albums, that lo-fi/DIY quality is still present, but he's been fine-tuning his voice to be surprisingly precocious. On the band's May release, Teens of Denial, Toledo's clever lyrics about depression, alienation, and substance abuse are thrown over strangely satisfying guitar-driven pop. Most of his songs are specifically about our attempt to derive meaning from all of this (gesticulates wildly), and how sickeningly futile it often feels. In Toledo's case, assigning a seemingly meaningless name like Car Seat Headrest to his life's work actually makes perfect sense. FIONA GABRIELLE WOODMAN
SATURDAY 11/26
JUDY ON DUTY: DJ TROUBLED YOUTH
(High Water Mark, 6800 NE MLK) Monthly queer dance party Judy on Duty just celebrated two years of getting weird every last Saturday at the High Water Mark. While most dance nights repel and terrify me, Judy on Duty is inclusive and super welcoming. Things usually get going between 11 pm and midnight, so bring some buds (or heck, go alone!) and get ready to shake your bum with DJ Troubled Youth. CIARA DOLAN
NEUROSIS, YOB, KOWLOON WALLED CITY
(Hawthorne Theatre, 1507 SE César E. Chávez) See Friday's preview.
OKURRRRRR
(Dante's, 350 W Burnside) HIEEEE! Self-described "Glamazonian princess from the planet Glamtr0n" Alaska Thunderfuck 5000 is one of the roughest diamonds of the eight cycles of RuPaul's Drag Race. Though she didn't emerge victorious from her first go-around during Season 5, the winner of All-Stars Season 2 has since amassed a burgeoning discography. Two years after releasing her first single, "Ru Girl," in 2015 Alaska dropped Anus, a debut full-length boasting untouchable classics like "Your Makeup Is Terrible." Now she's back with Poundcake, a brand-new record featuring cameos from fellow Drag Race contestants like Adore Delano and Gia Gunn. For her Okurrrrrr show, Alaska will perform songs from her two albums and serve Portland a heaping slice of that Glamazonian charm. CIARA DOLAN
DAUGHTER, ALEXANDRA SAVIOR
(Crystal Ballroom, 1332 W Burnside) A few years back, Daughter burst into mainstream music's collective consciousness with the single "Youth" (which currently boasts nearly 100 million YouTube views). It's a song that manages to rope together somber and simple melodies, dazzling percussive textures, and eclipsing crescendos for a swift four-minute journey. Last January the UK indie-folk trio released Not to Disappear, a sophomore record that continues to showcase their strength in meshing sonic swells with icy, crystalline grit. This new effort also finds Daughter delving into clearer, deeper lyrical territory, especially on songs like "Doing the Right Thing," where singer Elena Tonra explores the world of aging and dementia. Her simple, bold statements and the emotive instrumentals create a sense of overwhelming intensity that feels very relevant these days—maybe there's even catharsis buried in there somewhere, too. ROBIN BACIOR
MxPx, BROADWAY CALLS
(Star Theater, 13 NW 6th) Every time I come across MxPx, it's an unhappy accident. Though they're often known as the Christian pop-punk band that reprised the Scooby Doo theme for the 2002 live action movie, the hardcore moralists are probably best remembered for their liberty-spiked "Calvin" logo that inspired the fashion of Good Charlotte. I first heard the Puget Sound three-piece as an eighth grader who found out about skate-punk bands like any other poser who didn't know how to skate: through the NOFX Pandora station. Sandwiched between "Golden Boys" and Blink-182's "Dammit" was MxPx's hit single "Chick Magnet"—a song that lives up to its awful name by sounding like the musical equivalent of a polished turd formed into the shape of a crucifix. Vocalist/bassist Mike Herrera was so lazy that instead of writing a second verse, he decided to scat along to power chords for 30 seconds until the chorus came around again. Fast-forward six years: I make the dumb decision to compile a pop-punk holiday mix after hearing Fountains of Wayne's "I Want an Alien for Christmas" and come across MxPx's moral critique of consumerism (and hip-hop?), "Gimme Christmas," which boils down to Linus' monologue in A Charlie Brown Christmas but with three grown men wearing Santa costumes and bling. Just when I think I've seen the worst of pop-punk, MxPx is always there to reassure me with "All I want for Christmas is a yippie little dog/With a diamond collar on, wearing Louis Vuitton." CC
SIR RICHARD BISHOP, POREST, WHITE SHARK SHIVER
(Turn! Turn! Turn!, 8 NE Killingsworth) Back in August, Sir Richard Bishop christened Pickathon's Woods Stage with its very first set of the festival, while most revelers were still groggy. It was perhaps the perfect time for Bishop's bewitching guitar reflections—he coaxed rich textures from a semi-hollow-body guitar, conjuring east-meets-west melodic structures through a bevy of instrumental tunes. Bishop, of course, is best known as a founding member of experimental art-punk project Sun City Girls, which had a 26-year tenure that yielded over 50 albums. Since the band's dissolution in 2007, Bishop has continued to release mind-warping guitar meditations, most recently with last year's Tangier Sessions. It's a dizzying collection of neoclassical compositions with brilliant guitar playing, and fuses together styles as seemingly disparate as flamenco, jazz, strange avant-garde, and pretty much every other genre you've ever heard. Bishop taps into a truly wordly aural contemplation—you oughta tap into it, too. RJP
SUNDAY 11/27
THEE OH SEES, ALEX CAMERON, THE LAVENDER FLU
(Revolution Hall, 1300 SE Stark) The latest record from space-vortex explorers Thee Oh Sees, An Odd Entrances, is a six-song counterpart to their recent A Weird Exits that showcases a more pastoral, Syd Barrett-y side of the psychedelic garage rockers. But expect their live show to be just as explosive and relentless as it's ever been—as long as you can land a ticket. The website for the Aladdin Theater, where tonight's show was originally set to take place, says there might still be tickets at the box office. Cross your fingers. NED LANNAMANN
JAMES VINCENT MCMORROW, ALLAN RAYMAN
(Wonder Ballroom, 128 NE Russell) When James Vincent McMorrow emerged from his hometown of Dublin, Ireland in 2010, he could best be described as a folk singer with a beautifully delicate voice. Then in 2014, McMorrow earned wider exposure with his sophomore effort, Post Tropical, which found him exploring poppier sounds and arrangements, like if Bon Iver had full-spectrum light bulbs in that snowbound cabin of his. Now McMorrow's back with yet another look: "I grew up wanting to write songs like Neil Young," he's quoted on his website, "but produce them like the Neptunes." On his new record, We Move, McMorrow has taken his folk songs and given them some indie/R&B polish, with help from producers like Nineteen85 (who's worked with Drake), Two Inch Punch (Sam Smith, Years and Years), and Frank Dukes (Kanye West, Rihanna). If that's your thing, check this dude out. His melodies remain compelling. BS
MONDAY 11/28
CASTLE, MOS GENERATOR, DISENCHANTER
(The Raven, 3100 NE Sandy) Read our story on Castle.
KOOL KEITH
(Doug Fir, 830 E Burnside) When Ultramagnetic MCs dropped their groundbreaking debut full-length Critical Beatdown in 1988, the hip-hop world was irreparably transformed by the genius of the group's primary protagonist, Kool Keith. A legendary career highlighted by audacious verses and surrealist personas subsequently ensued, with a commercial apex occurring in the form of futuristically cinematic supergroup called Dr. Octagon, arguably the earliest outlier in a legacy of weirdo rap visionaries that includes Odd Future, Danny Brown, Eminem, Lil B, and even Outkast's Andre 3000. Keith sometimes waxes disdainfully about some of these stylistic disciples in prose, but this famously vehement paranoia quickly became a welcome part of the lyrical personality that diehard fans still flock to and adore. They know that whether he's a serpentine sex fiend or an interstellar collaborator, Kool Keith's mastery of diverse guises and tireless refusal to conform has rightfully earned him the highest status within the hall of underground greats. CHRIS SUTTON
TUESDAY 11/29
ANDERSON, RABIN, AND WAKEMAN
(Arlene Schnitzer Concert Hall, 1037 SW Broadway) When the band's bassist and patron saint Chris Squire died in 2015, it was the end of an era for Yes; he was the sole constant in a band that's undergone more lineup changes that almost any other from the classic rock era. And the revolving doors keep spinning to this day: One lineup, featuring guitarist Steve Howe and drummer Alan White, is touring under the banner Yes, while other formative members have gotten together as Anderson, Rabin, and Wakeman. (That's vocalist Jon, guitarist Trevor, and keyboardist Rick, respectively.) This is a particularly odd combo of Yesmen, because Wakeman and Rabin represent entirely different eras of the English band—Wakeman's cloak-and-dagger organ is found on cornerstone prog-rock releases like Fragile and Close to the Edge, while Rabin's era included Day-Glo synth-pop records like 90125 and Big Generator. Anderson's boyish tenor, meanwhile, is very much the familiar voice of Yes, so whatever name this particular crew is going under, one can expect a fond look back through the Yes songbook, from "I've Seen All Good People" to "Owner of a Lonely Heart." NL