LOTS OF PEOPLE ask Lola Kirke what it's like to play a musician on TV. She's the star of Amazon Studios' series Mozart in the Jungle, which follows her character, aspiring professional oboist Hailey Rutledge, as she tries to forge a classical music career in New York City. But last year Kirke released her own EP, which features zero oboe solos.
Sponsored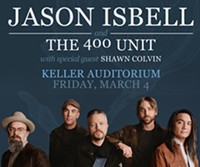 Jason Isbell has established himself as one of the most respected songwriters of his generation. Don't miss Jason Isbell and the 400 Unit, March 4th at Keller Auditorium!
"The correlation between the music that my character plays on that TV show and the music I play in real life, there's really not that much connection," Kirke says. "Classical music is a beast of its own."
The LA- and New York-based actor/musician says she started writing songs "to decompress and reclaim control" after arduous 12-plus-hour workdays, and also cites inspiration from the TV show Girls (her older sister Jemima plays the free-spirited Jessa Johansson).
"There's a line Lena Dunham's character says in season one where she's like, 'I've got a couple good folk albums in me,'" Kirke explains. "And I always thought that was kind of funny, because I was like, 'Oh yeah, maybe I do too.'" 
But music runs in the family—her father is Simon Kirke, drummer of English rock bands Free and Bad Company.
"I always felt an intimidation about committing myself to being a musician," she says. "Growing up on the periphery of '70s British rock definitely gendered rock 'n' roll, or any kind of musical pursuit... My dad is mentioned in Almost Famous, just to drive that point home. That's a commonly accepted notion in rock 'n' roll: You have these male gods, and then you have these kind of replaceable girls."
After getting her heart broken at 17, Kirke picked up "a godforsaken ukulele," which eventually empowered her to try guitar, as did her teenage discovery of some illuminating feminist literature.
Her excellent four-song debut kicks around the dusty, fabled realms of California country rock—a genre characterized by its inability to fit neatly within the psychedelic scenes of '60s/'70s Los Angeles and San Francisco and the puritanical confines of classic Grand Ole Opry country. Kirke says most of her favorite bands are connected to the Crosby, Stills, Nash, and Young family tree, and specifically names Gene Clark as well as the Byrd's seminal country album, Sweetheart of the Rodeo. Her music is most informed by country rock's founding father, Gram Parsons, who spent his final years roaming around the desert of Joshua Tree, California, like it was his very own Westworld.
"Somehow I found Gram Parsons," she says. "I don't even know how I found him, I was around 16. I saw that documentary that had been made about him, and got myself a western shirt and cut my hair like him.... Me and my best friend used to take a pilgrimage to room eight at the Joshua Tree Inn every year, and then got a little freaked out." Kirke laughs, hinting at some untold ghost stories from the motel room where the Grievous Angel overdosed and died in 1973 when he was just 26. She's even got a tattoo of his door key: "It's a little eight turned on its side so it looks like infinity."
The London-born Kirke moved to the US when she was just five years old, and says she's the only member of her family without an English accent—on her debut, Kirke's voice even resonates with some learned twang.
"To be nostalgic for Americana folklore is something that I think you don't have to be from this country originally to find," she says, but also notes the potential erasure of indigenous peoples in America's tradition of myth-making: "Beyond the Native Americans, no one's from here."
The EP's catchy opener, "Baby Butt," centers on guitar riffs that sound rowdy but slurred, while whiny pedal steel and player piano melodies let you know that "Brilliant Friend" is best listened to with your forehead on the bar after some self-inflicted heartbreak. "Tomorrow Morning" contains the highly relatable lyric, "At the moment, I'm not sure what I love/There's just too much to think of." The standout closing track "Not Used" finds Kirke harnessing Parson's legendary ability to find beauty in life's darkest hours.
She released the debut on Portland singer/songwriter Johanna Warren's new label, Spirit House Records. They first met while attending Bard College, where Kirke says she "admired the hell out of [Warren] from afar." Upon reconnecting recently, they realized Spirit House would be a good fit for Kirke's music.
"It's definitely important for me to be aligned with communities that are doing something positive, and seeing the bigger picture of what it means to be an artist right now," she says.
When I ask what she thinks it means to be making art in 2017, Kirke expresses concern about the Trump administration's clear threat to freedom of speech. "It's a right to be able to make art," she says. "We have to put a real emphasis on the right to expression."
Kirke recently seized the opportunity to express herself on last month's Golden Globes red carpet, where she sported a pink "Fuck Paul Ryan" button (referencing the Speaker of the House's commitment to defunding Planned Parenthood). However, for an unenlightened group of viewers, this small but mighty act of resistance was overshadowed by something else.
"I think more of the angry backlash was about my armpit hair," she says. "That's not really done."
It takes some bravery to stand up for what you care about, especially when it's being broadcast to millions of viewers. But Kirke's not fazed: "It's a really strange thing to have attention on you, and for that attention to not have anything to do with a larger picture," she says. "I feel like as an actor or a person in the public eye, I have a really great opportunity to contribute my voice to larger causes, and it's just so easy to do it when you're walking the red carpet with, like, a billion photographers."